FIRST ON FOX: Sen. James Lankford, R-Okla., on Wednesday is introducing two major pieces of legislation related to immigration and border security — including a bipartisan bill to avoid what he said could be a "catastrophe" once Title 42 expulsions are ended — as lawmakers attempt to grapple with the ongoing migrant crisis.
"Everyone wants to talk about the border crisis but no one wants to publish a plan to fix it because they know it will face intense scrutiny. I'm introducing two bills to start turning the tide at the border," Lankford said in a statement.
Lankford is introducing The Public Health and Border Security Act, which would require that all COVID-19 national states of emergency be fully lifted before the Biden administration ends the Title 42 public health order.
That order, issued in March 2020 in response to the COVID-19 pandemic, allows for the rapid expulsion of migrants at the southern border for public health reasons. The Biden administration attempted to end that order last year, but was blocked by a federal judge. A separate lawsuit attempted to force the administration to end it, claiming expulsions were unlawful. That case is now before the Supreme Court and a ruling is expected later this year.
BIDEN ADMIN KEEPS PUSHING FOR SWEEPING IMMIGRATION BILL, INCLUDING AMNESTY, TWO YEARS INTO MIGRANT CRISIS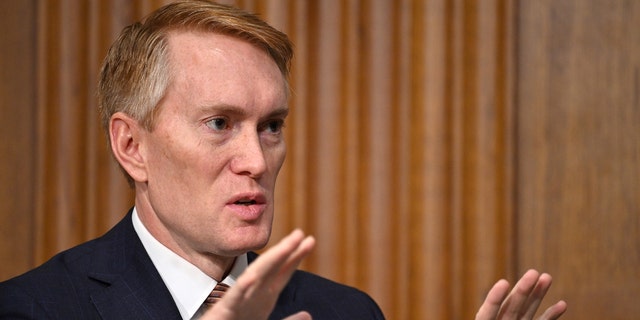 Senator James Lankford speaks during a Senate Finance Committee hearing on the nomination of Chris Magnus to be the next U.S. Customs and Border Protection commissioner, in the Dirksen Senate Office Building on Capitol Hill in Washington, DC, U.S., October 19, 2021. 
(Mandel Ngan/Pool via REUTERS)
President Biden announced this week that the national emergencies will end on May 11. However, the legislation would also require that the administration has a "workable plan" in place to deal with what is expected to be a massive additional surge in migration at the border once the order ends.
The Biden administration has put forward a six-point plan that includes greater cooperation with Mexico and other countries, a surging of resources to the border and greater use of alternate methods of removal. But both Democrats and Republicans have expressed concerns that the plan is insufficient.
Lankford is joined on the bill by Sen. Kyrsten Sinema, I-Ariz., Maggie Hassan, D-NH, Joe Manchin, D-W.Va., Jon Tester, D-Mont., and Mark Kelly, D-Ariz., as well as fellow Republicans John Thune, R-Okla, Shelly Moore Capito, R-W.Va., Thom Tillis, R-N.C., and John Cornyn, R-Texas.
Separately, he is introducing the Temporary Protected Status Reform and Integrity Act, which would focus to reform Temporary Protected Status — an authority that allows DHS to protect nationals of designated countries living in the U.S. from potential deportation if they are eligible, allows them to apply for work permits and gives them the freedom to travel.
OVER QUARTER OF A MILLION MIGRANT ENCOUNTERS IN DECEMBER ALONE
TPS is based on three grounds: armed ongoing conflict, environmental disasters or "extraordinary and temporary conditions." The Biden administration has used it to protect nationalities from a number of countries, but its use and regular extensions (by both the Biden and prior administrations) has raised concerns from immigration hawks that the program is a de-facto amnesty for those in the country illegally from those nations.
The TPSRIA would require DHS to hand over to Congress all its information on a TPS designation prior to its effect. It would alo limit DHS to one designation and extension. Additional extensions would require approval from Congress.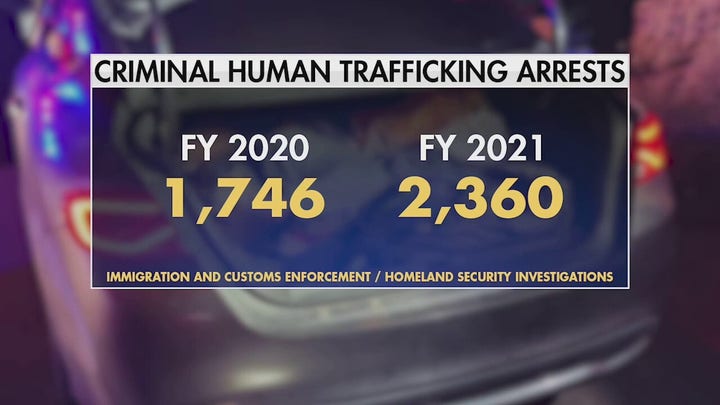 Video
It would also prevent re-designations of TPS, which allows additional illegal immigrants to take advantage of work permits and deportation protections, and would bar criminals from qualifying for the program.
BIDEN ADMIN CITES DATA SHOWING NEW BORDER MEASURES 'ARE WORKING' AS NEW LAWSUIT LOOMS
The bills come as Congress tries to find solutions to the ongoing crisis that has seen record numbers of migrants hit the border, with more than 2.3 million in FY 2022, and more than 251,000 in December alone.
The Biden administration has called on Congress to pass a sweeping immigration bill, including a pathway to citizenship for millions of illegal immigrants, but that has failed to gain Republican support.
Lawmakers on both sides of the aisle have turned to smaller pieces of legislation to find common ground. Lankford said his bills are a "much-needed push toward a secure border."
CLICK HERE TO GET THE FOX NEWS APP
"These bills will force the Biden Administration to stop letting the Temporary Protected Status be an indefinite form of amnesty and to pressure Biden and his team to coordinate with state and local authorities to avoid a post-Title 42 catastrophe," he said. "The American people don't need to suffer under President Biden's border policies because Congress is afraid to act."