A major fight for the future of the Republican Party is taking place this week in southern California at a luxury seaside resort in Orange County.
The scene of the battle: the Republican National Committee's (RNC) annual winter meeting, where committee members will hold a secret ballot vote on Friday for the national party committee's next chair.
The RNC showdown, their first hotly contested chair race in a dozen years, has turned into a contentious family feud as the GOP decides its leadership while the party jumps into an election cycle in which it aims to win back the White House, regain the Senate majority and hold its fragile control of the House. And it comes as the party aims to rebound from a disappointing showing in November's midterm elections and as it debates the future of the party and former President Trump's continued influence over the GOP.
Ronna McDaniel, who's running for a fourth term steering the RNC, which is unprecedented in modern times, is being challenged by Harmeet Dhillon, an attorney who is also an RNC committee member from California and who served as a legal adviser for former President Donald Trump. Dhillon announced her bid for RNC chair on the Fox News Channel last month.
FIRST ON FOX: MCDANIEL ROLLS OUT LIST OF 150 MAJOR DONORS BACKING HER RNC CHAIR REELECTION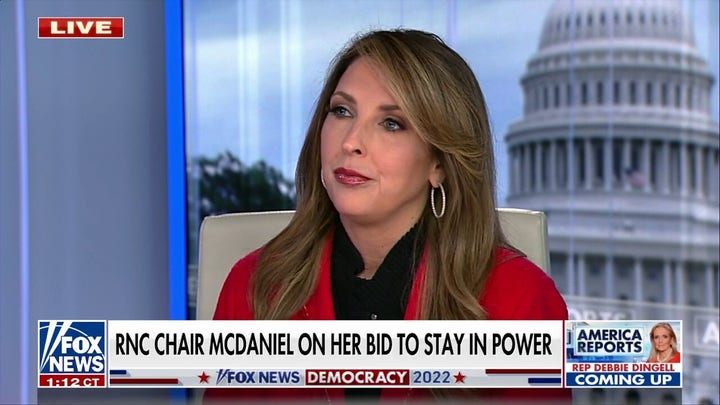 Video
McDaniel is urging stability while Dhillon launched an insurgent campaign stressing that change is needed following the Republican Party's lackluster performance in the 2022 midterms, which many in the GOP expected to be a red wave election. MyPillow CEO Mike Lindell, who's a strong supporter of Trump's unproven claims that the 2020 presidential election was rigged and stolen, is also running as he wages a long-shot bid for chair.
McDaniel, who as Michigan GOP chair was Trump's handpicked choice to steer the committee after he won the White House in 2016, was reelected to the post in 2019 and 2021. She has been a prolific fundraiser for the national party during her tenure leading the committee. According to McDaniel's team, the chairwoman has hauled in record $1.5 billion during her tenure, traveled more than half a million miles and held more than 330 donor events.
WATCH: HARMEET DHILLON MAKES HER CASE FOR RNC CHAIR ON FOX NEWS
"Because of our party's proven message and support from key stakeholders, we have experienced multiple, record-breaking fundraising cycles as a committee. We cannot let up going into 2024, and we must ensure Republican candidates up and down the ballot have the resources necessary to win," McDaniel wrote in a recent opinion piece on FoxNews.com.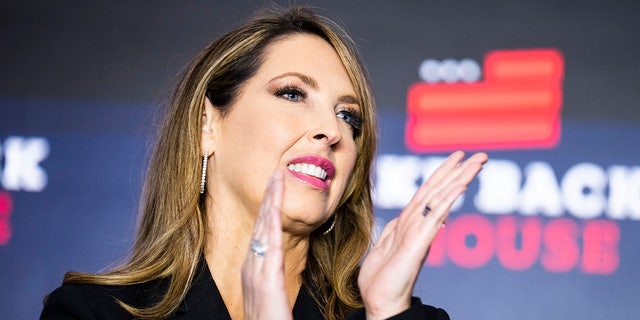 Ronna McDaniel, chairwoman of the Republican National Committee, listens to House Minority Leader Kevin McCarthy, R-Calif., address an election night party in Washington, D.C., on Nov. 8, 2022.
(Tom Williams/CQ-Roll Call Inc. via Getty Images)
But the GOP electoral setbacks in November — when Republicans failed to win back the Senate and lost key gubernatorial races — as well as in 2018, when the party lost its House majority, and in 2020, when it lost control of the Senate and the White House, all came on McDaniel's watch, which sparked calls for a change of leadership.
"We have a responsibility as a party to fix what is wrong so that we can win elections. This is politics. It's all about winning and losing elections. And since we've lost in three successive election cycles, we must change or we're going to lose in the next election cycles," Dhillon said in an interview Tuesday on Fox News' "Tucker Carlson Tonight."
CONTENDER VYING FOR RNC CHAIR TO MAKE THEIR CASE TO COMMITTEE MEMBERS
Dhillon said that "we have to focus almost exclusively on making sure that we get our Republican voters' ballots into the ballot boxes by all legal means as early as possible in the process and not leave things to chance. We need to stop wasting donor money and really focus on spending it well. And we really need to be very clear and concise in our messaging."
McDaniel, defending her record in a recent Fox News Digital interview, said that "what the RNC has done has made those elections better than they otherwise could have been."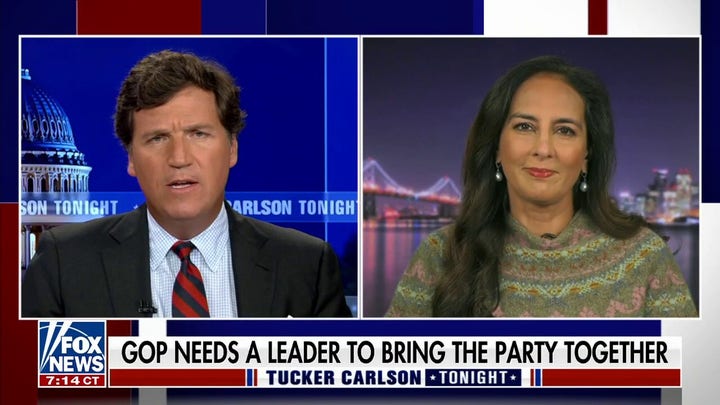 Video
"Under my watch," McDaniel said, "you have seen an increase in Republicans turning out. You've seen us invest in things like voter registration, where we had big gains in states like North Carolina, Florida, Iowa. Our community centers were a value add in this election cycle as we saw engagement with Hispanic and Asian and Black voters actually have higher turnout in the areas where we invested."
MCDANIEL CALLS HER SUPPORT FOR RNC CHAIR REELECTION 'PRETTY SOLID'
On Tuesday, after landing in California, McDaniel visited one of those community centers in the Orange County city of Westminster.
"These community centers and bringing people who've never been Republican, who've never been part of our party, and having these open year-round is going to be the biggest difference maker," McDaniel said. "Because we're not just showing up for an election for a vote. We're saying we're invested in your community for the long haul, and we want to earn your vote because we're here."
And McDaniel argued that Dhillon and her other critics don't understand what the job of RNC chair truly entails.
But Dhillon, in her interview with Fox News' Tucker Carlson, said that "we have whiffed and we've failed. So, I will change all of that if I become the chair of the Republican National Committee."
The sparring and accusations, both public and private, have grown intense over the past two months, with both sides accusing the other of intimidation tactics as they've repeatedly rolled out prominent endorsements.
All three candidates will separately make their cases to the 168 RNC committee members who are eligible to vote for chair at a forum starting Wednesday at the winter meeting, which this year is being held in Dana Point, California. The secret ballot vote for chair by the committee members will come Friday on the final day of the RNC meeting.
McDaniel, in an interview last month with Fox News Digital, described her support as "pretty solid," touting a list she released a few weeks earlier that included the endorsements from more than 100 RNC committee members — which would far exceed the simple majority of the 168 members needed to win reelection.
But Dhillon has repeatedly questioned the firmness of McDaniel's advertised support as she courts MAGA hardliners and never-Trumpers who share a common interest in replacing McDaniel. And in recent weeks, several state GOP delegations have passed no-confidence votes against McDaniel.
DHILLON ARGUES GOP LEADERSHIP MUST 'ADAPT OR DIE'
While she hasn't put out her own list of RNC committee member endorsements, Dhillon said Tuesday that "I feel good about my chances going into the election."
But the secret ballot vote means no one's sure of the final result.
"Anybody who's been through multiple RNC elections realizes that you really never know how the RNC membership is going to vote in a secret ballot. This thing could go either way," a veteran RNC committee member, who asked to remain anonymous to speak more freely, told Fox News.
Pointing to McDaniel's list of endorsements, the committee member said, "You have to understand that Ronna asked RNC members to publicly support her and sign a letter back in November. What are RNC members going to say? She's in control of the purse. They're going to be inclined to say yes. It's safe to say that some of those who signed back in November may be really soft now and have possibly slipped."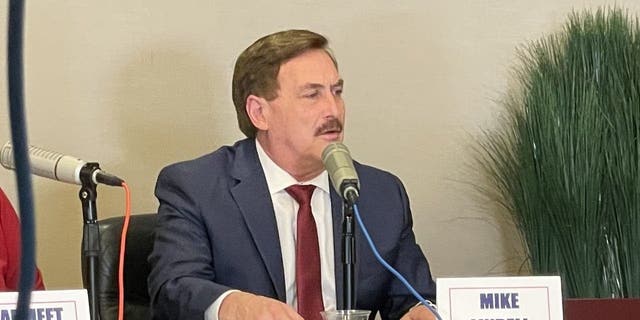 Mike Lindell speaks at an RNC chair debate in Dana Point, California, on Wednesday.
(Fox News)
But virtually no one believes Lindell has a shot of winning.
CLICK HERE TO GET THE FOX NEWS APP
"Mike Lindell wanting to run the Republican Party is like me wanting to run his pillow company just because I sleep on a pillow at night," said another RNC committee member who also asked for anonymity.
Lindell, Dhillon and McDaniel all have healthy ties to Trump. But the former president, who remains the most influential politician in the GOP, has remained neutral in the chair race. And sources in Trump's political orbit say they aren't expecting the former president to make a last-minute endorsement.