President Biden's nominee to sit on the Federal Communications Commission (FCC) currently sits on the board of the Electronic Frontier Foundation (EFF), a group that has vehemently opposed bipartisan legislation designed to protect sex trafficking victims.
Gigi Sohn — who Biden nominated this month for a vacant FCC seat previously held by Ajit Pai, the agency's former chairman — joined EFF's board of directors in December 2018 after being a "close collaborator" with the group for nearly two decades, according to EFF Executive Director Cindy Cohn. That same year, EFF unleashed an assault on two bipartisan efforts to hold sex traffickers accountable and protect victims.
EFF has focused its ire particularly on the Stop Enabling Sex Traffickers Act (SESTA) and Allow States and Victims to Fight Online Sex Trafficking Act (FOSTA). The two bills were combined into one package that passed the House by a margin of 388-25 and passed the Senate in a 97-2 vote in early 2018 before former President Donald Trump signed it into law a month later.
The legislation notably created a new federal criminal and civil liability for any individual who "owns, manages, or operates an interactive computer service" or hosts third-party content, with the intent to "promote or facilitate the prostitution of another person." It also created liabilities for platforms that assists, supports, or facilitates sex trafficking. Broadly, it aimed to block websites from providing platforms for prostitution and sex trafficking.
BIDEN'S FCC NOMINEE GIGI SOHN SHARED TWEET CALLING TRUMP A 'RAGGEDY WHITE SUPREMACIST PRESIDENT'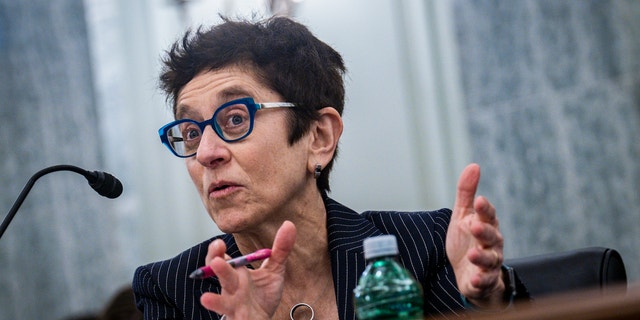 Gigi Sohn testifies during a Senate confirmation hearing examining her nomination to serve on the Federal Communications Commission on Feb. 9, 2022.
(Pete Marovich/Pool/Getty Images)
While proponents of the legislation — including lawmakers on both sides of the aisle and a wide range of anti-human trafficking, civil rights and law enforcement groups — argued it would help children and other vulnerable communities against online sex trafficking, EFF said it would lead to censorship and would harm online-based prostitutes.
"Today is a dark day for the Internet," EFF tweeted in March 2018 after the bill was passed. "Congress just passed the Internet censorship bill SESTA/FOSTA."
JORDAN DEMANDS BIG TECH RECORDS DETAILING 'COLLUSION' WITH BIDEN ADMIN TO CENSOR CONSERVATIVES
"Sex workers have spoken out … explaining how online platforms have literally saved their lives," it added in a follow-up tweet. "Why didn't Congress consult with the people their bill would most directly affect?"
EFF then filed a lawsuit in June 2018 asking a federal judge to strike down the law as unconstitutional. The lawsuit stated that the legislation violated both the First and Fifth Amendments and was, therefore, unconstitutional.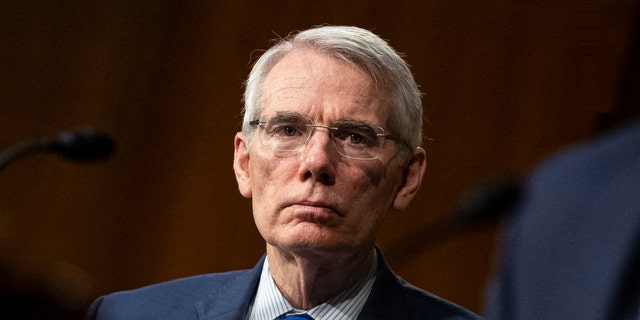 Former Sen. Rob Portman, R-Ohio, introduced FOSTA along with 70 fellow senators who co-sponsored the legislation.
(Photo by AL DRAGO/POOL/AFP via Getty Images)
"FOSTA calls into serious question the legality of online speech that advocates for the decriminalization of sex work, or provides health and safety information to sex workers," the group stated after filing the legal challenge.
"FOSTA muzzles online speech that protects and advocates for sex workers and forces well-established, general interest community forums offline for fear of criminal charges and heavy civil liability for things their users might share," it added.
Since 2018, and while Sohn has served on its board, EFF has continued its fight against the SESTA-FOSTA legislation through its litigation, social media accounts and other public advocacy campaigns. EFF has also lamented that the law eventually led to the shutdown of Craigslist's "personals section," which had been accused of being a hotbed for human traffickers, and Pounced, a dating website for "furries."
MUSK PROVES HUNTER BIDEN CENSORSHIP CAME FROM COLLUSION AMONG BIDEN CAMPAIGN, LAW ENFORCEMENT AND TWITTER
In April, a month after a federal judge ruled against EFF and in favor of the federal government, the group filed an appeal with the U.S. Court of Appeals for the District of Columbia Circuit.
Groups that supported the legislation included the National Center for Missing & Exploited Children, Polaris, Rights4Girls, Shared Hope International, FAIR Girls and the National Fraternal Order of Police.
"FOSTA-SESTA is critical if we are going to help stop the scourge of human trafficking," Joe Racalto, the director of government relations for Polaris, said in a statement after the bill was passed by the House in 2018.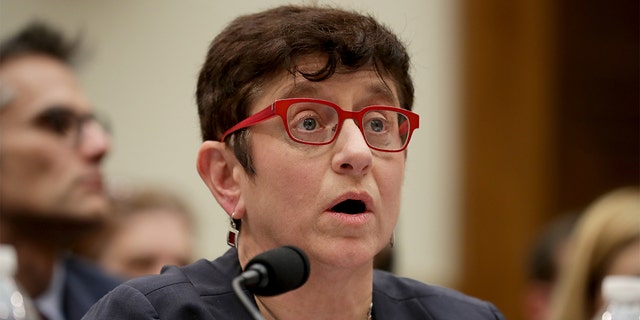 Gigi Sohn testifies before the House Judiciary Committee on March 12, 2019.
(Chip Somodevilla/Getty Images)
In addition, EFF announced its opposition to separate bipartisan legislation, the Eliminating Abusive and Rampant Neglect of Interactive Technologies (EARN IT) Act, that was introduced by Sens. Lindsey Graham, R-S.C., and Richard Blumenthal, D-Conn., in 2020. The bill proposed to remove the "blanket immunity for violations of laws related to online child sexual abuse material."
EFF argued that the EARN IT Act, which most recently was advanced by the Senate Judiciary Committee in February 2022, would put "massive legal pressure" on internet companies to stop using encryption and "instead scan all user messages, photos, and files."
EFF organized individuals to call their congressmen and ask them to vote against the bill.
NATIONWIDE PUSH TO LIBERALIZE PROSTITUTION LAWS PROMPTS CONCERNS ABOUT HUMAN TRAFFICKING
And, in recent years, the group has partnered with Danielle Blunt, a New York-based dominatrix who "specializes in a variety of femdom activities, including: foot worship, BDSM coaching, bondage, and more." In 2020, EFF gave Blunt an award for her "research into sex work and equitable access to technology."
"Sex workers were some of the earliest adopters of the web," Blunt said during a speech accepting the award. "Sex workers were some of the first to use ecommerce platforms and the first to have personal websites. The rapid growth of countless tech platforms was reliant on the early adoption of sex workers."
In June, Blunt participated in an EFF event on "queer optimism" and, in November 2021, EFF tweeted that it was "grateful to work alongside" Blunt.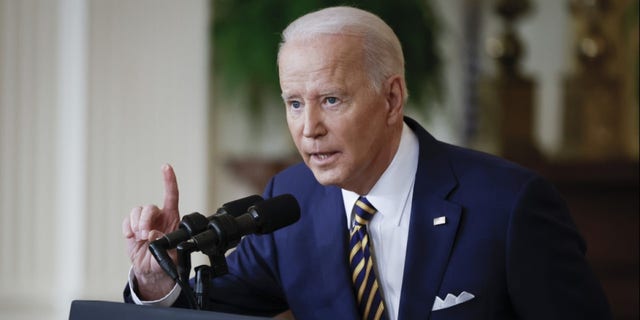 President Biden nominated Sohn for an open spot on the FCC, marking the second time he has nominated her for the seat.
(Chip Somodevilla/Getty Images)
Meanwhile, if the Senate were to confirm Sohn to the position, the FCC — a powerful independent agency with far-reaching regulatory powers over the tech and communications industries — would have a 3-2 Democratic majority.
Her nomination this month marked the second time Biden has nominated Sohn for the position. The president first picked her to replace Pai in October 2021, but various concerns surrounding her past social media posts and views on certain key issues prevented the Senate from ever holding a floor vote on her confirmation.
CLICK TO GET THE FOX NEWS APP
Sohn has been a vocal proponent of net neutrality and floated potentially stripping right-leaning broadcaster Sinclair of its FCC license. The Chamber of Commerce, the nation's largest business industry group, has warned of Sohn's "extreme views" and reiterated its call for the Senate to reject her nomination.
The EFF referred Fox News Digital to previous comments it has made about the SESTA-FOSTA legislation in response to an inquiry. The White House didn't respond to a request for comment.