Business executives, celebrities, billionaires and government officials traveled to the World Economic Forum (WEF) summit last week largely using private jets, according to a Fox News Digital analysis of flight data.
During the conference, which began on Jan. 16 and concluded Friday, at least 150 private jets flew into three of the closest airstrips near WEF's headquarters in Davos, Switzerland, according to data obtained from flight tracking software Flightradar24. The data suggests that conference attendees spewed hundreds of thousands of pounds and thousands of metric tons of carbon as a result of their private jet usage.
"Europe is experiencing the warmest January days ever recorded and communities around the world are grappling with extreme weather events supercharged by the climate crisis," Klara Maria Schenk, a campaigner for environmental group Greenpeace International, said in a statement ahead of the conference.
"Meanwhile, the rich and powerful flock to Davos in ultra-polluting, socially inequitable private jets to discuss climate and inequality behind closed doors," she continued.
ECO GROUP SLAMS DAVOS SUMMIT AS GLOBAL ELITES ARRIVE IN PRIVATE JETS TO TALK CLIMATE POLICY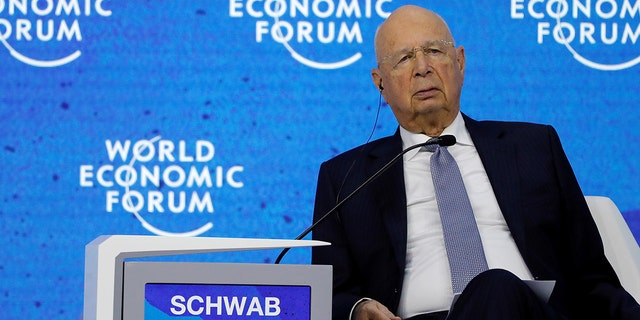 World Economic Forum founder and Executive Chairman Klaus Schwab listens during an event at the group's annual conference in Davos, Switzerland, on May 26. 
(REUTERS/Arnd Wiegmann)
Private jet travel is by far the most carbon-intensive mode of transportation. They are about 10 times more carbon-intensive than commercial planes and 50 times more carbon-intensive than trains, according to a 2021 report from the group Transport & Environment.
The flight data broadly showed private jets traveling to the region from various cities around Europe and others from the U.S. and Asia.
For example, on Jan. 15, a Gulfstream G650 jet traveled from Salt Lake City, Utah, to Friedrichshafen Airport, a small airstrip two hours north of Davos. The nine-hour flight burned an estimated 44 metric tons of carbon, according to an emissions calculator created by the firm Paramount Business Jets.
JOHN KERRY'S FAMILY PRIVATE JET EMITTED OVER 300 METRIC TONS OF CARBON SINCE BIDEN TOOK OFFICE
Another long-distance private jet flight — from West Palm Beach, Florida, to Friedrichshafen Airport on a Bombardier Global 6000 jet on Jan. 16 — burned roughly 42 metric tons of carbon. And a four-hour flight on Friday from Baku, Azerbaijan, to St. Gallen–Altenrhein Airport on the same model aircraft emitted about 23 metric tons of carbon.
By comparison, the average person worldwide has an estimated annual carbon footprint of four tons.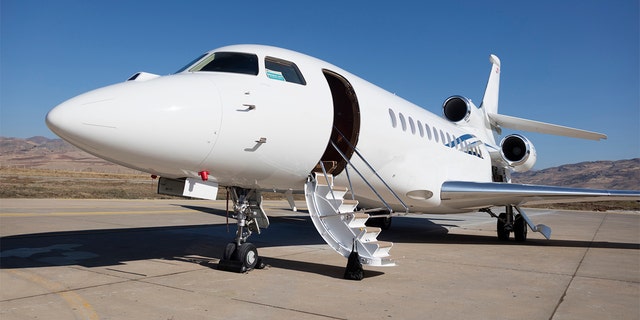 A stock image of a private jet parked on a airport tarmac.
(iStock)
In addition, dozens of the private jet trips tracked by Fox News Digital were short-distance flights from bordering countries.
In one example, on Tuesday, an Embraer Phenom 300 jet traveled just 31 minutes from Milan, Italy, to St. Gallen–Altenrhein Airport. On Thursday, a Cessna 680A Citation Latitude flew 53 minutes from Prague, Czech Republic, to the same airport.
Other short-distance flights came from Buochs, Switzerland; Speyer, Germany; Frankfurt, Germany, Turin, Italy; Salzburg, Austria; Nice, France; Lyon, France and Cannes, France.
Meanwhile, the WEF conference's agenda focused largely on environmental issues like climate change and achieving net-zero ambitions. The conference's program highlighted the top priority as "addressing the current energy and food crises in the context of a new system for energy, climate and nature."
PETE BUTTIGIEG TOOK GOVERNMENT JET TO NYC FOR RADIO INTERVIEW, ACLU MEETING BEFORE FLYING BACK HOURS LATER
And several high-profile climate activists and officials, such as Special Presidential Envoy for Climate John Kerry and former Vice President Al Gore, attended the summit, imploring fellow attendees to double down on climate commitments.
"When you start to think about it, it's pretty extraordinary that we — select group of human beings because of whatever touched us at some point in our lives — are able to sit in a room and come together and actually talk about saving the planet," Kerry remarked on Tuesday. "I mean, it's so almost extraterrestrial to think about 'saving the planet.'"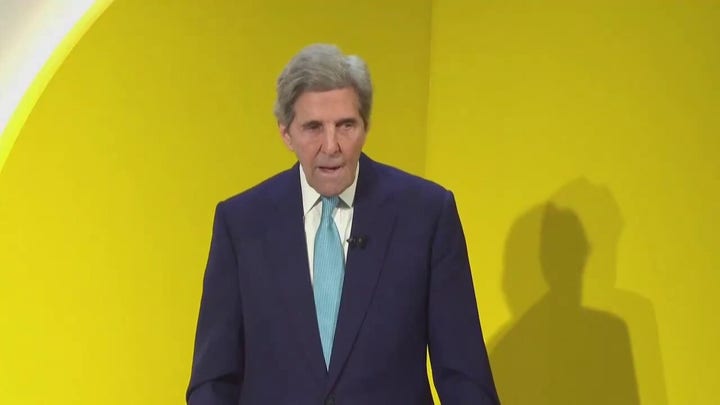 Video
While the three airports — St. Gallen–Altenrhein Airport, Samedan Airport and Friedrichshafen Airport — analyzed by Fox News Digital are popular airstrips for individuals traveling to WEF summits, previous studies of private jet travel to Davos have tracked flights into four additional airports including Geneva Airport and Zurich Airport, two major international travel hubs.
CLICK HERE TO GET THE FOX NEWS APP
Such studies have determined that between 1,000-1,500 private jets traveled to all the surrounding airports near Davos during past WEF summits. In 2019, WEF responded to criticism, acknowledging that attendees had taken about 500 jets to the summit that year, but said attendees were "taking the environmental impact of their travel more seriously."
"We have been offering incentives to participants to use public transport for some years," WEF said in a statement in January 2019. "We also ask that they share planes if they have to use them; something that has been gaining popularity in recent years."
WEF didn't respond to a request for comment.