The Fulton County, Georgia Clerk's Office is offering a new explanation for the supposed "fictitious" indictment posted on the court's website before the grand jury voted Monday to hand up an indictment for former President Trump and 18 others.
On Monday afternoon, the Fulton County Court's website posted a document listing the same charges included in the indictment released late Monday night, which included charges of violating the Georgia RICO Act—the Racketeer Influenced And Corrupt Organizations Act; Solicitation of Violation of Oath by a Public Officer; Conspiracy to Commit Filing False Documents and more.
FULTON COUNTY DA DEFLECTS ON HOW INDICTMENT LEAKED: 'I CAN'T TELL YOU ANYTHING'
Reuters first reported on the document, before the Fulton County Court quickly removed it from the website, and released a statement, blasting the document as "fictitious" and issuing a warning to the media "that documents that do not bear an official case number, filing date, and the name of The Clerk of Courts, in concert, are not considered official filings and should not be treated as such."
The indictment was handed up and unsealed Monday night, bearing the same charges as listed on the alleged "fictitious" document, and Fulton County District Attorney Fani Willis was asked for an explanation.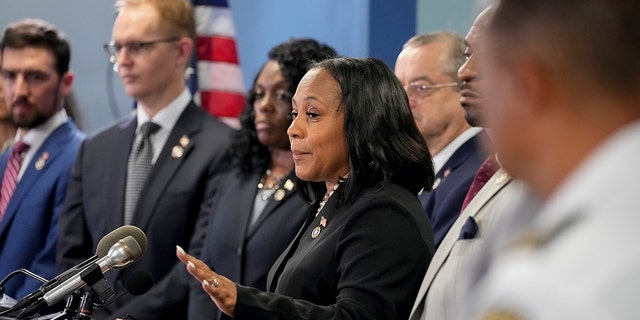 Fulton County District Attorney Fani Willis, center, speaks in the Fulton County Government Center during a news conference, Monday, Aug. 14, 2023, in Atlanta. Donald Trump and several allies have been indicted in Georgia over efforts to overturn his 2020 election loss in the state.  (AP Photo/John Bazemore)
"No, I can't tell you anything about what you refer to," Willis said. "What I can tell you is that we had a grand jury here in Fulton County. They deliberated till almost 8:00, if not right after 8:00, an indictment was returned. It was true billed. And you now have an indictment."
But the fallout continued into the day Tuesday, after Trump attorneys and allies blasted the system.
The court, Tuesday afternoon, released a lengthy statement in an attempt to clear up questions.
"The Office of the Fulton County Clerk of Superior and Magistrate Courts announces that midday on August 14, 2023, a media outlet utilizing the Fulton County Press que obtained a docket sheet and shared it with other media outlets who then released the sample working document related to the former United States President, Donald Trump – reporting that an indictment had been returned by the Special Grand Jury in Fulton County Georgia," the statement read. "Upon learning of the mishap, Fulton County Clerk of Superior and Magistrate Courts, Ché Alexander, immediately removed the document and issued correspondence notifying the media that a fictitious document was in circulation and that no indictment had been returned by the Grand Jury."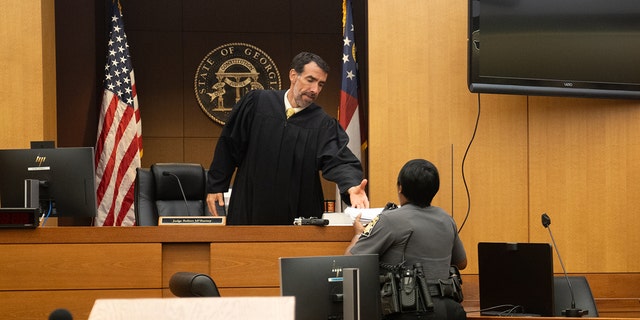 ATLANTA, GEORGIA – AUGUST 14: Fulton County Superior Court Judge Robert McBurney receives documents on August 14, 2023 in Atlanta, Georgia. District Attorney Fani Willis has been bringing evidence before a grand jury, which today indicted former President Trump on alleged attempts to overturn the 2020 election results in the state. (Photo by Megan Varner/Getty Images)
"In anticipation of issues that arise with entering a potentially large indictment, Alexander used charges that pre-exist in Odyssey to test the system and conduct a trial run," the statement continued. "Unfortunately, the sample working document led to the docketing of what appeared to be an indictment, but which was, in fact, only a fictitious docket sheet."
TRUMP INDICTED OUT OF GEORGIA PROBE INTO ALLEGED EFFORTS TO OVERTURN 2020 ELECTION
The court said that "because the media has access to documents before they are published, and while it may have appeared that something official had occurred because the document bore a case number and filing date, it did not include a signed 'true' or 'no' bill nor an official stamp with Clerk Alexander's name, thereby making the document unofficial and a test sample only."
"Hours later, after receiving the True Bill presented to presiding Judge, Robert McBurney, Clerk Alexander executed the filing with a file stamp and moments later she made the filing public," the court continued. "The Office understands the confusion that this matter caused and the sensitivity of all court filings."
TRUMP SAYS GEORGIA INDICTMENT COMES DURING 'DARK PERIOD' FOR US, VOWS TO FIX IT BY WINNING
The court said that they "remain committed to operating with an extreme level of efficiency, accuracy, and transparency."
"Media members can expect to be notified of any/all filings in real time and will be provided access to filings via equitable communication," the court said.
CLICK HERE TO GET THE FOX NEWS APP
It is still unclear why the "sample working document" and the "fictitious docket sheet" matched the exact charges brought against the former president and 18 others.
Fox News' Claudia Kelly-Bazan contributed to this report.