President Biden nearly flew directly over East Palestine, Ohio, on Tuesday, the town he promised to visit in March following a disastrous train derailment that took place there a month earlier, but has yet to do so.
Biden's flight path aboard Air Force One while heading to Milwaukee, Wisconsin for an event touting "Bidenomics," his administration's economic agenda, flew within 20 miles of East Palestine, according to public flight data.
A freight train carrying toxic chemicals derailed in East Palestine on Feb. 3, spurring environmental and health concerns among residents there.
BIDEN IGNORES PRESS QUESTIONS WHILE LEAVING WH AFTER SPECIAL COUNSEL APPOINTMENT IN HUNTER BIDEN PROBE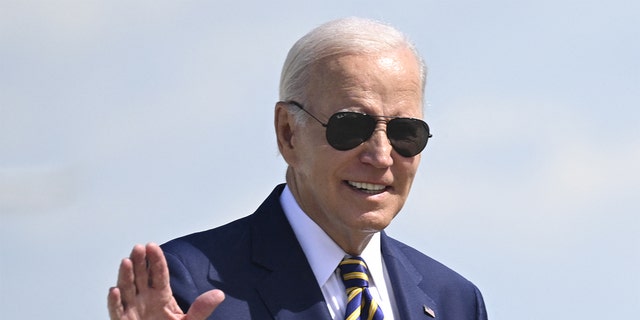 President Joe Biden arrives to board Air Force One at Joint Base Andrews in Maryland, on August 15, 2023. (ANDREW CABALLERO-REYNOLDS/AFP via Getty Images)
On March 2, Biden promised he would visit the small town "at some point" after growing pressure to do so from both sides of the aisle, but White House press secretary Karine Jean-Pierre said the next day that the administration didn't "have a plan" for him to visit despite making the promise.
As the fallout from the disaster continued, residents of East Palestine and the surrounding area, including part of Pennsylvania, voiced concerns about the health risks after hazardous chemicals that the Norfolk Southern freight train was carrying were burned at the site, sending a plume of thick black smoke into the sky.
TRUMP RALLY-GOERS REFUSE TO WAVER SUPPORT FOR FORMER PRESIDENT AMID LEGAL TROUBLES: 'EVEN IF HE'S IN JAIL'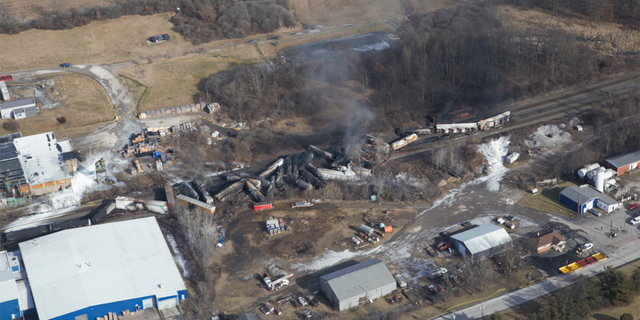 An undated aerial view of the train derailment in East Palestine, Ohio. (NTSB)
At the time, officials insisted the water and air there were safe. However, multiple reports showed that people living there had listed an array of worrying symptoms, including headaches, dizziness and nausea, in the weeks since the derailment.
Fox News Digital has reached out to the White House for comment.
CLICK TO GET THE FOX NEWS APP
Fox News' Elizabeth Elkind and Timothy H.J. Nerozzi contributed to this report.