A 2018 text message from Hunter Biden claiming he'd paid his dad's bills for over a decade suggests further evidence of the first family's corruption, House Republicans say.
In a text thread with his assistant, Katie Dodge, Hunter wrote that his Wells Fargo account "shut me out again."
"Too many cooks in the kitchen," he wrote on April 12, 2018. "Too many profile changes and such. Happened 10 days ago too. What do you need? I'm going to bank in a few. Need to verify identity in person."
"I need to pay AT&T," Dodge responded.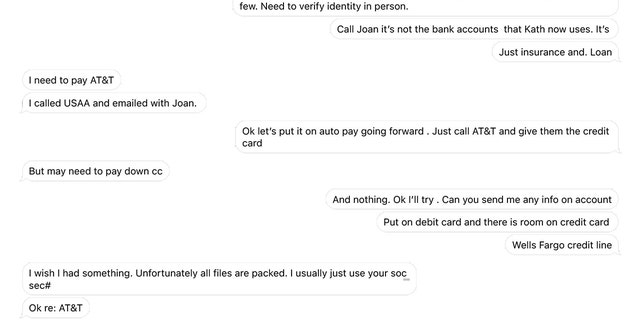 Hunter Biden and Katie Dodge discussed paying bills through a Well Fargo credit line on April 12, 2018. (Marco Polo)
HOUSE GOP RELEASE BANK RECORDS ON HUNTER BIDEN PAYMENTS FROM RUSSIAN, KAZAKH OLIGARCHS, TOTAL CLEARS $20M
Hunter Biden then instructed Dodge to put the payment on both his debit card and his "Wells Fargo credit line."
"My dad has been using most lines on this account which I've through the gracious offerings of Eric [Schwerin] have paid for past 11 years," Hunter wrote.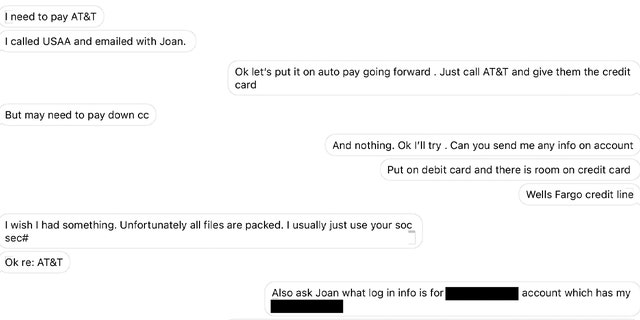 Hunter Biden discussed paying his father's bills in texts with Katie Dodge on April 12, 2018. (Marco Polo)
It's not clear whether Hunter was claiming to have a shared AT&T account or a shared Wells Fargo account with his father. The White House declined to clarify when reached by Fox News Digital.
But the texts show some combining of Hunter's and Biden's finances that has been uncovered by Fox News Digital in past reports.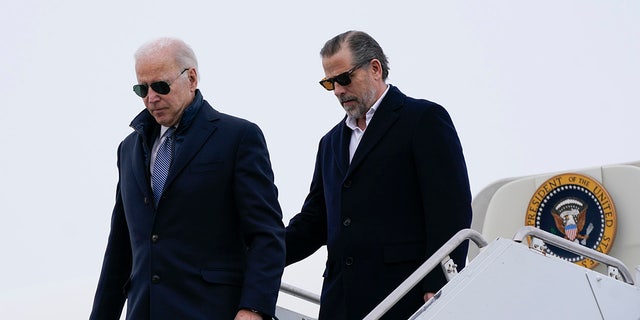 President Biden has snapped at reporters who have asked him about alleged corruption involving him and his son, Hunter Biden, who's been engaged in several controversial foreign business deals. (AP Photo/Patrick Semansky)
HOUSE GOP RELEASE BANK RECORDS ON HUNTER BIDEN PAYMENTS FROM RUSSIAN, KAZAKH OLIGARCHS, TOTAL CLEARS $20M
A 2010 email from Schwerin, Hunter Biden's longtime business partner, said he was transferring funds from Biden's tax refund check into Hunter's account because "he owes it to you."
A 2016 email from Schwerin to Hunter indicated that Hunter was expected to pay an AT&T bill in the amount of $190 for "JRB."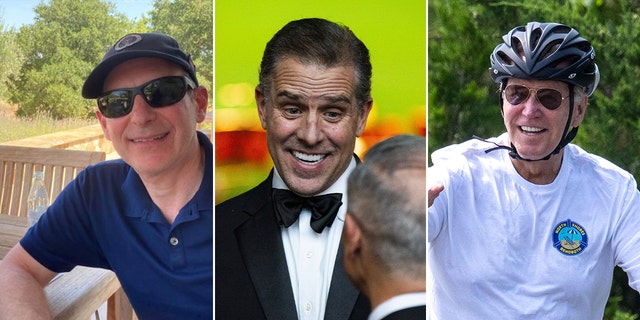 Eric Schwerin, left, Hunter Biden and President Biden (Fox News)
A 2019 text from Hunter to his daughter, Naomi, said the elder Biden forced him to fork over half of his salary.
"I hope you all can do what I did and pay for everything for this entire family Fro (sic) 30 years. It's really hard. But don't worry unlike Pop I won't make you give me half your salary," Hunter wrote.
Texts from Hunter Biden to his daughter, Naomi, in 2019 suggested he had to fork over half his salary to his dad, President Biden. (Marco Polo)
The Committee on Oversight and Accountability has released multiple memos to show money flowing into Hunter-linked accounts from entities in China, Romania, Russia, Kazakhstan and Ukraine when his father was vice president. The question, however, is whether Biden knew about it or benefited from the millions of dollars reaped by his son.
BIDEN'S NARRATIVE ON NEVER DISCUSSING BUSINESS DEALS WITH HUNTER CONTINUES TO CRUMBLE
House Republican Conference Chair Rep. Elise Stefanik, R-N.Y. slammed the Bidens' "corruption" in a statement to Fox News Digital.
"This is what corruption looks like. For seemingly the entirety of Joe Biden's Vice Presidency, his son Hunter was selling access to his father to the highest bidder while paying off his Joe Biden's credit card bills," Stefanik said. "There can no longer be any doubt that Joe Biden is compromised."
Committee Republicans told Fox News Digital that the 2018 texts between Hunter and his assistant provide further evidence that the president had at least a passive understanding of his son's business dealings, despite repeatedly claiming he had no knowledge.
"There's more. Much, much more," said Rep. Clay Higgins, R-La. "Joe Biden is most certainly a heavily compromised career politician, Republicans on the Oversight Committee are revealing the depths of his corruption, and everyone close to him will be burned by the inferno of his crash."
"Bank records don't lie," said Rep. Paul Gosar, R-Ariz. "Follow the money: all transactions lead to the Big Guy and his money laundering shell games. Joe Biden should be impeached."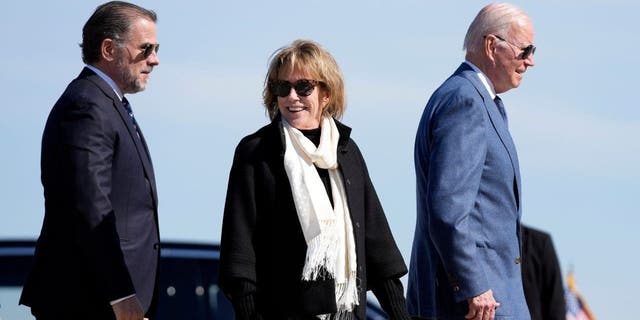 President Biden walks to Air Force One, April 11, 2023, with his son Hunter Biden and sister Valerie Biden at Andrews Air Force Base, Maryland. (AP Photo/Patrick Semansky)
ERIC SCHWERIN'S ROLE IN HUNTER BIDEN'S CHINESE BUSINESS DEALS COULD BE MISSING KEY IN GOP INVESTIGATIONS
"This is no longer just about Hunter Biden," said Rep. Tim Burchett, R-Tenn. "The president shared this bank account with him. More and more evidence just keeps hitting us in the mouth and eventually there's got to be some justice. The American people are owed that much."
Schwerin, who has been dubbed the "money guy" due to his frequent involvement with the Biden family's finances, is a key player in the orbit of Hunter and his dad.
Hunter's ex-wife, Kathleen Buhle, who was married to the president's son from 1993 to 2017, revealed in a memoir in June 2022 that Schwerin "managed almost every aspect of our financial life."
Hunter also acknowledged that Schwerin, who visited the Obama White House and the vice presidential residence at least 36 times, was a "close confidant and counsel" to his father in a February 2014 email thread with Schwerin, Fox News Digital previously reported.
The House Oversight Committee released its third bank memo last week, producing bank records purporting to show that Hunter and his business associates received millions in payments from Russian and Kazakhstani oligarchs when his father was vice president.
'MONEY GUY': THIS HUNTER BIDEN BUSINESS PARTNER COULD BLOW THE LID OFF BIDEN FAMILY'S BUSINESS DEALINGS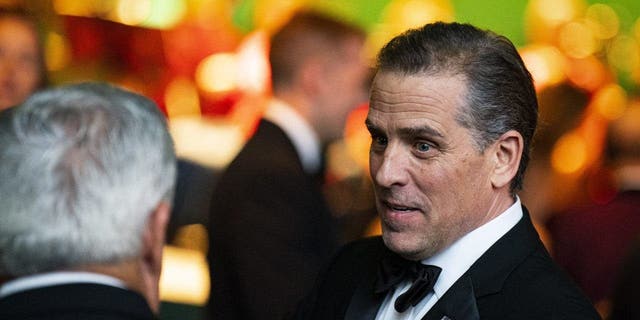 Hunter Biden attends the state dinner for Indian Prime Minister Narendra Modi hosted by President Biden and first lady Jill Biden at the White House on June 22, 2023. (Al Drago/Bloomberg via Getty Images)
The 19-page memo, which provided screenshots of redacted bank records, says millions in payments came from Ukrainian energy company Burisma Holdings, as well as Russian oligarch Yelena Baturina and Kazakhstani oligarch Kenes Rakishev, and that then-Vice President Biden attended dinners with Baturina, Rakishev and a representative from Burisma.
Two previous memos from the Republican-led committee tied Biden family members to payments linked to entities in China and Romania. The committee says the foreign payments to the Biden family now add up to over $20 million.
CLICK HERE TO GET THE FOX NEWS APP
Attorney General Merrick Garland on Friday appointed U.S. Attorney David Weiss as special counsel in the federal investigation into Hunter Biden. Republicans immediately criticized Garland's selection of Weiss, who led the prosecution in Hunter Biden's tax and gun charges that conservatives blasted as too lax.
House Oversight Committee Chairman James Comer, R-Ky., called Garland's announcement "part of the Justice Department's efforts to attempt a Biden family coverup in light of [House Oversight Republicans'] mounting evidence of President Biden's role in his family's schemes selling 'the brand' for millions of dollars to foreign nationals."