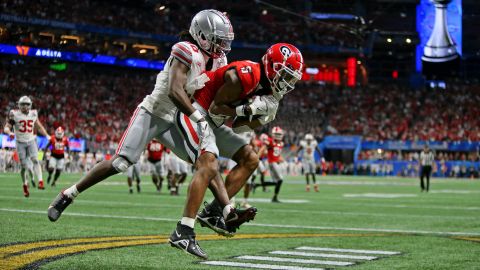 Georgia Bulldogs wide receiver Adonai Mitchell makes a catch during the 2022 Peach Bowl at Mercedes-Benz Stadium.
Brett Davis/USA Today Sports/Reuters

CNN
—
The college football season arrives at its climax on Monday as the heralded Georgia Bulldogs attempt to defend their title against the Horned Frogs of Texas Christian University (TCU).
For many of the players, it will be their final shot at collegiate glory before embarking on their professional careers.
Georgia heads to the SoFi Stadium, Los Angeles, unbeaten so far this season and with history in its sights as the defending champions.
No team has won consecutive national titles since Alabama in 2011 and 2012, and none since the advent of the reformatted College Football Playoffs in 2014.
TCU, meanwhile, entered the season outside the top 25 programs in the country and with a rookie coach in Sonny Dykes – no coach of such inexperience has ever reached a College Football Playoff Championship game, let alone won.
Describing their season as an underdog story would be an understatement, with the unlikely 51-45 win over previously unbeaten Michigan in the Fiesta Bowl last weekend the latest in a string of remarkable results.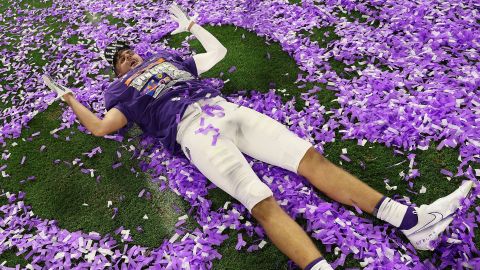 Ryan Quintanar of the TCU Horned Frogs celebrates with confetti following the Fiesta Bowl on December 31, 2022.
Christian Petersen/Getty Images
Both teams' quarterbacks will be looking to increase their stock ahead of the 2023 NFL Draft.
Georgia's Stetson Bennett is already 25 years old, but it would be hard for teams to ignore a back-to-back national championship signal-caller, even if he were to be picked in later rounds.
Bennett's calling card is his capacity to remain calm late in games, demonstrated by his poise in last week's comeback win over Ohio State. His third touchdown pass of the game, with just 54 seconds remaining, made the Bulldogs the first team to come back from a 14-point fourth-quarter deficit in College Football Playoff history, according to the NCAA.
The Horned Frogs' Max Duggan finished second in Heisman Trophy voting for his central role in this Cinderella story of a season – but is also likely to find himself drafted in later rounds as opposed to at the top of the board.
Outside of the quarterback position, Bulldogs' cornerback Kelee Ringo has impressed all season, as has left tackle Broderick Jones.
Georgia fans will have fond memories of Ringo in Championship games, given it was his pick-six which iced the game against Alabama in 2022.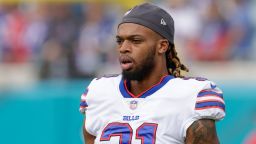 Buffalo Bills safety Damar Hamlin (31) during the game between the Buffalo Bills and the Jacksonville Jaguars on November 7, 2021 at TIAA Bank Field in Jacksonville, FL.
David Rosenblum/Icon Sportswire/Getty Images
Damar Hamlin's breathing tube is out amid his 'substantial improvement' after in-game cardiac arrest, Buffalo Bills say
Player health will no doubt be in the spotlight after one of the darkest weeks in NFL and football history with the on-field collapse of Buffalo Bills' safety Damar Hamlin, which sent shockwaves around the sport and beyond.
With several of those involved in the game either heading to the professional league or with aspirations to do so, the events of last Monday serve as a stark reminder of the players' mortality ahead of a match which is often described as a shot at permanence in sporting lore.
That said, if TCU succeed in unseating yet another of college football's modern powerhouses, it will be hard to hyperbolize the scale of their achievement. The Horned Dogs have not won a national title since 1938, and no team from the Big 12 conference has conquered the nation since 2005.
After a week where results have rightly taken a back seat, Monday's fixture will provide a welcome return to the ebbs and flows of the high-stakes college sporting theater.