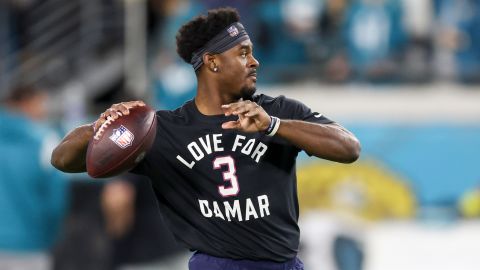 Malik Willis of the Tennessee Titans warms up while wearing a shirt in support of Buffalo Bills safety Damar Hamlin.
Mike Carlson/Getty Images

CNN
—
In the first games since Damar Hamlin's on-field cardiac arrest on Monday, the NFL honored the Bills safety as he posted on Instagram for the first time, thanking everyone for the "love" he's received.
Already, the weekend was significant as the last of the regular season, and Hamlin's collapse on Monday added a layer of unprecedented emotion to the proceedings.
Players from the Las Vegas Raiders and Kansas City Chiefs wore shirts and hoodies in support of Hamlin, while supporters at the Allegiant Stadium held a moment of support for the 24-year-old before kickoff.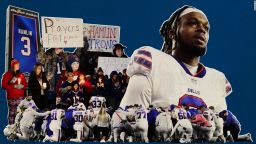 What we learned about the NFL in the aftermath of Damar Hamlin's cardiac arrest
In Jacksonville, players and support staff from the Jacksonville Jaguars and Tennessee Titans joined together in midfield for a prayer circle while the crowd remained quiet.
Television cameras picked out tributes in the stands too –"Love for 3 Damar," one poster held by a fan read, with the 3 inside the outline of a buffalo.
On the field, the Chiefs cruised to a 31-13 victory over the Raiders, leading from start to finish, and clinched the No. 1 seed in the AFC conference on Saturday at Allegiant Stadium.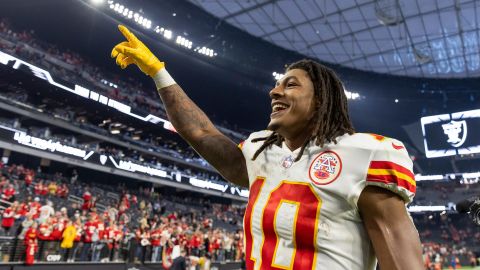 Kansas City Chiefs running back Isiah Pacheco celebrates the win.
Jeff Lewis/AP
It is the third time in three seasons that the Chiefs have secured the AFC's No. 1 seed under head coach Andy Reid and quarterback Patrick Mahomes.
Kansas City will have a first-round bye in the playoffs and can secure the AFC Championship at home if the Buffalo Bills lose to the New England Patriots on Sunday.
If the Bills win against the Patriots and make it to the AFC Championship game, along with the Chiefs, the game will be played at a neutral site.
'It's hard to sum this season'

Meanwhile, the Jacksonville Jaguars clinched the AFC South division after defeating the Tennessee Titans 20-16 on Saturday night at TIAA Bank Field.
With just three minutes remaining in the fourth quarter and trailing 16-13, the Jaguars got a huge defensive play to seal victory.
Jacksonville defensive back Rayshawn Jenkins forced a fumble on Titans quarterback Josh Dobbs and Jaguars defensive end Josh Allen recovered it and scored to give them a 20-16 lead.
On the next possession, the Jacksonville defense stopped the Titans offense on the fourth down to snuff out any last-minute threat.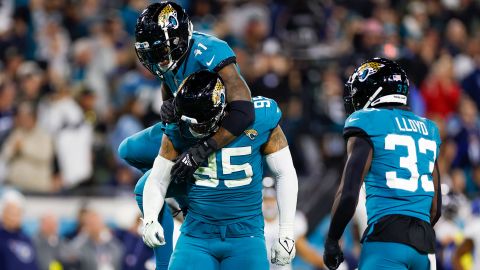 Jacksonville hasn't reached the playoffs since 2017.
David Rosenblum/Icon Sportswire/Getty Images
Engineered by head coach Doug Pederson in his first year at Jacksonville, it marks the Jaguars' first playoff appearance since 2017 and a remarkable comeback after their disastrous three-win campaign last season.
"It's hard to sum up this season and what we've been able to do," Jaguars quarterback Trevor Lawrence told ESPN. "To get an opportunity to go play in the playoffs. Another home game here. We're fired up."