Four House Republicans have publicly called for Rep. George Santos, R-N.Y., to resign after the embattled first-year congressman admitted to fabricating parts of his resume and biography.
Like Santos, Reps. Anthony D'Esposito, Nick Langworthy, Nick LaLota and Brandon Williams are all first-term congressmen elected in New York districts during the November midterms.
Santos' lies were exposed in December, revealing the openly gay man who flipped the long-Democrat-held 3rd District is not Jewish and did not descend from survivors of the Holocaust as he had claimed. The son of Brazilian immigrants, Santos also never graduated from Baruch College – or from any university – and never worked for Citigroup or Goldman Sachs, despite telling the story of a successful career at the two Wall Street firms to voters.
Santos, sworn in by House Speaker Kevin McCarthy on Saturday, is now also facing a slew of investigations into allegations he possibly violated federal campaign finance laws.
GEORGE SANTOS REFUSES TO RESIGN AFTER NASSAU COUNTY GOP CALLS ON DISGRACED CONGRESSMAN TO STEP DOWN
They've so far centered on $705,000 Santos donated to his own campaign from purported income earned through Devolder, LLC., a consulting business he founded in 2021, suggesting he could have disguised campaign contributions made by unknown individuals or corporations, according to a federal watchdog complaint.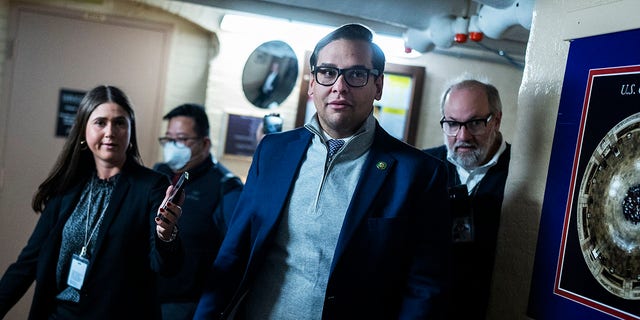 Rep. George Santos is seen outside a House Republican Conference Committee meeting in the U.S. Capitol on Tuesday, Jan. 10, 2023.
(Tom Williams/CQ-Roll Call, Inc via Getty Images)
LaLota was the first incoming House Republican to outwardly condemn Santos, calling for a "full investigation by the House Ethics Committee" – and possibly law enforcement intervention – in December when they were both congressmen-elect at the time. But it wasn't until the Nassau County GOP on Wednesday hosted a press conference calling for Santos' immediate resignation that D'Esposito, whose district borders Santos', became the first House Republican to outright demand he step down.
"I join with you, and I join with my colleagues, in saying that George Santos does not have the ability to serve here in the House of Representatives and should resign," D'Esposito, appearing virtually, said.
In a statement afterward, he added, "Throughout my time as both an NYPD detective and elected official, I have maintained that trust is the hallmark of good public service. When public servants deceive and mislead those they are tasked with serving, they are no longer fit to work for the people."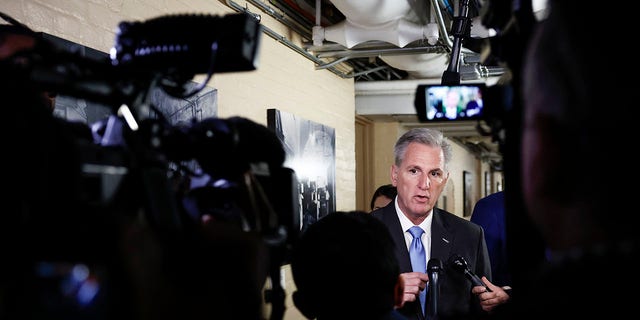 House Speaker Kevin McCarthy speaks to reporters as he arrives to a meeting at the U.S. Capitol on Jan. 11, 2023.
(Anna Moneymaker/Getty Images)
D'Esposito condemned Santos' "betrayal of public trust," saying his "many hurtful lies and mistruths surrounding his history have irreparably broken the trust of the residents he is sworn to serve."
Langworthy, the chairman of the New York State Republican Committee, also issued a statement Wednesday supporting the calls from the Nassau County GOP for Santos' resignation.
"I support the Nassau Republicans' decision today to request the resignation of George Santos," Langworthy said. "It's clear that he cannot be an effective representative, and it would be in the best interest of the taxpayers to have new leadership."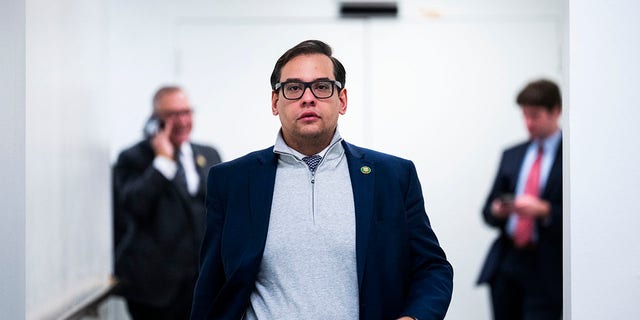 Rep. George Santos outside a House Republican Conference meeting in the U.S. Capitol on Tuesday, Jan. 10, 2023.
(Tom Williams/CQ-Roll Call, Inc via Getty Images)
"I will continue working with our local elected officials to ensure that trust and dignity are restored to the 3rd congressional district," he added.
LaLota, in a brief interview at the Capitol Wednesday, echoed their calls and went further by citing allegations that Santos may have flashed the White power symbol – what resembles the OK hand gesture – during the House floor vote. "What he's done is disgraceful, dishonorable and unworthy of the office. I think he should resign," LaLota told Axios. "He hasn't shown any remorse, he hasn't corrected any of the behavior. He still has antics like showing a white power sign on the House floor. It's not appropriate for our conference, for our country."
Williams also put out a statement Wednesday.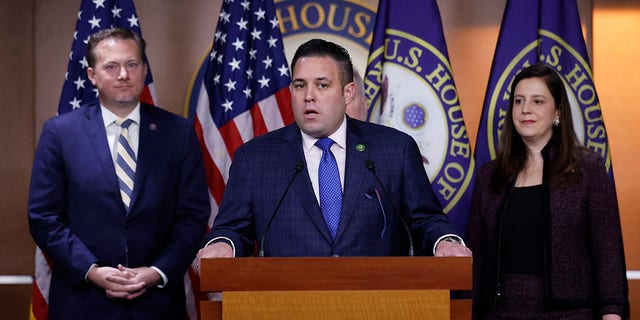 Rep. Anthony D'Esposito makes a brief statement during a news conference following a GOP caucus meeting at the U.S. Capitol on Jan. 10, 2023.
(Chip Somodevilla/Getty Images)
"As more revelations become public, I concur with the Nassau Republicans' decision to request George Santos's resignation," he said. "The constituents in NY-3 elected Representative Santos in part due to his biographical exaggerations and apparent deceptions. He must resign."
CLICK HERE TO GET THE FOX NEWS APP
In a defiant move, Santos told reporters Wednesday he would not resign despite the Nassau County GOP turning their back on him. McCarthy said Santos "will continue to serve."
"I try to stick by the Constitution. The voters elected him to serve. If there is a concern, and he has to go through the Ethics, let him move through that," McCarthy told reporters Wednesday.