California Gov. Gavin Newsom is still clinging to his TikTok account as a growing number of red and blue states across the country are at least partially banning the app.
Congress prohibited TikTok's use on federal government devices in the omnibus bill President Biden signed into law weeks ago due to security concerns that have been expressed by both Republicans and Democrats.
The U.S. armed forces have also banned TikTok on military devices, and more than half of the states in the country have passed laws banning the video-sharing app from being downloaded on state-owned devices.
TikTok is owned by ByteDance, a Chinese company that moved its headquarters to Singapore in 2020. Its critics say the Chinese government could access user data, such as browsing history and location, as well as push communist propaganda through the app.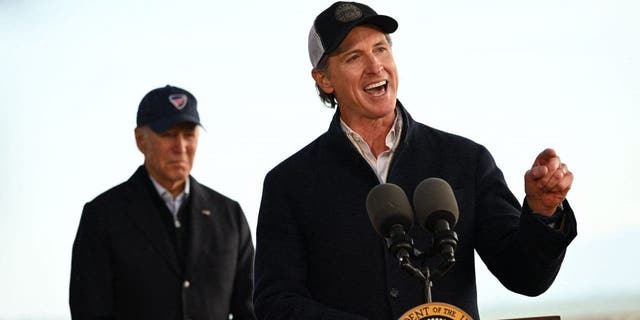 US President Joe Biden (L) listens to California Governor Gavin Newsom deliver remarks after looking at storm damage, and speaking to those affected in Seacliff, California, on January 19, 2023.
(Photo by ANDREW CABALLERO-REYNOLDS/AFP via Getty Images)
CALIFORNIA GAS-POWERED LAWN EQUIPMENT TOPS LONG LIST OF THINGS BANNED BY NEWSOM
Fears surrounding the popular social media site grew following a report last year that a TikTok team in China accessed data of U.S. TikTok users, including two journalists.
Lawmakers on both sides of the aisle in California have introduced bills that would restrict TikTok on state-issued devices.
California state Senate Republican Leader Brian Jones and Democratic state Sen. Bill Dodd have introduced legislation that would ban state employees from downloading social media applications like TikTok that are linked to a "country of concern."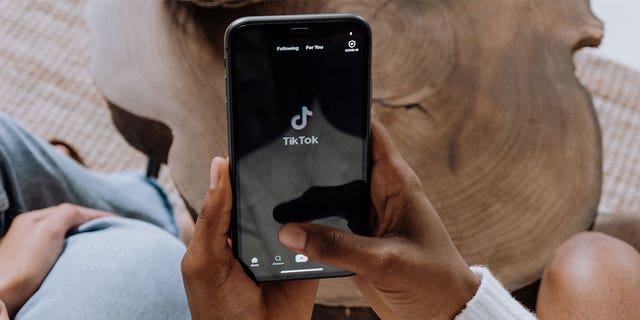 Photo of a person on TikTok. The app tracks all of your personal information.
(Fox News)
Dodd told KCRA that while Newsom likely does not have state-issued devices, his staff members who run his accounts probably do.
"I say tough luck," Dodd said. "It's up to you to protect people's data; we all have a responsibility."
Jones said he hopes Newsom deactivates his accounts.
"I'm hoping that the governor will follow the Senate's lead and deactivate his account as well," Jones told CBS 8, "until we can get confidence that these issues are taken care of."
Newsom's office responded to the outlet saying, "We have our experts reviewing the issue but nothing to share beyond that at this time."
US President Joe Biden and California Governor Gavin Newsom walk to deliver remarks after looking at storm damage, and speaking to those affected in Seacliff, California, on January 19, 2023.
(Photo by ANDREW CABALLERO-REYNOLDS/AFP via Getty Images)
NEWSOM SLAMS 'MORALLY REPREHENSIBLE' MIGRANT TRANSPORTS DESPITE LAUNCHING HOMELESS BUS PROGRAM AS SF MAYOR
The governor's press office did not respond to Fox News Digital's inquiry asking if the governor has accessed TikTok on state-owned devices, whether he believes there are security concerns associated with TikTok, or if he has any plans to delete his accounts in the future.
Newsom's official "gavinnewsom" and "cagovernor" TikTok accounts boast a combined 432,000 followers. One of the governor's most recent videos showed him slamming "red state politicians" for their alleged "authoritarianism."
BIDEN, PELOSI, OTHER TOP DEMS SENT KIDS TO PRIVATE SCHOOL BUT OPPOSE SCHOOL CHOICE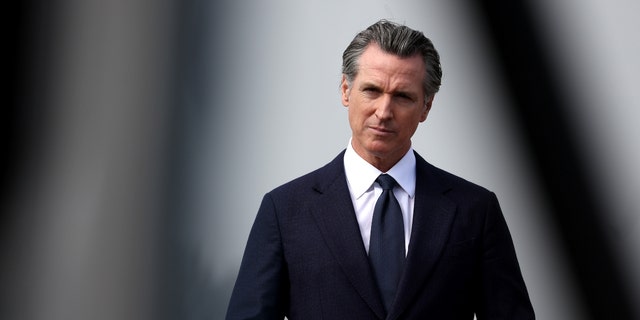 California Gov. Gavin Newsom speaks during a press conference in San Francisco, California. 
((Photo by Justin Sullivan/Getty Images))
It's not that Newsom is averse to banning things he deems harmful. In 2020, he announced a ban on the sale of new gas engine vehicles by 2035 in an effort to combat climate change. In 2021, he announced a ban on the sale of new gas-powered lawn equipment by 2024 and signed a law banning large retailers from not including a gender-neutral aisle for children's toys.
While the effort to restrict TikTok has been a bipartisan one, Democrats are still largely using the app on their personal devices. A recent analysis by States Newsroom found that at least 32 members of Congress — all Democrats and one independent — as of early January had TikTok accounts, and at least half of those members either "currently sit or have previously served on committees dealing with foreign affairs, the U.S. military, investigations and national security."
CLICK HERE TO GET THE FOX NEWS APP
In order to avoid the sweeping U.S. bans, TikTok has reportedly offered to increase its transparency by granting U.S. officials oversight of its algorithms as part of a $1.5 billion reorganization of its U.S. operations.
Fox News' Breck Dumas and The Associated Press contributed to this report.