A Southern California community is in mourning after a gunman opened fire in a ballroom killing 11 people and injuring nine others during Lunar New Year celebrations over the weekend.
Investigators said the gunman – later identified as 72-year-old Huu Can Tran – was previously arrested for illegally owning a firearm, had a rifle at home, hundreds of rounds of ammunition and appeared to be manufacturing gun silencers.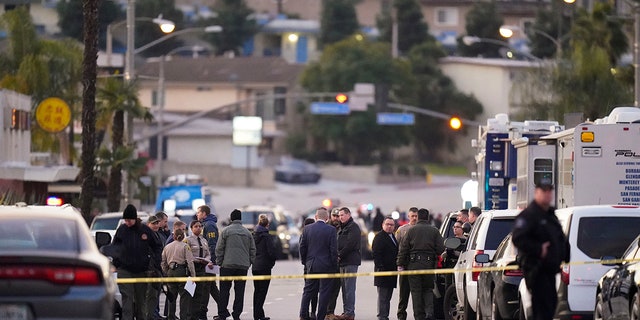 Law enforcement personnel gather outside a ballroom dance club in Monterey Park, Calif., Sunday, Jan. 22, 2023. 
(AP Photo/Jae C. Hong)
The massacre and another Monday night in Half Moon Bay have left many unanswered questions as to how it could happen in California, a state which Los Angeles County Sheriff Robert Luna reminded reporters is known for its strict gun laws.
"California has some of the strictest gun laws in the country but yet, look at what we just had today," Luna said. "Let's look across this nation and see what works and what doesn't. I can tell you this, the status quo is not working."
CT GOV. LAMONT PROPOSES OPEN CARRY BAN, OTHER GUN RESTRICTIONS
Advocacy groups regularly rank California among the top states in the nation for gun safety. Giffords, a group dedicated to ending gun violence, has given the Golden State an "A" scorecard.
The state has mandatory waiting periods and background checks to purchase a firearm. Military-style weapons are also banned.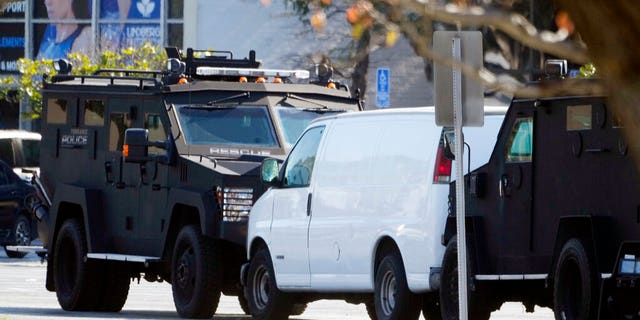 A van is surrounded by SWAT personnel in Torrance Calif., Sunday, Jan. 22, 2023. A mass shooting took place at a dance club following a Lunar New Year celebration, setting off a manhunt for the suspect. (AP Photo/Damian Dovarganes)
(AP Photo/Damian Dovarganes)
California banned the sale of magazines in 2013 and possession of them in 2016. State lawmakers have also passed red flag laws which allow authorities or family members to request a court confiscate a gun from somebody believed to pose a danger to themselves or others.
Last summer, Democratic Gov. Gavin Newsom signed a package of bills aimed at further reining in gun violence by requiring more accountability for gun dealers and restricting the types of guns that are sold.
Under these new laws, citizens are now allowed to sue gun dealers who "sell, supply, deliver, or give possession or control of a firearm," to anyone under the age of 21. Gun manufacturers also face stiffer penalties in civil court if their firearms are used in a crime.
SAN FRANCISCO REPARATIONS PROPOSAL MAKES WAVES: 'AMERICA MUST ADMIT ITS SIN'
Short-barrel shotguns and rifles are also banned as are undetectable or "ghost" guns, zip guns, and assault weapons.
"California has the toughest gun safety laws in the nation, but none of us can afford to be complacent in tackling the gun violence crisis ravaging our country," Newsom said at the time. "These new measures will help keep children safe at school, keep guns out of the hands of dangerous people and responsibly regulate the sale of firearms in our communities. California will lead on lifesaving policies that provide a model for action by other states and the nation."
On Sunday, Newsom said the U.S. was unique in its "constant stream of gun violence."
On Monday, he accused the Republican Party of bowing "down to the gun industry." Some of Newsom's fellow Democrats raced to blame the Monterey shooting on "bigotry" before any facts were out. Police have not yet stated a motive, but Tran was Asian, as were all of his known victims.
CLICK HERE TO GET THE FOX NEWS APP
Saturday night's attack is the nation's deadliest since May 24, when 21 people – 19 of whom were children – were killed in an elementary school in Uvalde, Texas.
The Associated Press contributed to this report.