close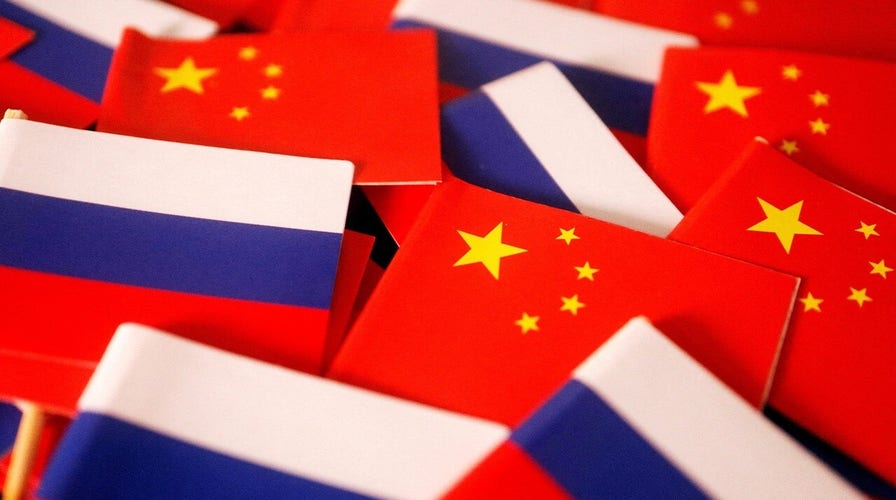 Video
China can't afford to have Russia lose in Ukraine: Jennifer Griffin
Fox News chief national security correspondent Jennifer Griffin discusses the war in Ukraine and the growing divide over the United States' role on 'Sunday Night In America.'
Secretary of State Antony Blinken ran into his Russian counterpart Sergei Lavrov for the first time since Russian President Vladimir Putin launched his invasion in Ukraine over a year ago.
The top diplomats were said to have chatted for no more than 10 minutes on the sidelines of the G20 conference in India – which the U.S. has previously looked to ban Moscow from.
During the brief encounter Blinken reiterated three top priorities to the U.S. which firstly included Russia re-entering the New START treaty to bring Washington and Moscow back under a joint nuclear agreement after Putin "suspended" the treaty last week, a senior State Department official told reporters.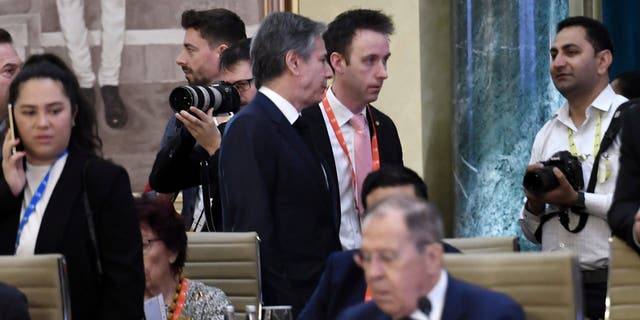 Secretary of State Antony Blinken, top center, walks past Russian Foreign Minister Sergey Lavrov during the G20 foreign ministers' meeting in New Delhi Thursday, March 2, 2023.  (Olivier Douliery/Pool Photo via AP)
NATO MEMBER URGES ALLIES TO PAY MORE AFTER UKRAINE WAR ANNIVERSARY, CLAIMS 'CRISIS' IN UN
Additionally, the secretary urged Lavrov to review a proposal the U.S. sent regarding former Marine Paul Whelan, who has been "wrongfully detained" in Russia since 2018.
Lastly, Blinken reiterated the U.S.'s commitment to Ukraine and called on Russia to end the war and respect Ukraine's internationally recognized borders as detailed under the U.N., which would include the complete Russian withdrawal from Crimea – a move Russia is unlikely to take.
The State Department official did not go into detail on Lavrov's comments but said the U.S. remains "hopeful" that Moscow will "reverse" its course in Ukraine.
Reports earlier this week said that India had hoped to steer the summit's focus on issues that affect the global south like climate change, food security and inflation, but instead the meeting of foreign ministers has largely centered around the war in Ukraine.
CHINA COULD FUNNEL WEAPONS TO RUSSIA THROUGH BELARUS AS DEFENSE TIES WITH BEIJING DEEPEN: EXPERT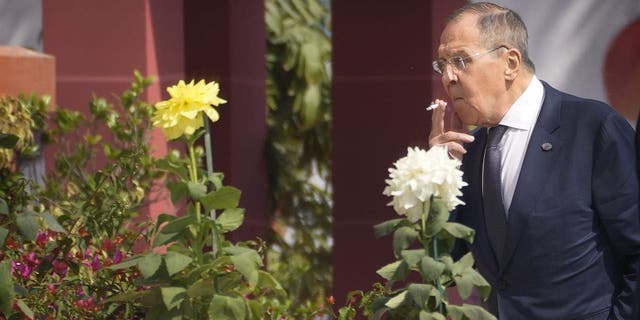 Russian Foreign Minister Sergey Lavrov smokes as he walks to attend the second session of the G20 foreign ministers meeting, in New Delhi, India, Thursday, March 2, 2023.  (AP Photo/Manish Swarup)
According to Indian Foreign Minister Subrahmanyam Jaishankar the G20 could not issue a joint statement on the war in Ukraine but said the differences between nation's standing on the war "could not be reconciled," first reported the BBC.
"We tried, but the gap between the countries was too much," he added.
The U.S. reportedly said the talks had been marred by Russia's "unprovoked and unjustified war" while Russia in turn accused the West of "blackmail and threats."
"We are meeting at a time of deep global divisions," Indian PM Narendra Modi reportedly said when opening the talks.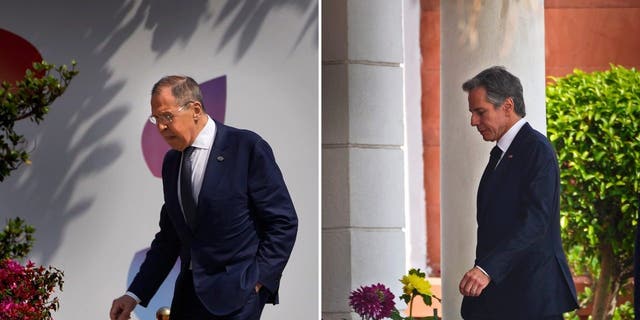 This combination of photos shows U.S. Secretary of State Antony Blinken, right, and Russian Foreign Minister Sergey Lavrov, left, walk to attend second session of the G20 foreign ministers' meeting, respectively, in New Delhi Thursday, March 2, 2023.  (AP Photo/Manish Swarup)
CLICK HERE TO GET THE FOX NEWS APP
"After years of progress, we are at risk today of moving back on the sustainable development goals. Many developing countries are struggling with unsustainable debts while trying to ensure food and energy security," he added.
The G20, an economic cooperative between 20 nations, is made up of the world's tops economies which also includes nations like China France, Germany, the U.K., Indonesia, Japan, Saudi Arabia and South Africa.
Caitlin McFall is a Reporter at Fox News Digital covering Politics, U.S. and World news.