District Attorney Fani Willis has asked a Fulton County court to set a trial date for former President Donald Trump and all 18 of his co-defendants in the case related to alleged efforts to overturn the 2020 presidential election.
In response to a motion for a speedy trial from defendant Kenneth Chesebro, Willis "respectfully" requested that a trial "commence for all 19 defendants on October 23, 2023."
Trump and more than a dozen others were charged out of the Fulton County probe, including his former White House chief of staff Mark Meadows, his former attorneys Rudy Giuliani, Sidney Powell, Jenna Ellis, Kenneth Chesebro, Jeff Clark, John Eastman, among others.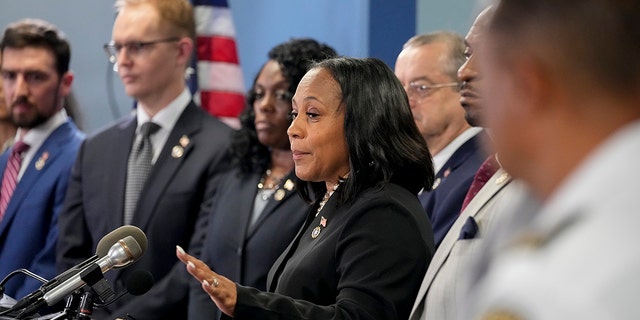 Fulton County District Attorney Fani Willis, center, speaks in the Fulton County Government Center during a news conference, Monday, Aug. 14, 2023, in Atlanta. Donald Trump and several allies have been indicted in Georgia over efforts to overturn his 2020 election loss in the state.  (AP Photo/John Bazemore)
TRUMP TO BE BOOKED AT FULTON COUNTY JAIL AFTER CHARGES STEMMING FROM 2020 ELECTION PROBE
The charges include violating the Georgia RICO Act—the Racketeer Influenced And Corrupt Organizations Act; Solicitation of Violation of Oath by a Public Officer; Conspiracy to Commit Impersonating a Public Officer; Conspiracy to Commit Forgery in the First Degree; Conspiracy to Commit False Statements and Writings; Conspiracy to Commit Filing False Documents; Conspiracy to Commit Forgery in the First Degree; Filing False Documents; and Solicitation of Violation of Oath by a Public Officer. Not everyone faces the same charges.
The former president, specifically, was charged in Fulton County with 13 counts: One count of violation of the Georgia RICO Act, three counts of criminal solicitation, six counts of criminal conspiracy, one count of filing false documents and two counts of making false statements.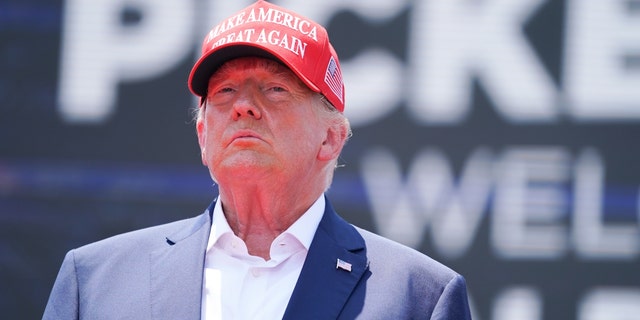 Former President Donald Trump offered Fox News Digital an exclusive reaction. (Sean Rayford/Getty Images)
Judge Scott McAfee of the Fulton County Superior Court set bond for the former president, and current 2024 GOP presidential frontrunner, at $200,000.
READ THE COURT FILING BELOW. APP USERS: CLICK HERE
The filing comes hours before Trump is expected to turn himself in at the Fulton County jail in Atlanta, Ga.
TRUMP SAYS GEORGIA INDICTMENT COMES DURING 'DARK PERIOD' FOR US, VOWS TO FIX IT BY WINNING
It is expected that Trump will be required to take a mugshot. Others charged out of Fulton County District Attorney Fani Willis' probe, like former Trump lawyers Rudy Giuliani, Sidney Powell, Jenna Ellis and more had their photos taken during processing.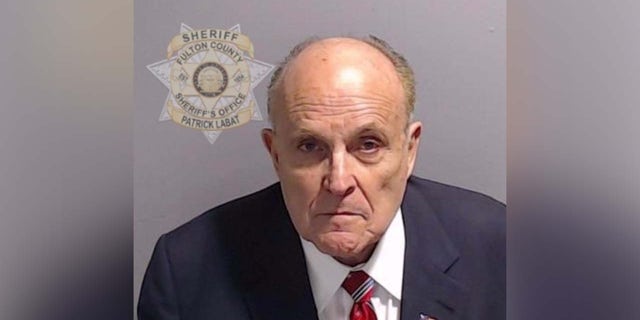 A mugshot of former New York Mayor Rudolph Giuliani. (Fulton County Sheriff)
Trump retained Steven Sadow, an Atlanta-based white collar defense attorney, to represent him in the Fulton County case. Sadow will replace Drew Findling, who had been representing him in the matter. Findling is no longer representing Trump, a source familiar told Fox News Digital.
"I have been retained to represent President Trump in the Fulton County, Georgia case," Sadow said in a statement. "The President should never have been indicted. He is innocent of all the charges brought against him."
CLICK HERE TO GET THE FOX NEWS APP
Sadow added: "We look forward to the case being dismissed or, if necessary, an unbiased, open minded jury finding the President not guilty. Prosecutions intended to advance or serve the ambitions and careers of political opponents of the President have no place in our justice system."
The indictment out of Georgia was the fourth for Trump, who is the first former president in United States history to face criminal charges.
Fox News Digital has learned his formal arraignment, where he is expected to plead not guilty, will take place sometime early next month.