Never Back Down, the political action committee supporting Gov. Ron DeSantis' bid for president, trolled competitor Vivek Ramaswamay after he inaccurately recalled Constitutional history in the first GOP primary debate.
The PAC insinuated that the newcomer might need a civics lesson a la a DeSantis presidency, which the governor says "would "increase civic understanding and knowledge of our constitution."
In the first Republican presidential primary debate on Wednesday evening, entrepreneur and author Ramaswamy stated that the Constitution is "the strongest guarantor of freedom in human history. That is what won us the American Revolution."
In a statement posted on X, the social media platform formerly known as Twitter, the PAC said, "The U.S. Constitution did not win us the American Revolution, it came years later. Vivek Ramaswamy is mistaken.
RAMASWAMY, PENCE CLASH AFTER FORMER VP CALLS GOP NEWCOMER A 'ROOKIE': 'THIS ISN'T COMPLICATED'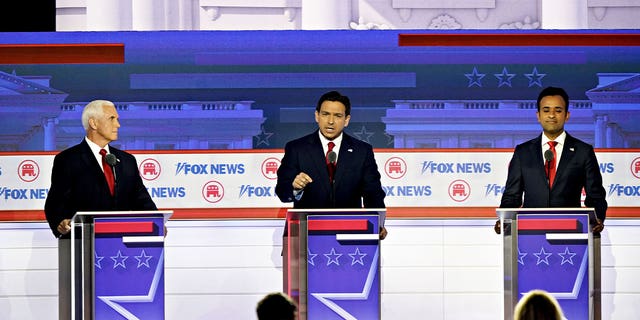 Former Vice President Mike Pence, Gov. Ron DeSantis and Vivek Ramaswamy, chairman and co-founder of Strive Asset Management and during the Republican vice presidential debate in Milwaukee, Wisconsin. (Al Drago/Bloomberg via Getty)
"@RonDeSantis will fix civics education in our country!" the PAC wrote.
The Constitution was ratified in 1788. The American Revolution formally ended in 1783 with ratification of the Treaty of Paris.
First-time candidate Ramaswamy took heat from several GOP contenders on the debate stage Wednesday night. In addition to the founding document faux pas, foreign policy appeared to be a liability for him after fielding attacks from multiple candidates on the issue.
Former UN ambassador Nikki Haley tore into Ramaswamy over his foreign policy takes, from the Russian war against Ukraine to his critical posture toward Israel, saying his inexperience "shows."
CHINA, UKRAINE, TRUMP, FENTANYL AND MORE ON THE DEBATE STAGE AGENDA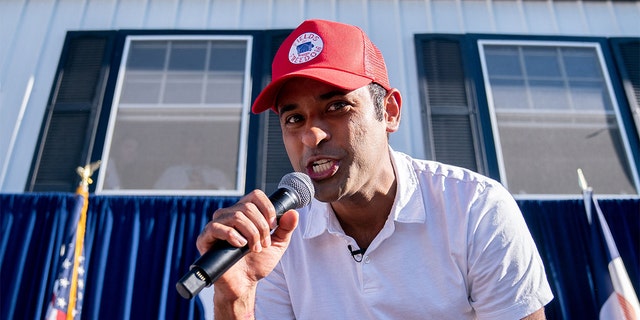 Entrepreneur and 2024 Presidential hopeful Vivek Ramaswamy raps after doing a Fair Side Chat with Governor Kim Reynolds, at the Iowa State Fair in Des Moines, Iowa, on August 12, 2023. (STEFANI REYNOLDS/AFP via Getty Images)
"He wants to hand Ukraine to Russia, he wants to let China eat Taiwan, he wants to go and stop funding Israel. You don't do that to friends, what you do instead is you have the backs of your friends," Haley said.
Ramaswamy responded saying, "Our relationship with Israel would never be stronger than by the end of my first term, but it's not a client relationship, it's a friendship, and you know what friends do? Friends help each other stand on their own two feet."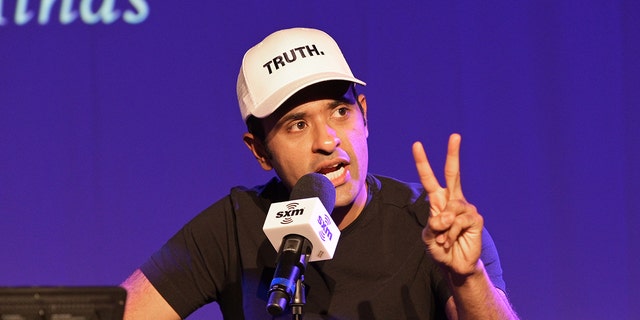 Vivek Ramaswamy speaks during a SiriusXM Town Hall Meeting at The Centre Theater on June 20, 2023, in Philadelphia, Pennsylvania.  (Lisa Lake/Getty Images for SiriusXM)
WATCH: HALEY CLASHES WITH RAMASWAMY OVER U.S. AID TO UKRAINE
"You know what I love about them, I love their border policies, I love their tough-on-crime policies, I love that they have a national identity and an Iron Dome to protect their homeland, so, yes, I want to learn from the friends that we're supporting," Ramaswamy added.
CLICK HERE TO GET THE FOX NEWS APP
"No, you want to cut the aid off, and let me tell you it's not that Israel needs America, it's that America needs Israel. They're on the front line of defense to Iran," Haley retorted, drawing applause form the crowed.
Fox News Digital's Paul Steinhauser contributed to this report.