Republican Georgia Gov. Brian Kemp declared that former President Trump was "the loser" of the first primary debate of the 2024 election cycle.
Kemp was the "Celebrity Guest Picker" at the "Ruthless" podcast's Debate Pregame Show outside Fiserv Forum in Milwaukee, Wisconsin. He kicked things off by jokingly suggesting he showed up to potentially fill the podium of North Dakota Gov. Doug Burgum, who was rushed to the emergency room after he injured his Achilles from a game of pick-up basketball.
When pressed in predicting a "winner" among the eight Republican candidates who appeared on the debate stage, Kemp asked the "Ruthless" co-hosts if he could choose a "loser" instead.
"I think that everybody here is a winner because they've gotten in the race. It takes a lot of guts to do that," Kemp told the "Ruthless" co-hosts on Wednesday before the debate. "I think the Trump campaign is making a big mistake by not being here. They are my loser of the night."
PUNDITS NAME THEIR WINNERS AND LOSERS FROM GOP DEBATE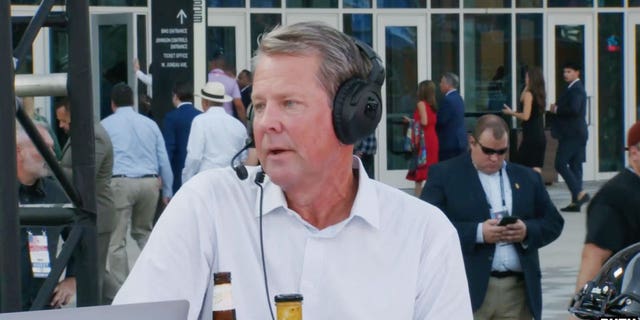 Republican Georgia Gov. Brian Kemp predicted former President Trump would be "the loser"ahead of the first GOP primary debate. (Screenshot/Ruthless)
Kemp went on to compare the Trump campaign to the Atlanta Falcons having a 28-3 lead against the New England Patriots at Super Bowl LI in 2017, which famously resulted in a 34-28 victory for the Patriots.
"You get complacent, you get into prevent defense, try to start spinning all this stuff instead of just simply answering the tough questions, like everybody else behind us is going to do tonight, because you know damn well there's gonna be some tough questions," Kemp said.
"I just think, like, If you're as good as you say you are, get your a– on there, answer the questions, fight it out and let's get it done. That's just my opinion," the governor later continued. "Look, I'm not saying that just because I've battled with President Trump. He's been mad at me. I haven't been mad at him, but that's just the way I think."
RAMASWAMY, PENCE CLASH AFTER FORMER VP CALLS GOP NEWCOMER A 'ROOKIE': 'THIS ISN'T COMPLICATED'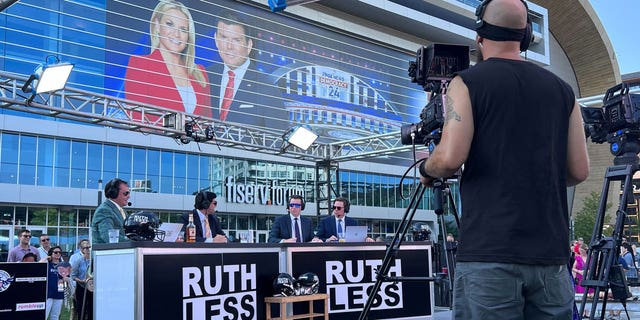 "Ruthless" podcast co-hosts Josh Holmes, Comfortably Smug, Michael Duncan and John Ashbrook kicked off the GOP debate festivities with an ESPN-style pregame special outside Fiserv Forum in Milwaukee on Aug. 23, 2023. (Joseph A. Wulfsohn/Fox News Digital)
"There had been many times the Chicago Bulls were up big, right? But Jordan never left at halftime. He always showed up," co-host Comfortably Smug responded.
Fellow co-host Josh Holmes also agreed, telling Kemp, "The biggest mistake you can make in politics is to take a vote for granted."
"There's a lot of other people that think the former president's doing the right thing here. I'm just telling you my opinion. We'll see as this plays out," Kemp added.
Despite not being in the race, Kemp's name continues to be floated as a potential candidate among some in the donor class who have become nervous that the current crop of White House hopefuls will not be able to defeat Trump in the primaries.
CHRIS CHRISTIE HIT WITH 'LOTS OF BOOS' AFTER GOP DEBATE INTRODUCTION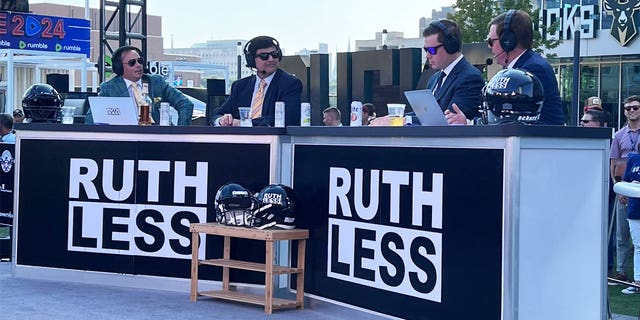 Josh Holmes, Comfortably Smug, Michael Duncan and John Ashbrook of the "Ruthless" podcast discuss the GOP hopefuls ahead of the first Republican presidential debate hosted by Fox News Channel. (Joseph A. Wulfsohn/Fox News Digital)
CLICK HERE TO GET THE FOX NEWS APP
Trump feuded with Kemp following the 2020 presidential election for not rejecting President Biden's victory in Georgia. That led to Trump failing in his attempt to oust Kemp in a GOP primary during the 2022 midterms only to then offer a last-minute endorsement of the governor, who won handily in his rematch against Democratic rival Stacey Abrams after squeaking out a victory in 2018.
Despite the former president's absence, the first Republican presidential debate was a lively exchange of ideas and challenges of candidates' records. The participants were Florida Gov. Ron DeSantis, entrepreneur Vivek Ramaswamy, former Vice President Mike Pence, former U.N. Ambassador Nikki Haley, former New Jersey Gov. Chris Christie, South Carolina Sen. Tim Scott, former Arkansas Gov. Asa Hutchinson and North Dakota Gov. Doug Burgum.