This is the first of a three-part series breaking down the Fox News Power Rankings ahead of the first 2024 GOP presidential debate.
Every candidate other than Donald Trump wants voters to know "it's early" in the 2024 Republican primary. It is in their interest to say so. The former president is the clear favorite in the race and has a resilient base of support.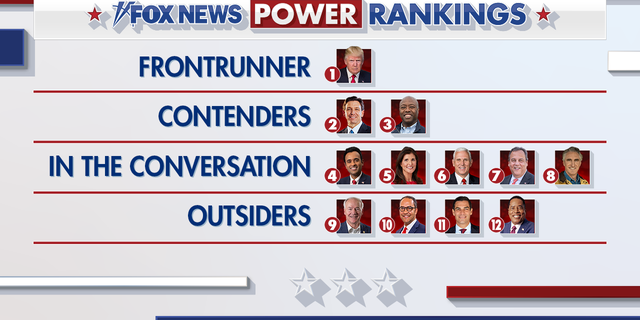 Donald Trump is the frontrunner, Ron DeSantis and Tim Scott are the contenders, while Vivek Ramaswamy, Nikki Haley, Mike Pence, Chris Christie, Doug Burgum are in the conversation and finally the outsiders are Asa Hutchinson, Will Hurd, Francis Suarez and Larry Elder.  (Fox News)
To their point, it is still early in the race. America will watch the candidates duke it out for the first time next week at the opening Republican debate, and the majority of voters are still six or more months away from casting a ballot.
For the candidates to make those ballots, they need to survive contests in the early states. Iowa, New Hampshire, and South Carolina, where the field is making the biggest investments so far, make or break campaigns.
By Super Tuesday, which traditionally follows these states plus Nevada, more than 80% of the Democratic field had dropped out in 2020. Over 70% of the GOP field called it quits by Super Tuesday in 2016.
FOX NEWS ANNOUNCES LIVE SPECIAL PROGRAMMING SURROUNDING COVERAGE OF FIRST GOP PRESIDENTIAL PRIMARY DEBATE
On those grounds, this first edition of the Fox News Power Rankings for the GOP primary looks closely at each candidate's early state polling, visits, and field operations, then their national polling and fundraising position.
This cycle, Iowans are expected to caucus on January 15, the earliest date in over a decade. With Thanksgiving and Christmas to come, there are only 18 full weeks of campaigning to go after the first debate.
"It's early" in the campaign. But it won't be for long.
The frontrunner
1. Donald Trump
There are very few cracks in Trump's wall, with the former president holding a commanding polling lead and both an ideological and deeply personal control over the GOP.
TRUMP INDICTED FOR FOURTH TIME AS HE LEADS 2024 PRIMARY FIELD
Trump leads between 30 to 40 points in most national polling, and has strong coverage in the early states as well. In two Fox Business polls conducted in late July, he led by 30 points in Iowa, and 34 points in South Carolina. DeSantis is generally in second place, and another ten candidates are fighting for the roughly third of the remaining vote.
He is most vulnerable in New Hampshire, where GOP primary voters have been less supportive of Trump's conduct and character; 32% said they would be dissatisfied or angry if he won the nomination in a University of New Hampshire poll conducted in late June. Even there, Trump still has a comfortable buffer between him and his opponents: the same poll put him at 37% overall, and 14 points ahead of (a now weaker) DeSantis.
Trump also reigns supreme on fundraising. His joint fundraising committee took in $54 million in the first half of the year, higher than any other campaign.
He is diverting vast sums of his donors' money to pay for his legal bills, but even after directing 10% of his funds to a PAC that primarily exists for that purpose, Trump still has more campaign cash on hand than any of his rivals.
Not only has he raised more money than any other candidate, he also has the highest share of small dollar donors, with 82% of his funds coming from people who gave $200 or less.
Importantly, Trump has maintained his ideological and personal hold over the party. His policy agenda, especially on the economy and immigration, remains in lockstep with party base preferences.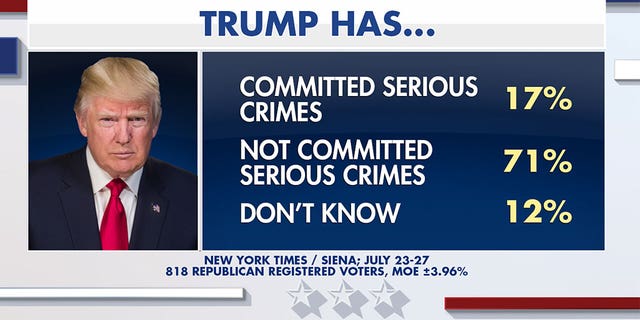 71% of likely Republican voters say that Trump has not committed serious crimes.  (Fox News)
TRUMP INDICTMENT REACTION FROM RIVALS RANGE FROM OFFER OF LEGAL ASSISTANCE TO CALL TO DROP OUT OF RACE
And his defenses against multiple indictments have persuaded much of the party. Asked about investigations into his conduct in July, 71% of likely Republican voters said Trump had not committed serious federal crimes.
Trump's popularity with the base and history of thwarting opponents within the party also give him another advantage over all of his rivals: already, 28% of all U.S. senators, representatives and state governors in the GOP have endorsed his candidacy (82 out of 297). His rivals have received 14 endorsements, combined.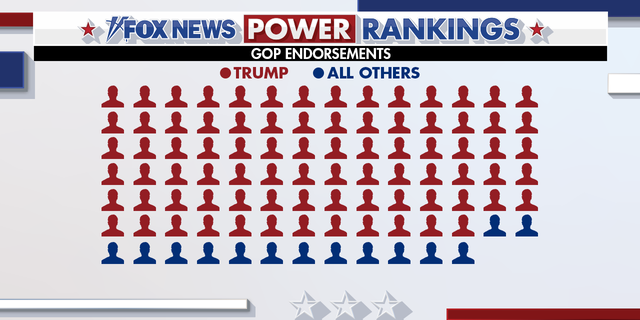 Other GOP rivals have only received 14 endorsements combined compared to Trump. (Fox News)
Trump is not impenetrable. As the New York Times found in its most recent national survey, the Republican Party is split among Trump base voters, who represent about 37% of the party, persuadable voters (those who are open to Trump and others), who represent another 37%, and the "non-Trump" wing, who represent the last 25%.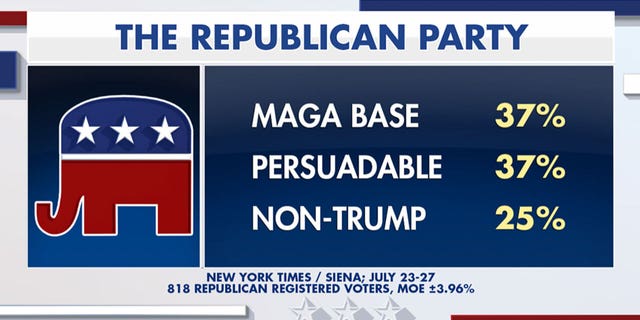 The Republican Party is split between those who support Trump, those who are persuadable and those who don't. (Fox News)
That gives rivals an opening. The persuadable wing and non-Trump wing add up to a 62% majority. But none of them have approached anywhere near that level of support, and that is unlikely to change until the field narrows drastically.
The former president's legal challenges have not complicated his path to the nomination so far. He increased his polling lead after his first indictment and it's holding steady after the second and third.
It may present an issue later. Trump has already acknowledged that his legal obligations leave him with less time for campaigning. And last week, the Department of Justice proposed a January 2 trial date for charges related to his latest indictment – 13 days before the Iowa caucus.
The contenders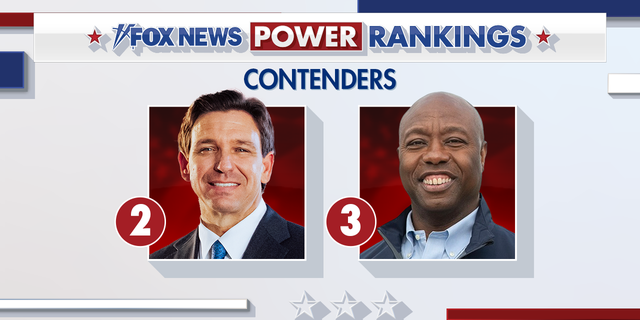 Ron DeSantis remains in the lead as an alternative to Donald Trump. (Fox News)
DESANTIS THE NO. 1 CANDIDATE ATTACKED IN PRESIDENTIAL RACE SO FAR
2. Ron DeSantis
DeSantis remains the leading alternative to Trump, but his campaign has experienced significant setbacks.
The governor of Florida is the only candidate other than Trump to post double digit results nationally and across all the early states. He is in a strong position to win delegates in Iowa, where he received 16% in our Fox Business poll, and has double digit support in New Hampshire.
He has posted similar results in South Carolina, but in that winner-take-all state, anything other than first place will leave him empty handed on delegates.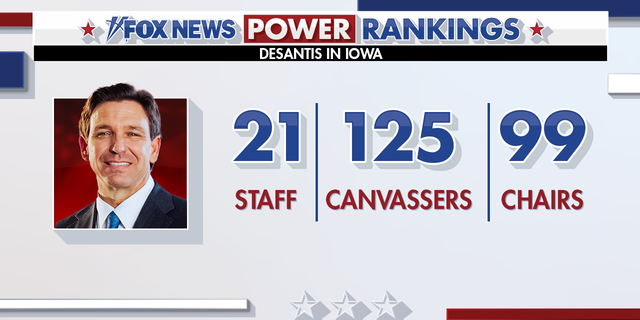 DeSantis is in a strong position to end up winning delegates in Iowa. (Fox News)
DeSantis' strength in Iowa stems from his commitment to the state. The governor has visited nearly 40 counties, and plans to check in with all 99. The ground operation is run by Never Back Down, the Super PAC supporting him. It has 21 staffers, 125 canvassers, and a coordinator in every county, according to Politico.
DeSantis has raised and spent a lot of campaign money, with $12 million cash on hand at the end of June. Never Back Down remains incredibly well-funded. The group had just short of $100 million in the bank as of June 30, even as it burns through cash.
A closer look at DeSantis' fundraising machine reveals challenges. The campaign has raised a lot of money, but mostly from wealthy donors. Only 17% of his funds have come from small-dollar donors so far. And DeSantis' most generous supporter is getting cold feet. Last week, Robert Bigelow, who has dumped more than $20 million into Never Back Down, said the governor needed to move to the middle on abortion to keep getting his money.
This illustrates the problem DeSantis faces: he must unite Republican voters who aren't already in the Trump camp to chart a path to majority, and they have disparate views on both the frontrunner and a wide range of policy positions.
He gains ultra-conservative voters by championing a strict abortion ban, but loses moderates, including the largest donor to his campaign.
This explains why DeSantis has hedged or backtracked on several important policy positions. On Ukraine, he has alternated between calling Russian president Vladimir Putin a "war criminal" and calling the war a "territorial dispute." On Trump, DeSantis has acknowledged that the former president lost the 2020 election, but without addressing any of his false election claims.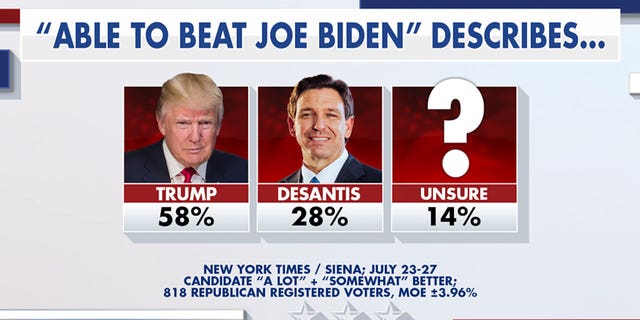 58% of likely GOP voters agree that the term "able to beat Joe Biden" better describes Trump than DeSantis. (Fox News)
DeSantis' alternative argument is that he is the best positioned to beat President Biden in a general election. The majority of Republican voters don't agree. 58% of likely GOP voters agreed that the term "able to beat Joe Biden" described Trump at least somewhat better than DeSantis in July.
DeSantis also faces campaign growing pains. In the last month, he has slashed staff and fired a campaign manager.
3. Tim Scott
TIM SCOTT'S BULL'S-EYE EXPANDS AS SOUTH CAROLINA SENATOR RISES IN GOP 2024 PRESIDENTIAL POLLS
Tim Scott is a distant third, but has distinguished himself from the rest of the pack with a solid foundation in the early states, and fundraising prowess.
Scott is the only candidate other than Trump or DeSantis to receive double digit support in more than one state, according to Fox polls:
Iowa, where he polled at 11% in July, putting him in 3rd place behind Trump and DeSantis. No other candidate reached double digits.
South Carolina, where he hit 10% over the same period, putting him in 4th behind Trump, DeSantis, and his fellow home state candidate, Nikki Haley. No other candidate reached double digits.
In New Hampshire, Scott also usually comes in third or fourth.
Scott's greatest strength is his bank account. Buoyed by a $22 million transfer from his 2022 Senate campaign, Scott sat on $21 million in cash at the end of June, putting him in close second against Trump. There is grassroots support as well. He has more than 53,000 unique donors, and about 30% of his donations in the first half of the year were under $200.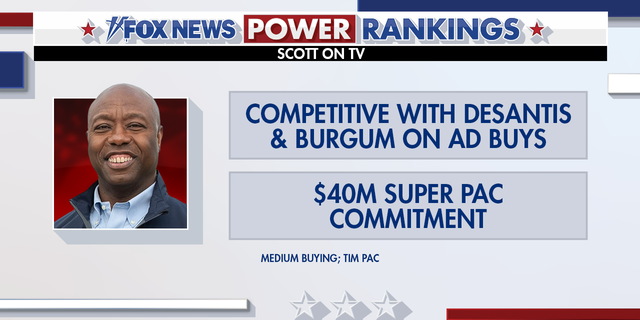 Tim Scott is placing third according to national polls. (Fox News)
That has allowed Scott has been one of the most aggressive buyers in Iowa and New Hampshire, putting him in third behind DeSantis and Doug Burgum through several weeks in June. It also helps that the main Super PAC backing his candidacy has pledged to reserve $40 million in advertising through January.
Scott has zigged where the other candidates have zagged. He has been one of the most disciplined campaigners on the trail, wrapping attacks on the "radical left" in an optimistic vision for the country, and relentlessly sidestepping questions about Trump. It has helped him stand out in a field that often allows itself to be defined by him.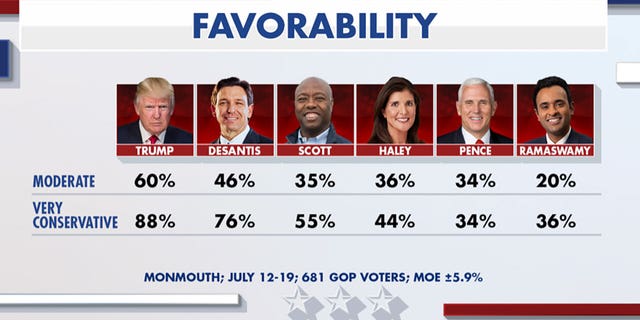 55% of very conservative voters view Tim Scott favorably.  (Fox News)
The result is high favorability ratings among opposing wings of the party. 55% of very conservative voters view him favorably, which is third place in the field, and 35% of moderate voters view him favorably, putting him in close fourth.
He has also held his own in unfriendly media forums.
CLICK HERE TO GET THE FOX NEWS APP
If the South Carolina senator wants further growth, he needs to decide where he sits on riskier issues. On abortion, for example, Scott has alternated between supporting a 6 or 15-week ban.
Another problem looms. Scott has largely avoided criticizing Trump. If Scott continues his ascent, the former president is not likely to reciprocate.
An analysis of the "In the conversation" candidates is coming Thursday, Aug. 17 and the analysis of the "Outsiders" candidates is coming Friday, Aug. 18.