NEW CASTLE, N.H. – Many of the candidates for the Republican presidential nomination are actively preparing for the first GOP primary debate.
But apparently first-time candidate Vivek Ramaswamy isn't one of them.
With the Fox News hosted debate on August 23 in Milwaukee, Wisconsin just a week away, the multi-millionaire biotech entrepreneur, best-selling author and culture wars crusader says he's "looking forward to introducing myself to the people."
But taking questions from Fox News Digital during a campaign stop in New Castle, New Hampshire on Tuesday, Ramaswamy said "one of the things I'm focused on is not being overly prepared."
THIS GOP PRESIDENTIAL CANDIDATE SAY RIVALS WHO DON'T MAKE THE DEBATE STAGE SHOULD DROP OUT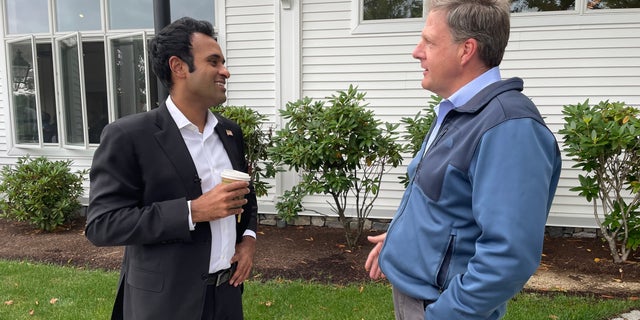 Entrepreneur Vivek Ramaswamy (left), a 2024 Republican presidential candidate, speaks with GOP Gov. Chris Sununu of New Hampshire, on August 15, 2023 in New Castle, N.H. (Fox News – Paul Steinhauser)
"Think about my schedule. I'll just walk you through my pre-debate schedule," Ramaswamy told this reporter. "We were in Michigan. We were in Chicago yesterday. Back to Ohio. Here in New Hampshire. Out to California. Texas. Atlanta. South Carolina. Then Ohio. And that will take me right to the doorstep of the debate. So that gives you a sense of maybe how I'm doing things a little bit differently than other candidates."
WHO'S STILL FIGHTING TO MAKE THE STAGE AT THE FIRST REPUBLICAN PRESIDENTIAL DEBATE
Ramaswamy's campaign told Fox News that the candidate has been cramming in a lot of foreign policy briefings and spars with staff during flights, to prepare himself for the initial showdown. But Ramaswamy is not partaking in any mock debates than some of his rivals are using to prepare for the prime-time debate.
"I think this is going to be the first of many debates. I've already qualified for the September and likely October thresholds as well. And so, the truth is everybody else on that stage will have been in a primary debate before and a general election political debate before," Ramaswamy said.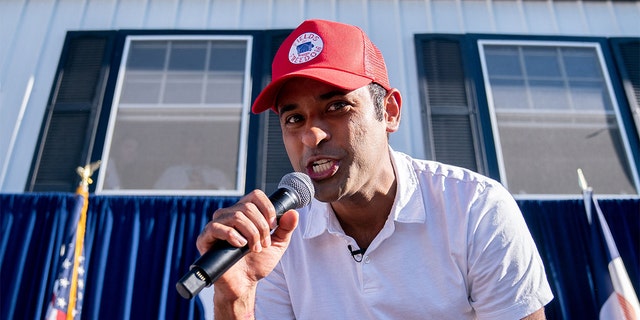 Entrepreneur and 2024 Presidential hopeful Vivek Ramaswamy raps after doing a Fair Side Chat with Governor Kim Reynolds, at the Iowa State Fair in Des Moines, Iowa, on August 12, 2023. (STEFANI REYNOLDS/AFP via Getty Images)
And he highlighted that "this will be my first time ever, so I'm looking forward to certainly taking my time and the first debate is not the end, it's just the beginning and so it will be something of a warmup for me."
CLICK HERE TO GET THE FOX NEWS APP
An adviser, who noted that Ramaswamy is far from a traditional candidate, shared that if the campaign newcomer doesn't perform in the first debate as they hope he will, "we'll have to reevaluate our preparations" for September's second debate.