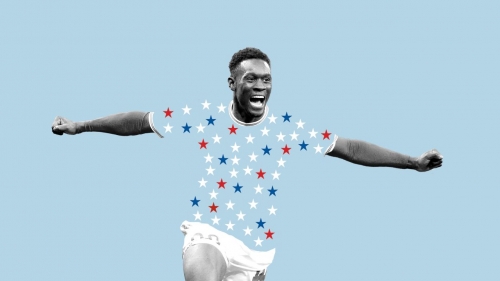 Folarin Balogun could be the USMNT's next big star.
Photo illustration: Jason Lancaster/CNN/Francois Nascimbeni/AFP/Getty Images

CNN
—
After completing a move to Inter Miami, the USA has been taken over by Lionel Messi mania.
The Argentine will surely go down as one of the greatest players to ever kick a football, but over in France's Ligue 1, a boy from Brooklyn has been outscoring the seven-time Ballon d'Or winner.
Folarin Balogun recently committed to representing the United States men's national team (USMNT), ending years of speculation about whether the 21-year-old would choose to play for the US or England on the international stage.
Here's all you need to know about the prodigious striker ahead of his potential USMNT debut against Mexico.
The missing link

At last year's World Cup in Qatar, a young USMNT team impressed with an unbeaten finish in a tricky group before falling to a 3-1 defeat against the Netherlands in the round of 16.
The disappointing end to a promising tournament highlighted the lack of a focal point upfront, perhaps the biggest weakness in Gregg Berhalter's team. Jesus Ferreira, Josh Sargent, and Haji Wright were all used as the side's No. 9 to limited effect, scoring one goal between them in four games.
But that could be about to change following Balogun's announcement in May.
"So proud to be a part of this!" the striker, who represented both England and the US at youth international level, wrote on Instagram after choosing to represent the country of his birth.
"It has been a long journey to reach this point but it is with great pride I can now represent these colours at the highest level. I am tied-in and fully committed!"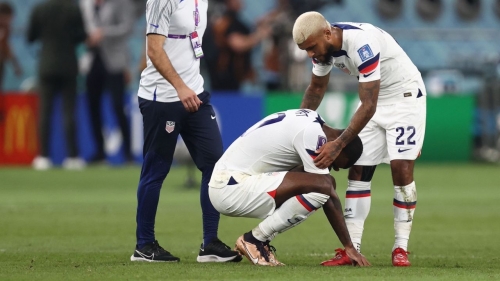 The USA crashed out of the 2022 World Cup after losing 3-1 against the Netherlands.
James Williamson/AMA/Getty Images
Go with the Flo

After his family moved from New York to England, Balogun's footballing journey began at the Arsenal academy.
He first represented the Premier League club's youth side in 2008 but with opportunities in the first team unforthcoming, the talented striker sought out loan moves in order to develop his skills while playing competitive matches.
This first took him to Middlesbrough in the second tier of English football for the second half of the 2021-22 season and then to French Ligue 1 side Reims for the whole of the following season.
Stepping out of his comfort zone in these leagues allowed Balogun to learn more about himself on and off the pitch, according to The Athletic's Arsenal writer Art de Roché.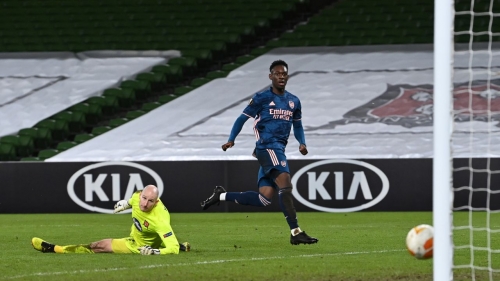 Balogun struggled for game time at Arsenal and left on loan to gain first team experience.
Charles McQuillan/Getty Images
"He's grown up a lot, I'd say," de Roché told CNN Sport. "I think a lot of the growth has been almost mental as well as what's going on on the pitch. So from that side of things, it's been quite interesting to see that growth"
De Roché can vividly remember seeing Balogun playing for Middlesbrough in an away match against Millwall.
Millwall's home stadium, The Den, is well-known for its hostile atmosphere – something that will have been impressed on Balogun as he went down in the opposition box looking for a penalty.
"All the Millwall fans started to boo him and that carried on for the whole game and he got kicked a few times as well," de Roché explained.
"That kind of intensity I think could offer another level because he's now playing in the Stade Vélodrome against Marseille, which is just as intense. I remember speaking to him during the World Cup break and he said he thought it was like he was going into a zombie apocalypse."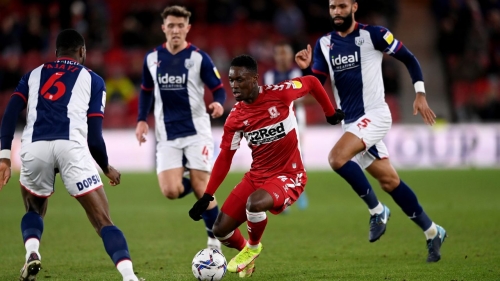 Balogun takes on the West Brom defence while on loan at EFL Championship team Middlesbrough.
Stu Forster/Getty Images
On the pitch, Balogun has refined his game over the past two seasons.
"He's been used in a few different ways, which has probably helped his overall game as a center forward," said de Roché. "The one thing that really stands out is how eager he is to just get in the box and have a real presence there.
"You'll see a lot of his chances and shots are coming from inside the penalty area, in that zone between, say, the edge of the box and up to around the penalty spot."
Journalist Alex Barker, who goes by the moniker "Euro Expert" on Twitter, watched Balogun closely during the young player's time at Reims.
"Balogun is a striker whose primary objective on the pitch is to score goals. Now for some, that may feel like an obvious statement, that's what strikers are supposed to do, right?" Barker told CNN Sport.
"Well, some forwards, like [AC Milan's] Oliver Giroud or [Liverpool's] Roberto Firmino, are often on the pitch in service of others. They use clever positioning and solid passing to create chances. Balogun is constantly on the end of them."
With Reims last season, Balogun became the first person from the US to score at least 20 goals in one of Europe's top five leagues, despite playing for a mid-table side. His tally of 21 goals, six of which came from the penalty spot, was five more than Messi managed with Paris Saint-Germain in the league last season.
"To have 15 non-penalty goals in the league is seriously impressive, and what else is nice is the nature of his finishes. Every goal has come from inside the box in Ligue 1, with most being one touch volleys or pokes in the six-yard box," Barker said.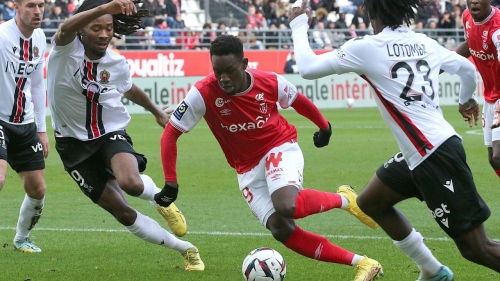 After moving on loan to Reims, Balogun outscored Lionel Messi in the league.
Francois Nascimbeni/AFP/Getty Images
Balogun's arsenal of talent

Despite his success at club level last season, Balogun will still have to adapt to international football and life with the USMNT, though his recent experiences should stand him in good stead.
"You could see in different kinds of teams he's had to adopt different qualities. So hopefully from maybe a national team perspective, he'll have a few different qualities that he can maybe depend on to really establish himself," de Roché said of Balogun's imminent debut.
His qualities off the ball should also be of benefit when fitting into a new team's setup.
"Balogun's two biggest strengths are his movement and his physicality," said Barker, both of which the striker uses to cause defenders headaches when his team is on the attack.
"Here we see his pace and muscle shine. He gets away from most defenders quickly, but the ones that catch him are often forcefully pushed back by Balogun raising an arm to block them off. It's an interesting trait, but it's served him well."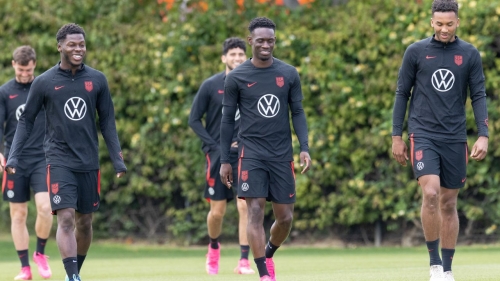 Balogun has been settling into his new surroundings ahead of his debut.
John Dorton/USSF/Getty Images
Captain America

Ahead of the 2026 World Cup – which is being hosted by the US, Canada and Mexico – Balogun could be one of the poster boys of the tournament.
After speaking to the player, de Roché believes that Balogun has the character both on and off the pitch to deliver in this capacity.
"When in his presence, you kind of felt someone who was very confident in himself, not arrogant, but just very assured that he knew that he had talent," de Roché said. "He will be someone that is ready to take on anything really, because he also gave a vibe of someone who's not too fussed with what everyone has to say about him.
"When a lot of chances are coming your way, obviously there will be ups and downs, but he's got that even keel. Hopefully that'll put him in good stead for years to come."
With opportunities as England's center forward limited and the USMNT providing the striker with chances to impress at international level, Balogun could thrive as the main man.
"Going to a team that wanted him will really make a big difference because he'll probably want to, I guess, repay a bit of that appreciation as well," de Roché added.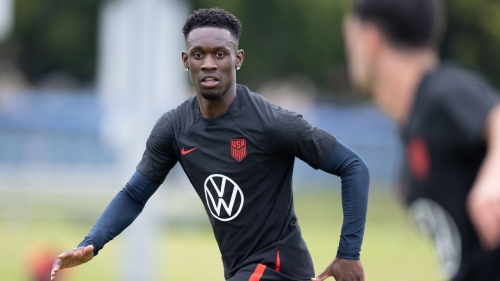 Balogun will have a chance to impress as the USMNT's No. 9.
John Dorton/USSF/Getty Images for USSF
'A huge upgrade'

It is an old cliché that goals win games but one that still rings true; because of this, Balogun's impact cannot be undervalued.
"I think he's simply a huge upgrade from [the USMNT's] center forward options. I think the team should be built around him, even," Barker said of Balogun's importance.
After the Arsenal man's haul last season, Barker also believes this could be just the beginning for the striker.
"I'd imagine Balogun, playing at a more dominant team, could score even more," he added.
But despite his early success, both Barker and De Roché believe it is important to manage expectations.
"I'd say excitement is probably the right word," De Roché said ahead of the USMNT's Mexico clash. "But you wouldn't want to put too much pressure on him because, again, international football is a different kind of level – even with how well he's done in France."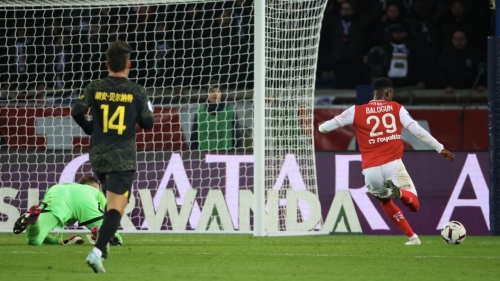 The striker scored 21 goals in Ligue 1 last season.
Xavier Laine/Getty Images
However, both de Roché and Barker agree that Balogun is not someone to be underestimated, particularly as he always seems to meet the challenges he is set.
"I'm not sure he will be an elite, world class player," Barker said, "but you certainly wouldn't bet against him."