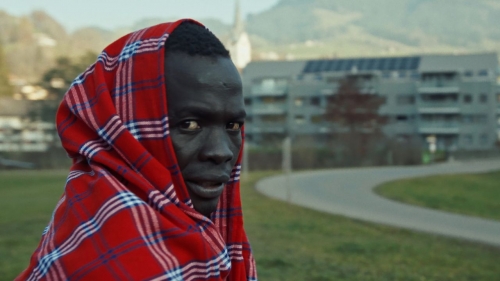 On/Hungry Man

CNN
—
One of the world's top distance runners, Dominic Lobalu dreams of climbing the podium at the Olympic Games.
Doing so would be the most joyous moment of his itinerant life to date, during which Lobalu left war-torn South Sudan as a nine-year-old orphan for refugee camps in northern Kenya.
There is, however, a caveat. Despite his fast times and success at races around Europe last year, Lobalu currently has no national representation; without that, he is unable to compete at next year's Olympics in Paris, nor the upcoming world championships in Budapest.
It means Lobalu is essentially stateless on the global athletics scene, running with no flag and no national colors.
For now, his ultimate running ambitions are on hold, though he is hopeful of being granted permission to compete for Switzerland, his adopted country since 2019, as soon as the world championships in August.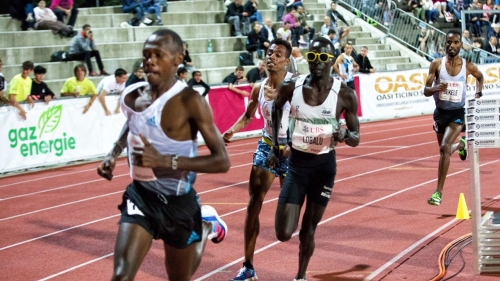 Lobalu, sporting yellow sunglasses, competes in a 3,000-meter event in Switzerland last year.
Valerio Origo/LiveMedia/NurPhoto/Getty Images
Having spent more than 10 years living in Kenya as a refugee, Lobalu today calls the picturesque city of St. Gallen his home, where the heavy snow and frequent rainfall provide a stark contrast to his former life.
There, he trains diligently under coach Markus Hagmann, never losing sight of his goal to race on the biggest sporting stage of them all.
"This is the dream that made me start running … hoping that I can compete in the Olympics," the 23-year-old tells CNN Sport. "I can tell my fellow guys who are living in the same situation where I came from that anything is possible."
Lobalu's best chances of fulfilling that dream lie in gaining eligibility for Switzerland. In a statement to CNN Sport, Swiss Athletics confirmed that it had applied to the World Athletics Nationality Review Panel for Lobalu to change his allegiance.
"Our main concern is that Dominic Lobalu is allowed to compete in international championships," the statement said. "He has earned this through his history and achievements. Anything else would contradict the core values of the sport."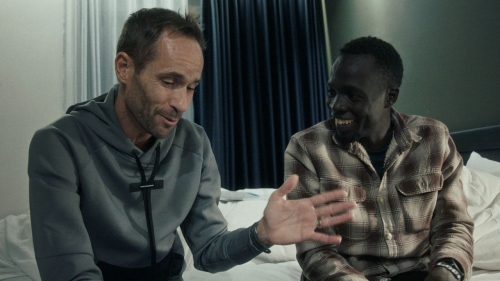 Hagmann and Lobalu speak prior to the Copenhagen Half Marathon in September.
On/Hungry Man
Growing up as a refugee in Nairobi, Lobalu mainly played football, never even entertaining the thought of becoming a professional runner.
But when football proved too competitive and too expensive, he switched to athletics and started to train seriously at 16 – much later than many of his rivals today.
As he started to show promise, Lobalu was spotted by the Athlete Refugee Team (ART). Founded in 2014, the ART is supported by international governing body World Athletics and composed entirely of athletes who have fled violence, conflict, and injustice.
After two years, however, Lobalu made the impulsive decision to abandon the team while competing in the Swiss city of Geneva – stealing away from his accommodation the morning after winning a 10-kilometer race with no plan and few possessions.
He hasn't considered the possibility of returning to Kenya since then.
"When I finished the race, I went to sleep, I relaxed my mind. And then I said: 'Okay, I'm not going back,'" recalls Lobalu, coy about his reasons for leaving the team. "It was just something that I wanted to try."
With that, he forfeited the chance of racing for the ART having departed "without notice," according to World Athletics.
"We would like to stress that there is a huge amount of sympathy for Mr Lobalu's situation given his terrible experience as a child fleeing civil war in South Sudan," the governing body told CNN Sport in a statement.
"He is undoubtedly a talented athlete, and If we were able to find a way to include him in the ART programme without seriously compromising the programme – or possibly damaging it irreparably – we would have done so."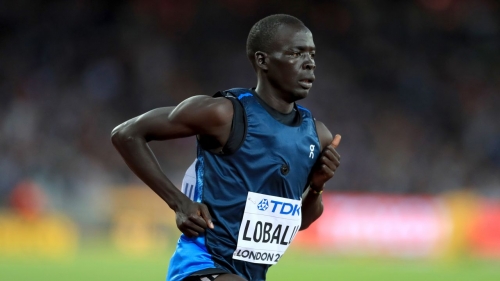 Lobalu competes for the ART during the 2017 world championships in London.
Adam Davy/PA Images/Getty Images
According to Swiss outlet Tages-Anzeiger, Lobalu won't compete for his native South Sudan because of the horrors he experienced as a child when violence descended on his remote village of Chukudum. To this day, the war remains a topic he hates to talk about.
"He's a talented athlete, he's got an amazing story of persistence and determination," World Athletics spokesperson Jackie Brock-Doyle tells CNN Sport.
"We absolutely understand that it is important to him [to compete at the Olympics and world championships]; we just need to find a way to make this happen if we can.
"Without a doubt, we would like Dominic to be at these events and competing for a country that he wants to compete for."
While Lobalu and Hagmann await a verdict from the Nationality Review Panel, the pair have turned their attentions to matters they can control.
After competing in a track meet in Vienna, Austria, on Saturday, Lobalu plans to run at his first Diamond League meet in Lausanne on June 30.
"I know that he can really focus on what's important," Hagmann tells CNN Sport. "He cannot change the decision from World Athletics, he can't make it faster.
"He focuses on running and staying relaxed. This is his talent: why waste energy on things you cannot change? Just keep on training, be ready when it's there."
Overseeing training is just one part of Hagmann's responsibilities as a coach. He has also helped Lobalu to secure a humanitarian visa and gain the right to live in Switzerland as a professional athlete.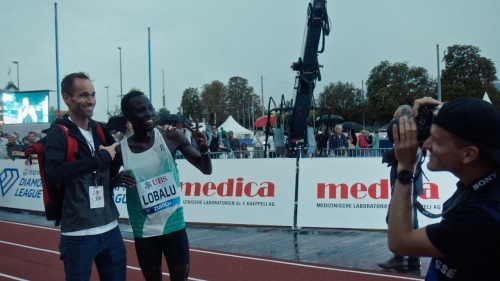 Lobalu and Hagmann are all smiles after a second-place finish in the 5km road race at last year's Zurich Diamond League.
On/Hungry Man
The pair were first brought together as Lobalu moved between various centers for asylum seekers in Switzerland after leaving the refugee team. Communicating his desire to be a professional runner, he was put in touch with Hagmann in the north-eastern city of St. Gallen.
They met at a running track a few days later, where Hagmann found a withdrawn 20-year-old who spoke very little. But words seemed unimportant as soon as Lobalu started running, at which point Hagmann became captivated by the young athlete's eye-catching form and feather-light footfall.
"His body was struggling, even his mind was suffering from this journey he had behind him," Hagmann remembers, "although you could see when he started running that he's running with passion and he had these nice movements when he ran on the track.
"He touched the ground with his foot when he's running and it's hard to explain, you have to see it. And then you see it [and think]: Wow, this is it … I was fascinated by his running."
Together, Lobalu and Hagmann have forged an exceptional partnership, the former lowering his 10-kilometer time by more than two minutes and his 5,000-meter time by more than a minute in the space of three years.
Their unique relationship is the subject of "The Right To Race," a new documentary produced by Swiss sportswear brand On, which also sponsors Lobalu.
On | The Right to Race Trailer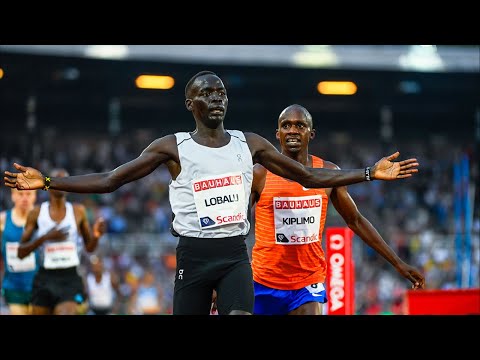 It was during the Stockholm Diamond League meet last year that Lobalu, competing overseas for only the second time since settling in Switzerland, enjoyed a spectacular breakthrough, stunning onlookers by winning the 3,000-meter event ahead of half marathon world record holder Jacob Kiplimo.
"He surprised me in kind of every race we did the last three years," said Hagmann, who coaches 20 athletes in Switzerland, most of whom are competing at a national level.
"When he was winning the Diamond League last year in Stockholm, he really surprised. I didn't expect a win the first time participating in a Diamond League; this was one of the amazing moments in a running career, even for a coach … He's really world class."
Recently, Hagmann's coaching duties have extended to working with Swiss Athletics to complete Lobalu's eligibility application. It's a responsibility he's come to embrace – as much a mentor and manager as he is a running coach.
"When he showed up, I saw a young, talented guy, but a suffering guy who needed help," says Hagmann. "And it was not only about coaching, he needed help and support in many different parts of his life.
"Coaching is maybe 30% of the whole story; 70% is taking care of everything else."