Florida Rep. Greg Steube is in "good spirits" and recovering after spending a night in the intensive care unit of his local hospital, his office said Thursday.
Steube was transported to a hospital Wednesday afternoon after he fell off a ladder while trimming trees on his Sarasota, Florida property.
FLORIDA REP. GREG STEUBE HOSPITALIZED AFTER FALLING OFF ROOF: REPORT
"The Congressman spent the night in the ICU where several serious injuries are still under assessment but not life threatening at this time," an update from Steube's official social media read. "He is making progress and in good spirits."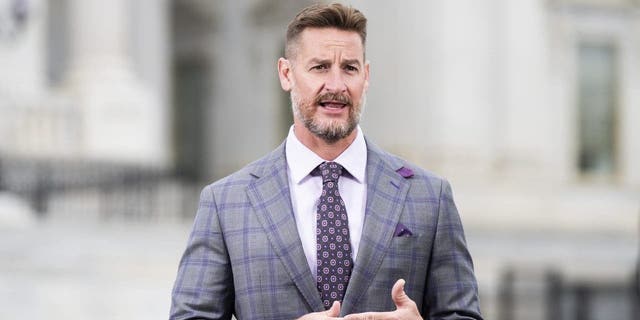 Rep. Greg Steube, R-Fla., does a TV interview outside the U.S. Capitol, April 23, 2020.
(Bill Clark/CQ-Roll Call, Inc via Getty Images)
Steube's team went on to thank the medical personnel who treated him after his incident, as well as the neighbor who called 911 after his injury.
GREG STEUBE: 'ABSOLUTELY ATROCIOUS' TO TREAT SERVICE MEMBERS THIS WAY
"Congressman Steube and his family would like to express their deepest thanks to the team of doctors, nurses, and medical personnel treating him," Steube's account posted. "We are thankful to the individual who witnessed the fall and immediately called 911, as well as Sarasota County's Emergency Services for their quick response and transportation."
The 44-year-old Representative serves Florida's 17th congressional district, which contains the outer suburbs of Sarasota and Fort Myers through the Everglades.
CLICK HERE FOR THE FOX NEWS APP
Steube has been a congressman since 2019 and previously served three terms in the Florida House of Representatives, as well as two years in the Florida Senate until 2018.