Eric Schmitt, the former Missouri attorney general who led the first-of-its-kind lawsuit against the Biden administration, alleging collusion with Big Tech to censor speech, vows to bring the same "fighting spirit" as a freshman senator to the 118th Congress.
"I firmly believe that the First Amendment is a beating heart of the Constitution that protects fundamental human expression," Schmitt told Fox News Digital.
"And in this country, we believe in individual rights, and we believe that people can speak their minds without the government or the regime censoring them or telling them what they can say and can't say. So I'm going to take that same fighting spirit for the Senate, wherever it leads."
Schmitt, who served as the Show Me State's top prosecutor for four years, is stepping into the seat of longtime Republican Sen. Roy Blunt, who retired.
HAKEEM JEFFRIES GIVES BIDEN PASS OVER MISHANDLING OF CLASSIFIED DOCS: 'NOT INTENTIONAL'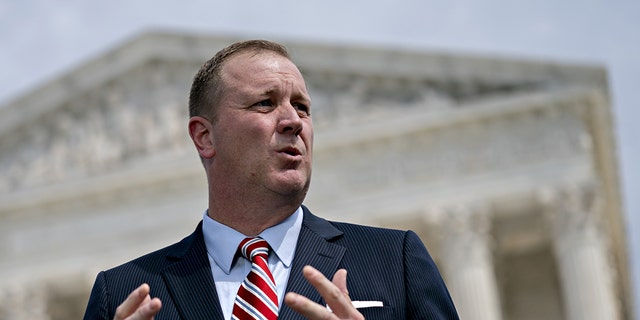 Eric Schmitt, R-Mo., vows to bring a "fighting spirit" to Capitol Hill.
(Andrew Harrer/Bloomberg via Getty Images)
During his tenure as attorney general, Schmitt spearheaded a landmark lawsuit against the Biden administration, alleging top government officials colluded with Big Tech companies to suppress certain speech about COVID-19, efficacy of masks and the Hunter Biden laptop story, among other things.
Schmitt says accountability for that type of alleged "vast censorship enterprise" will remain a focus of his work on Capitol Hill.
"Whatever committees I'm on, whatever legislation, that is going to be an essential thing to protect those individual rights and freedoms and go after overzealous and overbearing and overreaching federal government," he said.
FBI MET WEEKLY WITH BIG TECH AHEAD OF THE 2020 ELECTION, AGENT TESTIFIES
Committee assignments have yet to be set, but the Senate convenes Jan. 23, shortly after which those assignments will be decided by senate leadership.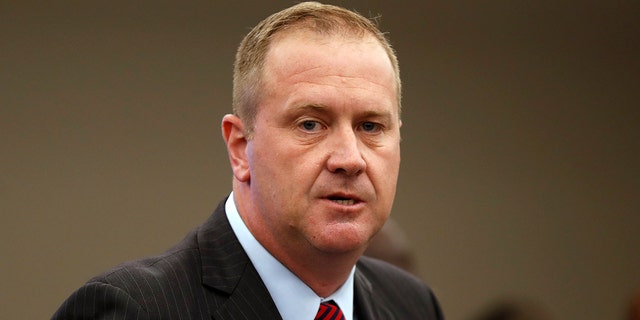 In this Aug. 6, 2020, file photo, Missouri Attorney General Eric Schmitt speaks during a news conference in St. Louis.
(AP Photo/Jeff Roberson, File)
Schmitt also wants to dismantle what he calls the "administrative state," federal rules and regulations instituted by agencies without federal oversight.
"I think we need to fundamentally dismantle the administrative state. The founders never intended a bunch of unelected folks to have this much power and not be accountable to anyone," he said.
Tactically, Schmitt says he'd like to impose legislation that says for every new rule, agencies would have to pull back multiple other rules and regulations.
FAUCI CLAIMED HE DIDN'T 'RECALL' ANY PARTICULAR EMAIL: ERIC SCHMITT
"It would get off the books some of these rules and regs that just, if they ever had a purpose, have outlived any purpose that they had, and get in the way of innovation, ingenuity and people pursuing their dreams," he said.
Schmitt is among some of the Republican politicians who, during the midterm elections, opposed Mitch McConnell's leadership of the Republican minority in the Senate. Despite a challenge from Rick Scott, R-Fla., McConnell was elected as Senate minority leader once again, making him the longest-serving party leader in the history of the Senate.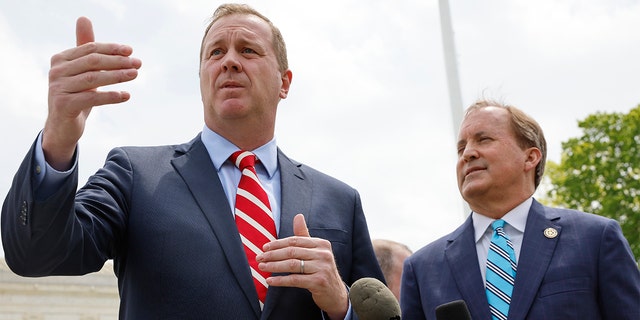 As attorney general, Schmitt, left, led a first-of-its-kind lawsuit against the Biden administration, alleging collusion with Big Tech platforms to suppress speech.
(Chip Somodevilla/Getty Images)
Schmitt says that leadership disagreement won't be in focus during his term.
"I'm gonna always keep in mind the voters who sent me here and what they wanted. They wanted a fighter. They wanted a champion for the things that they care about in Missouri," Schmitt said.
One of those things, Schimtt says, is fighting inflation.
CLICK HERE TO GET THE FOX NEWS APP
"High inflation … it's not some act of God, like a hurricane. There's a formula for it," he said. "And it turns out when you spend trillions and trillions and trillions of dollars that you don't have and cut off domestic energy supply, the prices for everything goes up.
"And so I'm gonna fight for those working families every day, and I'll work with anybody that shares those same values and intentions. And I'm going to work to block really bad legislation that makes it harder for people to achieve their dreams."