Former Vice President Mike Pence once criticized former President Trump for mishandling classified documents in November, only for Pence to discover classified documents in his own home this week.
Pence made the comments during a November appearance on Meet the Press, with host Chuck Todd questioning him on a number of topics. Pence called Trump's handling of classified documents "not proper" at the time.
"I've not hesitated to criticize the president when I think he was wrong. And clearly, possessing classified documents in an unprotected area is not proper," Pence said, going on to criticize how Biden's Justice Department handled the issue.
"I was on the Judiciary Committee for ten years in the House of Representatives. I, I know how the Justice Department works, and there had to be many other ways to resolve those issues," he added.
WHITE HOUSE SHEDS NO NEW LIGHT ON BIDEN DOCS SCANDAL IN FIRST RESPONSE TO OVERSIGHT REPUBLICANS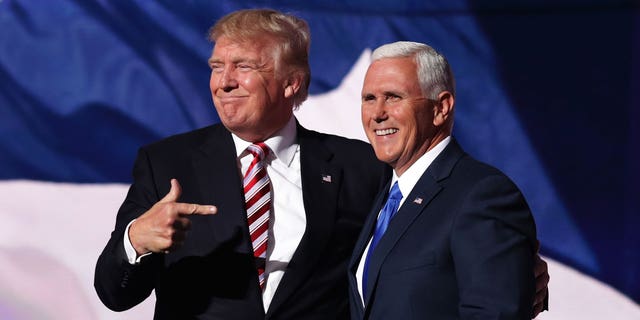 Donald Trump and Mike Pence pose together on a stage. 
(Getty Images)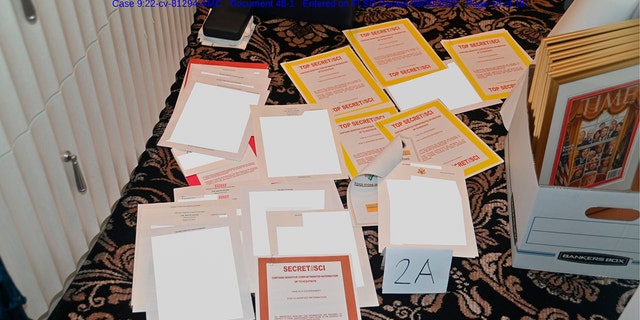 This image contained in a court filing by the Department of Justice on Aug. 30, 2022, and redacted by in part by the FBI, shows a photo of documents seized during the Aug. 8 search by the FBI of former President Donald Trump's Mar-a-Lago estate in Florida.
(Department of Justice via AP)
The moment has come back into the spotlight following a Tuesday report from Fox News detailing that Pence's own lawyers discovered roughly a dozen classified documents in his Indiana home. Pence informed Congress this week that the documents were found in his Carmel, Indiana home on January 16.
Pence's representatives say they immediately put the documents into a safe and inform the Justice Department, and the FBI recovered the documents on January 19.
DOJ STIFF-ARMS HOUSE REPUBLICANS IN FIRST RESPONSE TO HOUSE JUDICIARY COMMITTEE REQUESTS
Pence's team said that although the documents bear classified markings, the Department of Justice or the agency that issues the documents will need to make a final determination on whether the documents are considered classified or not.
Pence joins Trump and President Biden in being found to have mishandled classified documents, with Trump keeping documents in his Mar-a-Lago home and Biden keeping some in his Wilmington, Delaware home.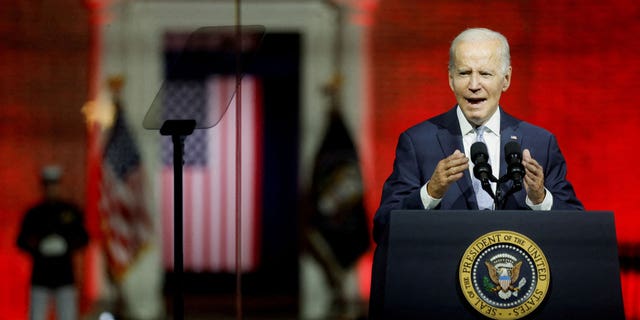 U.S. President Joe Biden delivers remarks on what he calls the "continued battle for the Soul of the Nation" in front of Independence Hall at Independence National Historical Park, Philadelphia, U.S., September 1, 2022.
(REUTERS/Jonathan Ernst TPX IMAGES OF THE DAY/File Photo)
CLICK HERE TO GET THE FOX NEWS APP
The DOJ has opened investigations into both Trump and Biden but has yet to announce an investigation into Pence.