A federal appeals court on Friday struck down the Trump-era ban on bump stocks, a firearm accessory that enables a semi-automatic gun to shoot at an increased rate of fire.
In a 13-3 decision, the 5th Circuit Court of Appeals in New Orleans held that the Bureau of Alcohol, Tobacco, Firearms and Explosives (ATF), acting under "tremendous" public pressure, shot-circuited the legislative process by approving a rule to define bump stocks as "machineguns," which are illegal to possess. The court said ATF did not have the authority from Congress to do so.
The bump stock ban, opposed by gun rights activists, was enacted by the Trump administration after the 2017 massacre in Las Vegas, where a gunman slaughtered 58 people at a music festival. The shooter used rifles equipped with bump stocks, allowing him to fire more than 1,000 rounds in 11 minutes at a crowd of 22,000 people.
In 2018, President Donald Trump signed an executive order instructing the attorney general to regulate bump stocks, and ATF acted in accordance with the president's order. To do so, the agency reversed its decade-old position that bump stocks were not machineguns.
SUPREME COURT DECLINES TO HEAR ANOTHER CHALLENGE TO FEDERAL BUMP STOCK BAN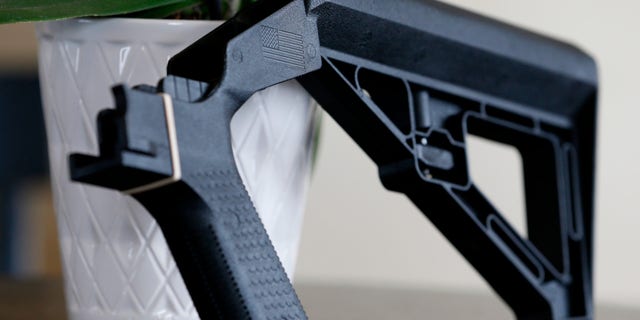 FILE – A bump stock is displayed on March 15, 2019, in Harrisonburg, Virginia.
(AP Photo/Steve Helber, File)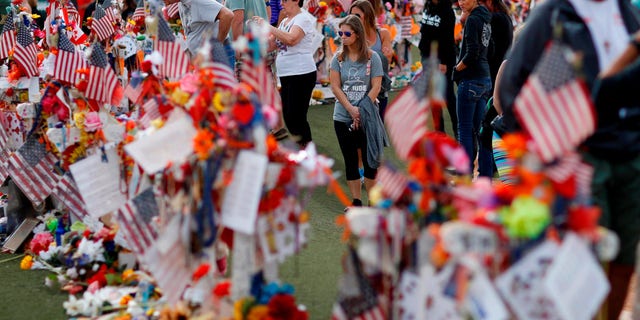 FILE – People visit a makeshift memorial honoring the victims of the Oct. 1 mass shooting on Nov. 12, 2017, in Las Vegas. 
(AP Photo/John Locher, File)
HOMELAND SECURITY DEVELOPS NEW PORTABLE GUNSHOT DETECTION SYSTEM
ATF said bump stocks "allow a semiautomatic firearm to shoot more than one shot with a single pull of the trigger by harnessing the recoil energy of the semiautomatic firearm to which it is affixed so that the trigger resets and continues firing without additional physical manipulation of the trigger by the shooter."
The agency ruled bump stocks were "machineguns" because "such devices allow a shooter to initiate a continuous firing cycle with a single pull of the trigger."
Michael Cargill, the appellant, sued the government after he was forced to surrender several bump stocks under the ATF's rule. He successfully argued that a bump stock does not meet the definition of a "machinegun" under federal law because the trigger functions multiple times to fire the weapon. Federal law defines a machine gun as operating with a "single function of the trigger."
"A plain reading of the statutory language, paired with close consideration of the mechanics of a semi-automatic firearm, reveals that a bump stock is excluded from the technical definition of "machinegun" set forth in the Gun Control Act and National Firearms Act," Judge Jennifer Walker Elrod wrote in the lead majority opinion.
MAJOR NEW JERSEY PAPER CALLS SECOND AMENDMENT A 'CURSE,' CLAIMS AMERICA HAS 'FETISH WITH GUN CULTURE'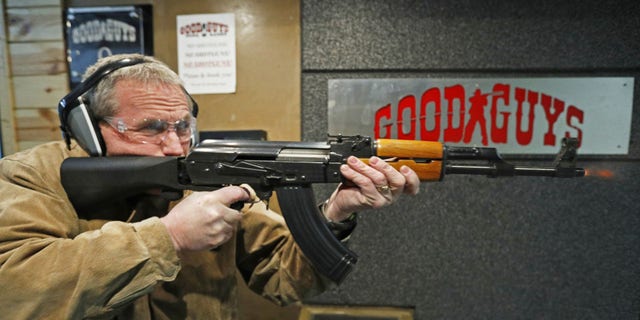 Vince Warner fires an AK-47 with a bump stock installed at Good Guys Gun and Range on Feb. 21, 2018, in Orem, Utah. The bump stock is a device when installed allows a semi-automatic to fire at a rapid rate much like a fully automatic gun. 
(George Frey/Getty Images)
Rich Samp, an attorney who represented Cargill, welcomed the court's decision.
"This case is not about gun control. It is instead about who has the constitutional prerogative to change the criminal law if changes are warranted," Samp said in a statement. "The current statute, adopted in 1986, defines 'machinegun' in a manner that does not encompass non-mechanical bump stocks. It is unlawful for a prosecutorial entity like ATF to rewrite existing law without authorization from Congress. Any change in gun-control laws must emanate from Congress."
The ban had survived challenges at the Cincinnati-based 6th U.S. Circuit Court of Appeals; the Denver-based 10th Circuit; and the federal circuit court in Washington. A panel of three judges at the 5th Circuit also issued a ruling in favor of the ban, upholding a lower court decision by a Texas federal judge. But the full New Orleans-based court voted to reconsider the case. Arguments were heard Sept. 13.
CLICK HERE TO GET THE FOX NEWS APP
The Biden administration, which defended the law in court, may appeal to the U.S. Supreme Court.
The Associated Press contributed to this report.