Kevin McCarthy was elected Speaker of the House early Saturday morning, following a dayslong debate process and a dramatic pair of votes late Friday evening, drawing comments from President Joe Biden, former President Donald Trump, Senate Leaders Mitch McConnell and Chuck Schumer, and others.
"That was easy. I never thought I'd get up here," McCarthy jokingly said before he was sworn into the position. "I hope one thing is clear after this week: I will never give up."
After his victory, Biden released a statement congratulating McCarthy.
"Jill and I congratulate Kevin McCarthy on his election as Speaker of the House. The American people expect their leaders to govern in a way that puts their needs above all else, and that is what we need to do now," Biden said.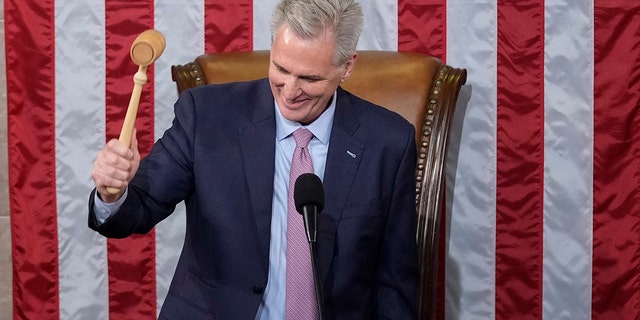 Incoming House Speaker Kevin McCarthy of Calif., holds the gavel on the House floor at the U.S. Capitol in Washington, early Saturday, Jan. 7, 2023. 
(AP Photo/Andrew Harnik)
BIDEN CONGRATULATES KEVIN MCCARTHY ON WINNING HOUSE SPEAKERSHIP FOLLOWING DRAMATIC PROCESS
Trump also congratulated the historic accomplishment.
"Congratulations to Kevin McCarthy and our GREAT Republican Party!" Trump said in a post on Truth Social.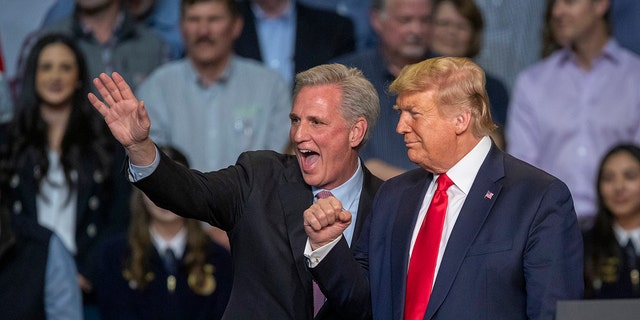 Former U.S. President Donald Trump congratulated Kevin McCarthy after he won the House speakership on Saturday, Jan. 7, 2023.
(David McNew/Getty Images)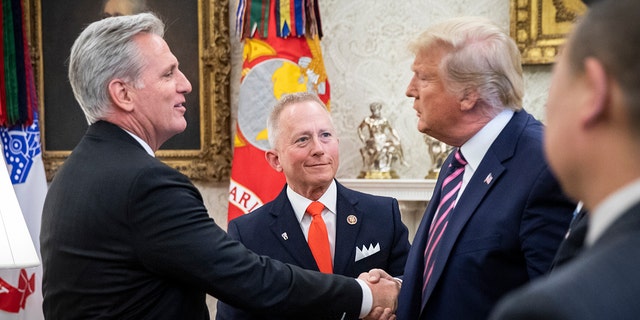 Former U.S. President Donald Trump expressed support for House Speaker Kevin McCarthy, R-Calif., in a post on Truth Social Saturday morning, Jan. 7, 2023.
(Drew Angerer/Getty Images)
He added: "The 'Speaker' selection process, as crazy as it may seem, has made it all much bigger and more important than if done the more conventional way."
"BIG NIGHT FOR AMERICA!" the former president said ahead of the vote.
KEVIN MCCARTHY DELIVERS FIRST REMARKS AFTER WINNING HOUSE SPEAKER: 'OUR NATION IS WORTH FIGHTING FOR'
Should Trump win the presidency in 2024, and Republicans keep their majority in the House, the two leaders would then work side-by-side to run the country.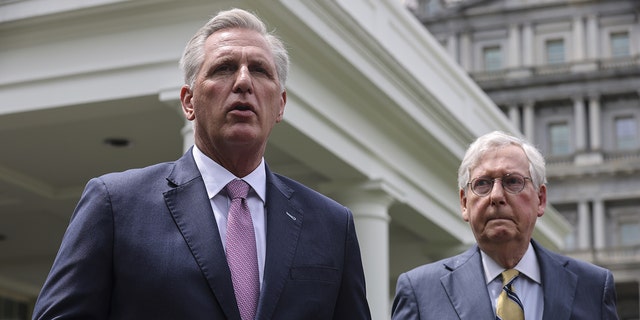 Kevin McCarthy, a Republican from California, who is now the House Speaker, with Senate Minority Leader Mitch McConnell, a Republican from Kentucky, at the White House in Washington, D.C., U.S., on Wednesday, May 12, 2021. 
(Oliver Contreras/Sipa/Bloomberg via Getty Images)
Senate Minority Leader Mitch McConnell, R-KY, the most senior ranking Republican in the chamber, also congratulated McCarthy and House Republicans on the speakership.
"Congratulations to Speaker McCarthy and the Republican House majority. Senate Republicans look forward to working together to check and balance Washington Democrats, bring oversight to this reckless Administration, fight the far left's radical policies, and defend America," the Kentucky Republican said.
Senate Majority Leader Chuck Schumer, D-NY, struck a different tone in his reaction, claiming McCarthy made concessions to get the position and could further cave to "extremists in his party."
MIKE ROGERS LUNGES AT MATT GAETZ DURING HOUSE SPEAKER VOTING, OTHER MEMBERS FORCED TO INTERVENE: VIDEO
"Speaker Kevin McCarthy's dream job could turn into a nightmare for the American people," Schumer wrote." To get the votes, he surrendered to demands of a fringe element of the Republican party. Kevin McCarthy's concessions to the extremists in his party make it far more likely that the MAGA Republican-controlled House will cause a government shutdown or a default with devastating consequences to our country."
A split photo of Chuck Schumer, Joe Biden, Donald Trump, Mitch McConnell and Byron Donalds, with Kevin McCarthy. 
(Getty Images)
He added: "Americans want Congress to build on the historic bipartisan achievements from the last two years, not more gridlock. House Republicans will have to reach across the aisle and work with Democrats if there is any hope of getting things done to improve the lives of the American people or to prevent a government shutdown or default."
Schumer also encouraged McCarthy to "work with Democrats in a bipartisan way to help America's working families."
"Democrats are ready to get to work," the New Yorker added.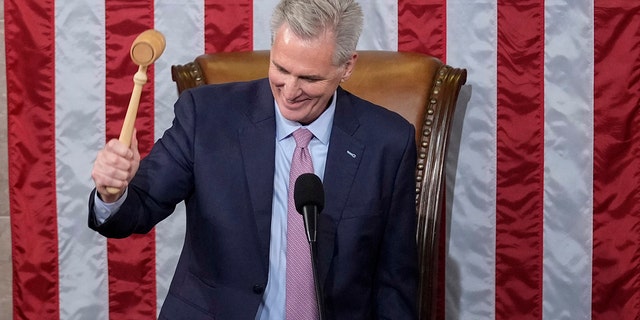 Incoming House Speaker Kevin McCarthy of Calif., holds the gavel on the House floor at the U.S. Capitol in Washington, early Saturday, Jan. 7, 2023. 
(AP Photo/Andrew Harnik)
Rep. Byron Donalds, R-Fla., who was nominated and received votes for the speakership earlier in the week, also congratulated McCarty.
"What our nation has witnessed this week is a testament to the majesty of our Constitutional Republic and the ideals which have sustained our country for 246 years," Donalds wrote in a statement. "Since day one, I've said leadership isn't given, it's earned, and the fruits of tireless labor have delivered a product that puts the American people first and restores power to We The People."
KEVIN MCCARTHY ELECTED HOUSE SPEAKER IN 15TH FLOOR VOTE AFTER DAYS OF HIGH DRAMA
Donalds was also sworn into office, as were all the other House members, following the speakership vote.
He added: "As I enter my second term in the U.S. House of Representatives, it's been my honor to work alongside my colleagues to get to this moment and elect the next Speaker of the House, Kevin McCarty (R-CA). In this Congress, Republicans will listen to our nation's forgotten men and women and fulfill our Commitment to America. It's a new day in the House. Under this new leadership, my colleagues and I will fight to secure our borders, prioritize sound economic policy that lowers inflation, empower parents and children in education, hold the Biden administration accountable, and improve the lives of hardworking American families."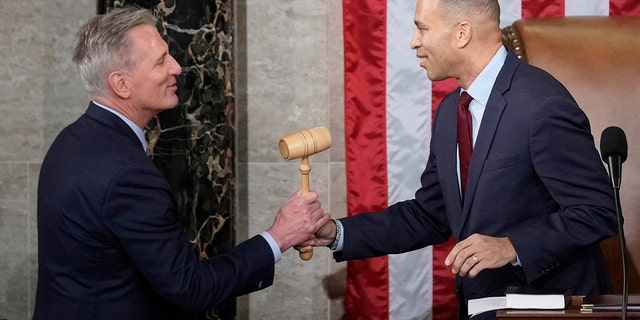 Incoming House Speaker Kevin McCarthy of Calif., receives the gavel from House Minority Leader Hakeem Jeffries of N.Y., on the House floor at the U.S. Capitol in Washington, early Saturday, Jan. 7, 2023. 
(AP Photo/Andrew Harnik)
"It's time to get to work, and I look forward to serving under the leadership of Speaker McCarthy," Donalds concluded.
CLICK HERE TO GET THE FOX NEWS APP
McCarthy won the speakership on the 15th ballot, 216 to 212. A winner needed just 215 for this round as six members voted "present," reducing the winning threshold.
Fox News' Kelly Phares and Tyler Olsen contributed to this report.