When Republican Gov. Kristi Noem gets sworn in on Saturday to a second term steering South Dakota, she'll tout her record.
"We're breaking all records in economic growth and development and our population's growing at ten times the national average, so we've got a lot of wonderful things to talk about – how conservative principles work and have benefited our state," Noem told Fox News in an interview ahead of her second inauguration.
Noem, a conservative congresswoman who spent eight years in the House of Representatives before winning South Dakota's governorship in 2018, was overwhelming re-elected in November in the reliably red state.
Pundits view Noem as a possible contender for the 2024 GOP presidential nomination, or as a potential running mate.
NOEM ON GOP MELTDOWN IN HOUSE SPEAKER RACE: 'IT'S HARD TO WATCH'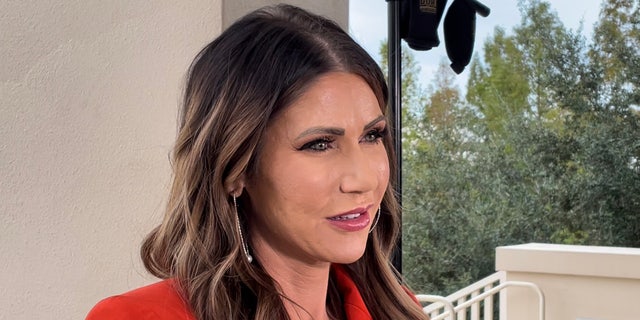 GOP Gov. Kristi Noem of South Dakota is interviewed by Fox News at the Republican Governors Association's annual winter meeting, on Nov. 15, 2022 in Orlando, Florida
(Fox News )
"I focused on doing my job here in South Dakota," Noem answered when asked if she's mulling a White House run.
But the governor added that "I'm focused here but I'm going to continue telling South Dakota's stories."
Noem spotlighted that "we kept our state open" during the heights of the coronavirus pandemic in 2020. "We balanced our budget. I'm going to bring forward and pass the largest tax cut in South Dakota history this legislative session. We protected parental rights. We reformed our education system and it's working."
"Our state is thriving because we put forward and put in place conservative policies," the governor argued before pointedly adding "that's a story that I think can bring hope to the rest of the country."
CLICK HERE FOR THE LATEST FOX NEWS REPORTING, ANALYSIS, ON KRISTI NOEM
Asked if she's not ruling anything out when it comes to a potential 2024 presidential run, Noem answered "that's fair to say. But there are a lot of people out there talking about running for president. I also know that politics changes quickly and things change on a dime on who's going to run and who's not going to run. I want the best person."
Noem said that "we need a way better president than the one we've got today. Joe Biden's a disaster. So, Republicans really do need to focus on getting a candidate for presidential office that can win."
There's already one major Republican candidate in the 2024 GOP nomination race — former President Donald Trump.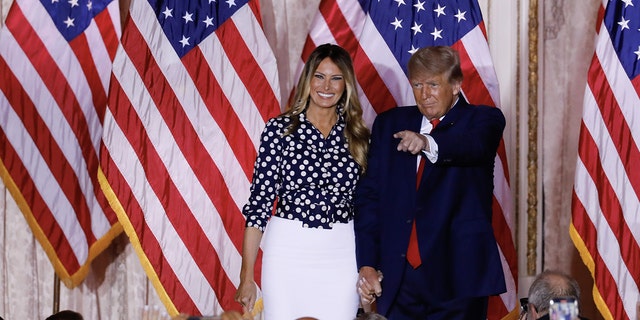 Former President Donald Trump arrives to speak with former First Lady Melania Trump, left, at the Mar-a-Lago Club in Palm Beach, Florida, on Tuesday, Nov. 15, 2022. Trump formally entered the 2024 presidential race, making official what he's been teasing for months.
(Eva Marie Uzcategui/Bloomberg via Getty Images)
More than two years after his 2020 election defeat at the hands of Biden, Trump remains the most influential politician in the Republican Party and until recently was the clear polling front-runner in the burgeoning 2024 GOP nomination race.
However, his latest campaign launch was anything but spectacular. Trump's November candidacy kick-off event at his Mar-a-Lago club in Palm Beach, Florida was widely criticized not only by Democrats but also by fellow Republicans.
Some in Trump's political orbit told Fox News the early announcement was intended in part to clear the field of potential rivals and help the former president avoid the growing net of legal entanglements, but it appears to have failed on both accounts.
Trump appears to be the victim of a slew of self-inflicted wounds the past two months, as he also faced a growing chorus of GOP criticism partially blaming the former president for the party's lackluster showing in the midterms in what was supposed to be a red wave election.
Noem, a Trump ally, demurred when asked if the former president can win back his old job in 2024. But she told Fox News that "I worked closely with President Trump when he was in the White House. We worked together to do tax reform and a lot of good things that needed to happen at the federal level."
"I still believe that he's a good man and has good perspective on this and I think he is going to be part of the conversation going forward," the governor added.
As the GOP works to win back the White House and Senate majority in 2024, Noem highlighted that "we really need to focus on what Republicans across the country care about and that's keeping our nation safe and addressing national security concerns but also taking action. Not just talking conservative but actually putting conservative policies into place."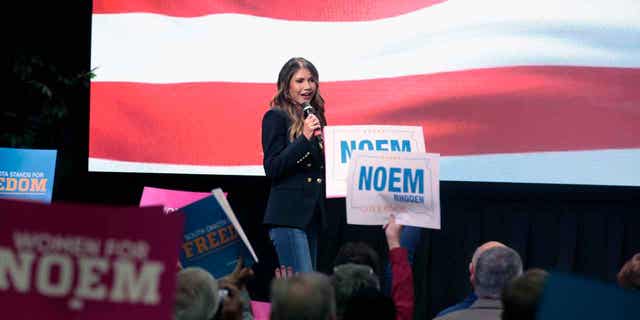 South Dakota Gov. Kristi Noem takes the stage at a campaign rally Wednesday, Nov. 2, 2022 in Sioux Falls, S.D. The Republican governor was easily re-elected days later. (AP Photo/Stephen Groves)
(AP Photo/Stephen Groves)
In the days after November's elections, Noem briefly mulled a bid against Republican National Committee chair Ronna McDaniel, who's currently facing two challengers to lead the national party going forward.
Noem told Fox News that she's currently "spending my time preparing for session, doing a budget," and that she has "not been spending time looking at running for RNC."
But she added "I do believe though that the leadership does need to held accountable and that we underperformed in this last election cycle. We did the cycle before as well, and we can do better. I think the folks that have invested so much time and effort and resources into the Republican national party deserve better results next time around."
Noem's swearing in will take place at Noon local time on Saturday in the state capital city of Pierre, South Dakota, and will be followed by a state of the state address on Tuesday.
CLICK HERE TO GET THE FOX NEWS APP
Pointing to her inauguration address, the governor said "I'm also going to make that speech more fun – I've got a theme that's going to talk a little bit about the top 10 things that surprised me as governor."
"You have this idea of a job when you come into it and you prepare," she noted. But she added "there still were some surprises along the way so I'm going to try and make this speech a little bit more fun, where we can laugh together and talk about some of the things we've encountered the last four years that surprised me about being governor…. Being governor was a completely different new and challenging experience that I've loved."