The Food and Drug Administration (FDA) will undergo an overhaul in the wake of the nation's baby formula shortage, but no one at the agency will be reassigned or fired, Commissioner Robert Califf said Tuesday.
Califf announced a "new, transformative vision" for the agency which will consolidate the regulators responsible for food safety under a new "Human Foods Program." However, this general restructuring of FDA agency components did not come with a specific plan to address the problems identified by an internal FDA review that hindered its response to the infant formula shortage. Additionally, when asked at a press conference, the commissioner said there were no plans to fire or reassign anyone involved for the agency's failures.
Califf did acknowledge that there had been some "leadership changes" – the FDA's top food safety official, Frank Yiannas, resigned last week. In his resignation letter, Yiannas wrote that the structure of the foods program "significantly impaired the FDA's ability to operate as an integrated food team and protect the public."
"But the short answer is no one's going to be reassigned or fired because of the infant formula situation," Califf told reporters, according to Politico.
BABY FORMULA SHORTAGE: FDA RESPONSE REPORT CITES OUTDATED SYSTEM, TRAINING ISSUES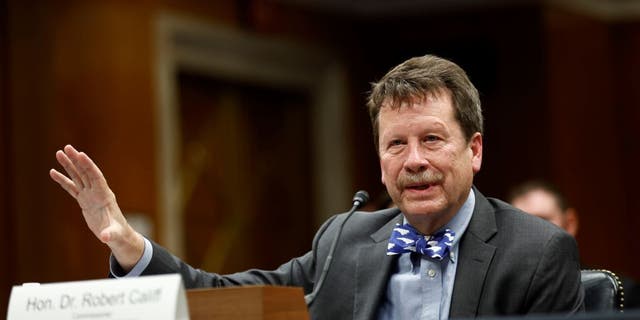 Food and Drug Administration Commissioner Robert Califf attends a hearing of U.S. Senate Subcommittee on Agriculture, Rural Development, Food and Drug Administration, and Related Agencies, in Washington, D.C., on April 28, 2022.
(Ting Shen/Xinhua via Getty Images)
The FDA was widely criticized by lawmakers last year for its delayed response to the baby formula shortage and its handling of a bacterial outbreak at an Abbott Nutrition production plant in Michigan.
Abbott's plant was shut down after the Cronobacter pathogen was detected in its formula and led to at least four infant illnesses – including two deaths. Abbott has denied a causal relationship between its products and the illnesses, but the company is now under criminal investigation by the Justice Department, the Wall Street Journal reported.
A whistleblower had tried to warn the FDA of problems at the Abbott facility in the fall of 2021, but government inspectors did not investigate the complaints until months later.
An internal review found that "inadequate processes and lack of clarity" related to the whistleblower complaints may have delayed the agency's response, as well as outdated technologies.
FDA PROPOSES LEAD LIMITS IN BABY FOOD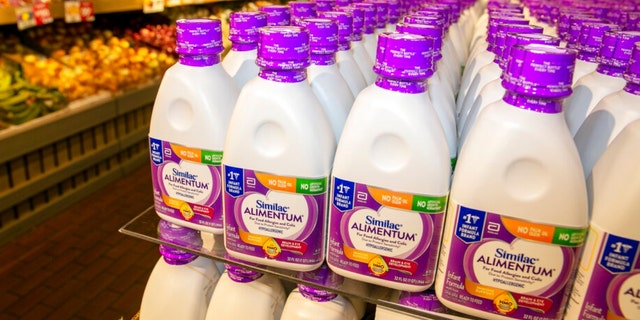 Similac Alimentum Hypoallergenic Infant Formula, imported from Puerto Rico, is for sale at a Stew Leonard's grocery store in Yonkers, New York, Friday, June 10, 2022.
(AP Photo/Ted Shaffrey, File)
The report said the FDA's emergency response lacked clarity of roles between programmatic and incident command standard operating procedures; the agency needed effective mechanisms to rapidly engage with regulatory and public health partners to avoid confusion; its investigators received limited infant formula-specific training; funding limitations had stalled growth of the foods program; record-keeping practices were dated, and the FDA does not have the ability to manage supply chain issues.
Califf testified to Congress that the FDA's response was "too slow and there were decisions that were suboptimal along the way." However, he blamed "mailroom issues" caused by the pandemic for the breakdown in the agency's response to whistleblower complaints.
PARENTS FEAR BABY FORMULA COSTS COULD SPIKE AS SUPPLIES REMAIN LOW: 'A REALLY HARD BLOW'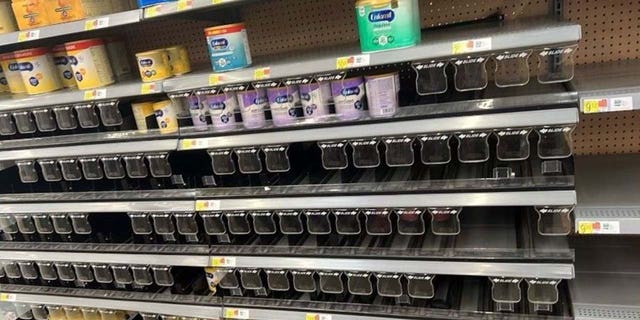 Empty store shelves in Columbus, Ohio, as parents panic over worsening baby formula shortage. 
(FOX Business)
The FDA chief's reforms will generally address these issues and others raised by an external evaluation conducted by the Reagan-Udall Foundation by consolidating the FDA's Center for Food Safety and Applied Nutrition, Office of Food Policy and Response, and components of the Office of Regulatory Affairs into a unified Human Foods Program. A new deputy commissioner for Human Foods will be hired to oversee the program and will report directly to the FDA commissioner.
"The Deputy Commissioner will have decision-making authority over policy, strategy, and regulatory program activities within the Human Foods Program, as well as resource allocation and risk-prioritization," Califf said.
Additionally, FDA will establish a Human Foods Advisory Committee consisting of outside experts to "advise on challenging and emerging issues in food safety, nutrition and innovative food technologies."
CLICK HERE TO GET THE FOX NEWS APP
"Creating a Human Foods Program under a single leader who reports directly to the Commissioner unifies and elevates the program while removing redundancies, enabling the agency to oversee human food in a more effective and efficient way," Califf said.
Fox News' Julia Musto contributed to this report.