The Biden administration is beginning 2023 to renew its push to get a sweeping immigration bill through Congress that it introduced two years ago when it first entered office — but that still shows no sign of picking up any Republican support due to its inclusion of an amnesty for millions of illegal immigrants.
"On my first day in office… I sent Congress a comprehensive piece of legislation that would completely overhaul what has been a broken immigration system for a long time: cracking down on illegal immigration; strengthening legal immigration; and protecting DREAMers, those with temporary protected status, and farmworkers, who all are part of the fabric of our nation," President Biden said in a White House speech last month.
But congressional Republicans have refused to consider my comprehensive plan," Biden said, while announcing a number of new border measures.
The bill Biden was referring to is the U.S. Citizenship Act of 2021, which was unveiled on Biden's first day in office in 2021, and officially introduced in the Senate a month later. At the core of the bill is an eight-year path to citizenship for illegal immigrants in the U.S. in the U.S. before Jan. 1 2021 — as well as immediate green card eligibility for farmworkers, Temporary Protected Status (TPS) recipients, and some who came to the U.S. as minors.
BIDEN ADMIN CITES DATA SHOWING NEW BORDER MEASURES 'ARE WORKING' AS NEW LAWSUIT LOOMS
The bill would also set up refugee processing locations in Central America, increase the number of immigration judges and open up a number of additional avenues for legal immigration — including "recapturing" unused visas from prior years, clearing visa backlogs, and expanding the diversity lottery visa program. The legislation would also provide additional funding for technology at the border and expand anti-smuggling efforts in Central America.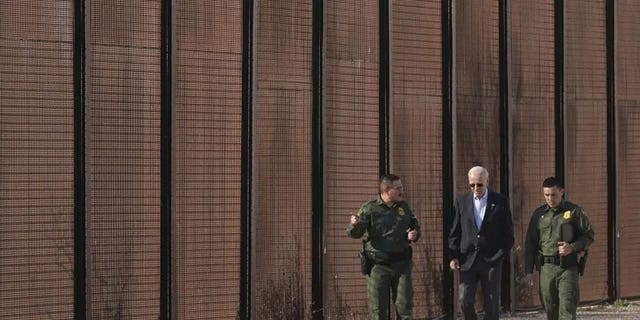 President Joe Biden walks with U.S. Border Patrol agents along a stretch of the U.S.-Mexico border in El Paso Texas, Sunday, Jan. 8, 2023. 
(AP Photo/Andrew Harnik)
However, to pass at that time, it would have required the support of 10 Republicans in the Senate — which immediately seemed unlikely, if not impossible. Sen. Bob Menendez, D-NJ., described getting such a measure through Congress as a "Herculean task."
WHITE HOUSE FIRES BACK AT GOP OVER CALL TO FUND TEXAS BORDER SECURITY EFFORTS
Sure enough, it met a firewall of Republican resistance in Congress, who immediately objected to passing a mass amnesty just as there were signs of rising border numbers — numbers that would hit historic highs in the months ahead. Senate Republican Leader Mitch McConnell accused the administration of having "sketched out a massive proposal for blanket amnesty that would gut enforcement of American laws while creating huge new incentives for people to rush here illegally at the same time.
"This kind of failed approach will invite another humanitarian crisis on our border and privilege powerful interests ahead of American workers," McConnell said.
Sen. Marco Rubio, R-Fla., who had engaged in past discussions about immigration reform, called it a "non-starter."
"There are many issues I think we can work cooperatively with President-elect Biden, but a blanket amnesty for people who are here unlawfully isn't going to be one of them," he said.
Soon after that, talk of the bill died out, and congressional Democrats turned to alternative efforts to get pathways to citizenship for illegal immigrants — including an ultimately unsuccessful attempt to use budget reconciliation to avoid needing Republican support.
OVER QUARTER OF A MILLION MIGRANT ENCOUNTERS IN DECEMBER ALONE
Since then, the border has been engulfed in a historic surge of migration, with over 1.7 million migrant encounters in FY 2021 and over 2.3 million in FY 2022. Border numbers hit a new high in December when there were more than 251,000 migrant encounters. In the midst of that crisis, the Biden administration has continued to beat the drum for the bill, without making any modifications to the legislation.
"When we first came into office, the first bill we proposed was for a pathway to citizenship, was to fix a broken immigration system that was broken under the previous administration," Vice President Kamala Harris said in October.
"Participate in the solution because we are offering solutions," she scolded Republicans.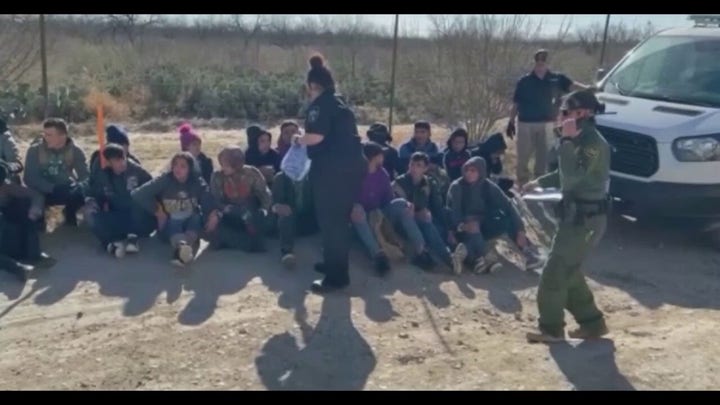 Video
Homeland Security Secretary Alejandro Mayorkas has made similar calls.
"On the very first day in office, President Biden sent to the Hill, to Congress, a comprehensive package that would have meant so much to our ability to really manage the situation at the border, to really bring a broken immigration system that hasn't been reformed for decades, to really bring it into the present day, not just from a point of view of enforcement, but also realizing the opportunities that immigration brings to our country," he said of the bill in an interview with The Washington Post.
ICE DEPORTATIONS REMAINED WELL BELOW TRUMP-ERA LEVELS IN FY 2022, AMID HISTORIC BORDER CRISIS
Mayorkas went on to make an economic argument for the legalization of millions of illegal immigrants.
"We have 10 million job openings in the United States," he said. "I was reading about what Canada is doing to address a million open jobs. They're bringing in about 1.3 million migrants to fill that labor need that cannot be met within their own borders. President Biden sent forward a comprehensive package on day one. It has not occurred yet."
Mayorkas expresses optimism about the chances for the bill: "I'm an undying optimist, and we're going to stay true to the fight to pass reform that our country needs and from which our country will prosper."
However, there has been little justification for such optimism. While some bipartisan talks have been underway that would see $25 billion in border security funding combined with a path to citizenship for two million illegal immigrants who came as minors, such efforts now face an additional roadblock in the form of the House of Representatives.
Republicans took control of the House in January, and House Republican leadership has made it clear that "amnesty" is off the table.
"No amnesty," he told Fox News in October.
Rep. Mark Green, chairman of the House Homeland Security Committee, made similar promises last week in a statement to Roll Call.
" It's pretty simple: mass amnesty will not pass a House committee or the House floor," he said.
CLICK HERE TO GET THE FOX NEWS APP
But amid that opposition, Biden has continued to try and increase the pressure on Republicans on the bill.
"There's more that has to be done, and I laid that out in the first week I was here," he said last month. "That work will not be done unless and until the Congress enacts and funds a more comprehensive immigration plan that I proposed on day one."