Mark Zuckerberg served as a punching bag on Capitol Hill this week.
For nearly five hours on Tuesday, the first of two sessions of congressional testimony this week, the Facebook CEO weathered slams in a joint hearing of the Senate's Judiciary and Commerce committees. More than a few of the lawmakers used their five minutes of question time to blast Facebook and its 33-year-old billionaire co-founder.
It was more of the same story during Zuckerberg's second round Wednesday, as 55 members of the House Energy and Commerce Committee had up to four minutes to question him.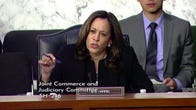 Now playing:
Watch this:

Zuckerberg gets grilled by Senators
2:23

Zuckerberg's appearances on Capitol Hill come amid mounting political pressure over a widening data scandal involving Cambridge Analytica. The voter profiling firm acquired the data of 87 million Facebook accounts and reportedly used it during the Brexit vote and 2016 presidential campaign. The scandal informed many of the lawmakers' questions, which were laced with biting remarks that criticized the company's failure to protect private information on its massive social network. 
Here are some of most stinging statements from the hearing:
Sen. Dick Durbin, a Democrat from Illinois:
Mr. Zuckerberg, would you be comfortable sharing with us the name of the hotel you stayed in last night? 

Zuckerberg: Uhh… no. 

If you messaged anyone this week, would you share with us the names of the people you've messaged? 

Zuckerberg: Senator, no, I would probably choose not to do that. 

I think that may be what this is all about. Your right to privacy, the limits of your right to privacy, and how much you'd give away, in modern America, in the name of "connecting people around the world."
Sen. Richard Blumenthal, a Democrat from Connecticut, on Facebook being
lied to by Cambridge Analytica

:
What happened here was willful blindness. It was heedless, and reckless, which in fact, amounted to a violation of the FTC consent decree. 

We've seen the apology tours before. You have refused to acknowledge even an ethical obligation to have reported this violation of the FTC consent decree.
Sen. Bill Nelson, a Democrat from Florida, in a call for regulation:
If Facebook and other online companies will not or cannot fix the privacy invasions, then, we are going to have to. We, the Congress. How can American consumers trust folks like your company to be caretakers of their most personal and identifiable information?
Sen. John Thune, a Republican from South Dakota:
Mr. Zuckerberg, in many ways, you and the company you've created, the story you've created, represent the American dream. Many are incredibly inspired by what you've done. It's up to you, to ensure that dream doesn't become a privacy nightmare, for the scores of people that use Facebook.
See also
Facebook, Cambridge Analytica and data mining: What you need to know
How to check if Facebook shared your data with Cambridge Analytica
Questions to Mark Zuckerberg show many senators don't get Facebook
Sen. John Kennedy, a Republican from Louisiana: 
Here's what everybody's been trying to tell you today, and I say this gently: your user agreement sucks. The purpose of that user agreement is to cover Facebook's rear end, it's not to inform your users about their rights. Now you know that, and I know that. I'm going to suggest to you that you go back home and rewrite it. 
Sen. Catherine Cortez Masto, a Democrat from Nevada:
I appreciate the apology, but stop apologizing and let's make the change. I think it's time to really change the conduct.

The skepticism that I have, and I'm hoping you can help me with this, is that over the last seven years, I haven't really seen much change in ensuring that the privacy is there and that individual users have control over the privacy of their data. 
Rep. Greg Walden, a Republican from Oregon:
While Facebook has certainly grown, I worry it may not have matured. I think it's time to ask whether Facebook has moved too fast and broken too many things.
Rep. Frank Pallone, a Democrat from New Jersey:
The fact is, no one knows how many people have access to the Cambridge Analytica data. And no one knows how many other Cambridge Analyticas are still out there.

Facebook is just the latest in a never-ending string of companies that vacuum up our data but fail to keep it safe. This incident demonstrates again that our laws are not working. 
Rep. Bobby Rush, a Democrat from Illinois:
It is no longer the company that you started in your dorm room. Instead, it is one of the great American success stories. That much influence comes with enormous social responsibility, on which you have failed to act, and to protect, and to consider. 
Rep. Anna Eshoo, a Democrat from California:
Enabling the cynical manipulation of American citizens for the purpose of influencing an election is deeply offensive, and it's very dangerous. Putting our private information on offer without concern for possible misuses, I think, is simply irresponsible.
Rep. Jan Schakowsky, a Democrat from Illinois:
You have a long history of growth and success, but you also have a long list of apologies. In 2003, it started at Harvard, "I apologize for any harm done as a result of my neglect." 

2006, "We really messed this one up." 

2007, "We simply did a bad job, I apologize for it." 

2010, "Sometimes we move too fast." 

2011, "I'm the first to admit that we've made a bunch of mistakes." 

2017, (This is in connection with the Russian manipulation of the election and the data that came from Facebook) "I ask for forgiveness, I will work to do better."

It seems to me from this history, that self-regulation simply does not work. 
Rep. Ben Lujan, a Democrat from New Mexico:
You're collecting data on people who are not even Facebook users, who have never signed a consent, a privacy agreement, and you're collecting their data.

And it may surprise you, that on Facebook's page, when you go to "I don't have a Facebook account and would like to request all my personal data stored by Facebook," it takes you to a form that says, go to your Facebook page, and then on your account settings you can download your data.

So you're directing people who don't even have a Facebook page to have to sign up for a page to reach their data. We've got to fix that. 
Rep. Paul Tonko, a Democrat from New York: 
When they found out I was going to be speaking with you today, my constituents asked me to share some of their concerns in person.

How can they protect themselves on your platform? Why should they trust you again with their likes, their loves, their lives? Users trusted Facebook to prioritize user privacy, and data security, and that trust has been shattered.

I'm encouraged that Facebook is committed to making changes, but I am indeed wary that you are only acting now out of concern for your brand and only making changes that should have been made a long time ago. 
Rep. Debbie Dingell, a Democrat from Michigan: 
We've all been sitting here for more than four hours. Some things are striking during this conversation. As CEO, you didn't know some key facts.

You didn't know about major court cases regarding your privacy policies against your company.

You didn't know that the FTC doesn't have fining authority, and that Facebook could not have received fines for the 2011 consent order.

You didn't know what a shadow profile was. You didn't know how many apps you need to audit. You did not know how many other firms had been sold data by Dr. Kogan, other than Cambridge Analytica, and Eunoia Technologies, even though you were asked that question yesterday. And yes, we were all paying attention yesterday.

You don't even know all the kinds of information Facebook is collecting from its own users.  
First published April 10, 2:13 p.m. PT.
Update at 3:33 p.m. PT: Adds remarks from other senators.
Update at 3:59 p.m. PT: Adds more remarks from senators.
Update on April 11, 9 a.m. PT: Adds remarks from the second day of hearings.
Update at 12:24 p.m. PT: Adds more remarks from the second day of hearings.
CNET Magazine: Check out a sample of the stories in CNET's newsstand edition.
Tech Enabled: CNET chronicles tech's role in providing new kinds of accessibility.