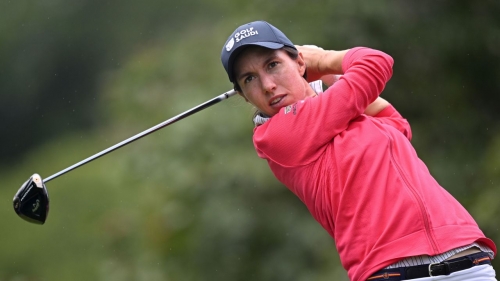 Carlota Ciganda in action during the Evian Championship at Evian Resort Golf Club in Evian-les-Bains, France.
Stuart Franklin/Getty Images

CNN
—
Spanish golf star Carlota Ciganda was disqualified from the Evian Championship on Friday after refusing to add a two-shot slow play penalty to her scorecard.
Having started from the 10th tee, the 33-year-old was finishing her second round at the par-five 9th hole when she was penalized two strokes by rules officials in accordance with the LPGA Tour's Pace of Play Policy, an LPGA spokesperson said in a statement to CNN.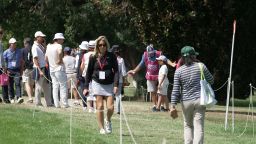 Markus Zechmann (left), caddie for US golfer Angel Yin, questions a young boy who picked up Yin's ball while it was still in play. A portion of this image has been blurred by CNN to protect identity.
Andrew Waller/CNN
Young fan picks up ball while it's still in play at Evian Championship – then receives signed souvenir from Angel Yin
The penalty would have lifted Ciganda's score up to three-over 74 for the round and six-over par overall, which would ultimately have seen the world No. 31 fall short of the five-over par cut line at the major in Evian-les-Bains, France.
Yet after her appeal to rules officials was "heard and denied," Ciganda did not add the two shot penalty and – having left the recording zone – was subsequently disqualified for signing an incorrect scorecard, the LPGA spokesperson said.
"Ciganda was allowed an appeal with the advance and lead rules officials before returning her scorecard, which was heard and denied. Therefore, a two-stroke penalty was upheld," the statement said.
"Ciganda opted not to add the two-stroke penalty to her signed scorecard. She was told that leaving the official recording area with a signed score lower (without the penalty strokes) would lead to disqualification, and left on her own accord."
The Spaniard's group, which included Anna Nordqvist and Celine Herbin, had been warned that they were out of position at the second-to-last hole and – having failed to make up the time – were put on the clock at the penultimate hole, the spokesperson added.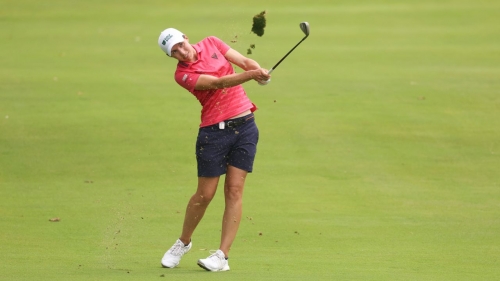 Ciganda during the final round of the KPMG Women's PGA Championship in June.
Christian Petersen/Getty Images
In a story posted to Instagram on Saturday, Ciganda said rules officials had claimed she took 52 seconds to putt, which she disputed, adding that the group behind "were not even on the tee."
"Very poor performance from the LPGA rules official, they don't understand what professional golf is about," wrote Ciganda, a two-time LPGA Tour winner and a five-time Solheim Cup player.
"They only look at their stopwatch like if 20 seconds is going to make a difference. I had family and friends watching and they all said it was impossible I took that long to hit that putt!
"Yesterday was tough out there with windy conditions and difficult pins and I wish everyone gets treated the same and they don't pick on the same players all the time! That's all!"
CNN has reached out to the LPGA for comment on Ciganda's Instagram post.
Slow play has been a topic of controversy in professional golf this year, with American golfer Patrick Cantlay's time over shots at several PGA Tour events sparking debate among fans and players alike.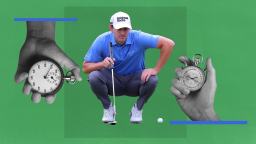 CNN/Getty Images
Tee-k Tock: The 'appalling' slow play controversy riling golf's biggest stars
Under the R&A and USGA's Rules of Golf guidance, "a round of golf is meant to be played at a prompt pace." That pace is set at 40 seconds to play a stroke, with an extra 10 seconds afforded under various circumstances, such as the first player to play a shot on a par-3 hole or on the green respectively.
"The player should usually be able to play more quickly than that and is encouraged to do so," the guidelines state, with golfers that exceed 40 seconds – "bad time" – "informed as soon as practicable" by a tournament official.
While the first "bad time" offense goes unpunished, one and two-stroke penalties are awarded for second and third violations respectively.
France's Celine Boutier took a one-shot lead into Saturday's third round as she chases a dream first major title at her home tournament. The 29-year-old shot 69 to edge ahead of Thailand's Patty Tavatanakit and Japan's Yuka Saso.