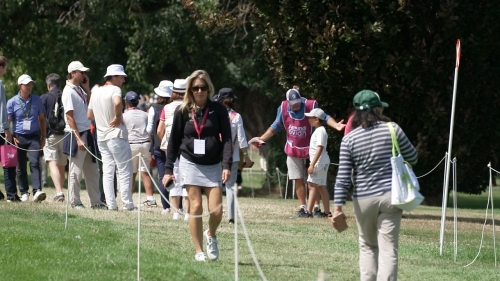 Markus Zechmann (left), caddie for US golfer Angel Yin, questions a young boy who picked up Yin's ball while it was still in play during the first round of the 2023 Evian Championship. A portion of this image has been blurred by CNN to protect the child's identity.
Andrew Waller/CNN

CNN
—
When Angel Yin finished an impressive first round at the Evian Championship, she spent some time signing autographs for a gaggle of junior fans excitedly bundled together at the ropes.
Yet two young spectators had already collected souvenirs from the American golfer before she had even finished playing on Thursday.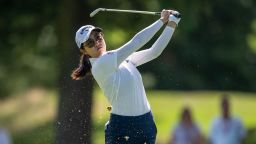 Us' Rose Zhang competes in the Evian Championship, a women LPGA major golf tournament in Evian-les-Bains, French Alps, on July 27, 2023. (Photo by Fabrice COFFRINI / AFP) (Photo by FABRICE COFFRINI/AFP via Getty Images)
Fabrice Coffrini/AFP/Getty Images
Rose Zhang is juggling her golf career and studying at Stanford – with a little help from Tiger Woods
For the second year running at the major championship in France, a player suffered the unfortunate fate of having their ball picked up while it was still in play.
Yin had been playing the par-five 15th hole at Evian Resort Golf Club when her shot skimmed over the fairway to settle just outside the ropes – much to the thrill of a nearby young fan, who picked up the ball before walking off with his sister.
"The kid was really, really happy. I was far away and I saw his arm go up," Yin told CNN.
The 24-year-old's caddie, Markus Zechmann, was less ecstatic. Having sprinted off in pursuit of the collector, Zechmann walked the boy back to ask him to point out where the ball had initially landed.
Two negotiations then ensued. First, with the rules official, to determine where the shot should be taken from, and then, between Yin and the siblings, with the golfer "trading" two signed balls from her bag for her original ball.
Last year at the Evian Championship, Nelly Korda suffered a similar fate when a spectator picked up her ball.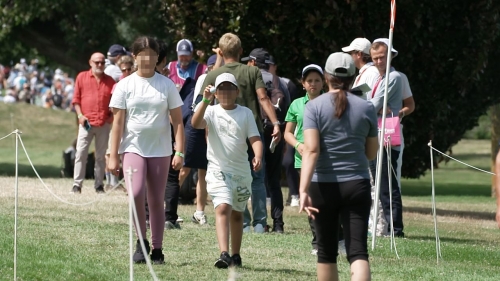 The boy and his sister return with balls signed by Yin. A portion of this image has been blurred by CNN to protect the siblings' identity.
Andrew Waller/CNN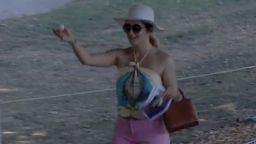 Sky Sports Golf
Fan picks up Nelly Korda's ball while it's still in play at women's golf major
Nor was it the first time that Yin had been playing when a spectator picked up her ball, though Thursday's incident had a happier ending.
The American golfer had once been in contention at an event in Korea when a spectator took her ball but, positioned too far away, it was never found and Yin ultimately had to write it off as a lost ball, accepting a shot penalty in the process.
"Thank god my caddie was up front and he chased him down. I don't really know the ruling if a kid takes my golf ball," Yin said on Thursday.
"He plays tennis so he does run. With a bag on your shoulders it's not fun."
Yin parred the 15th before racing home with two birdies across the final three holes to card a four-under 67, leaving her just three strokes behind South African first-round leader Paula Reto.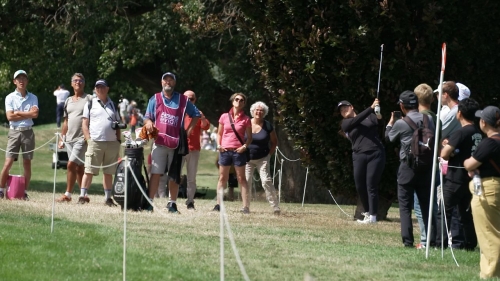 Yin plays her shot after taking a drop.
Andrew Waller/CNN
Yin, who is the world No. 37 is chasing a first major win after two runner-up finishes, including an agonizing playoff defeat to Lilia Vu at the Chevron Championship earlier this year.
"Course is really difficult," Yin said. "View is really nice so it does get difficult at times, but I held it through. Played good golf and was able to make birdies and capitalize on that."
Yin tees off for her second round at 1:39 p.m. local time (7:39 a.m. ET) on Friday.