close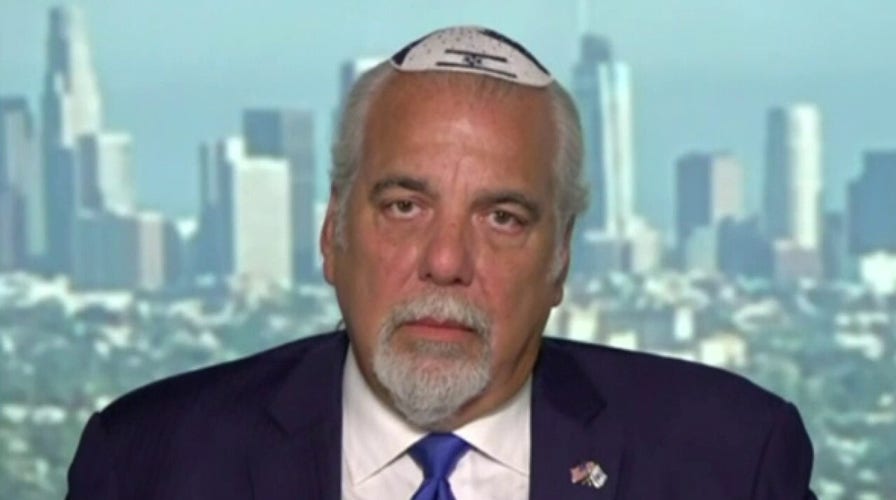 Video
Rabbi: These people were looking for violence
Rabbi Michael Barclay discusses the homicide investigation into the death of a Jewish man at a pro-Palestinian and pro-Israel rally in California on "The Story."
French authorities have opened an investigation into whether two Moldovans who admitted to painting Stars of David on properties across Paris did so at the request of a foreign agent.
"It is necessary to continue investigations into the antisemitic nature of the intention of the perpetrators of this damage, particularly in view of the geopolitical context and its impact in France," Paris prosecutor Laure Beccuau said in a statement.
The unnamed 33-year-old man and 29-year-old woman painted roughly 60 Stars of David on different walls across Paris on Oct. 31 – an act that occurred in the nearby commune of Aubervilliers as well several other districts, Politico reported.
Police arrested the duo for crimes of "property damage" connected to "origin, race, ethnicity or religion." Local residents witnessed the act and reported it immediately.
POLICE INVESTIGATING AFTER ANTISEMITIC NOTES ARE PLACED ON CARS INSIDE CHICAGO PARK
Legal proceedings against them ended when they left the country. France 24 reported that a third person accompanied the pair and took photos, but that third person remains at large.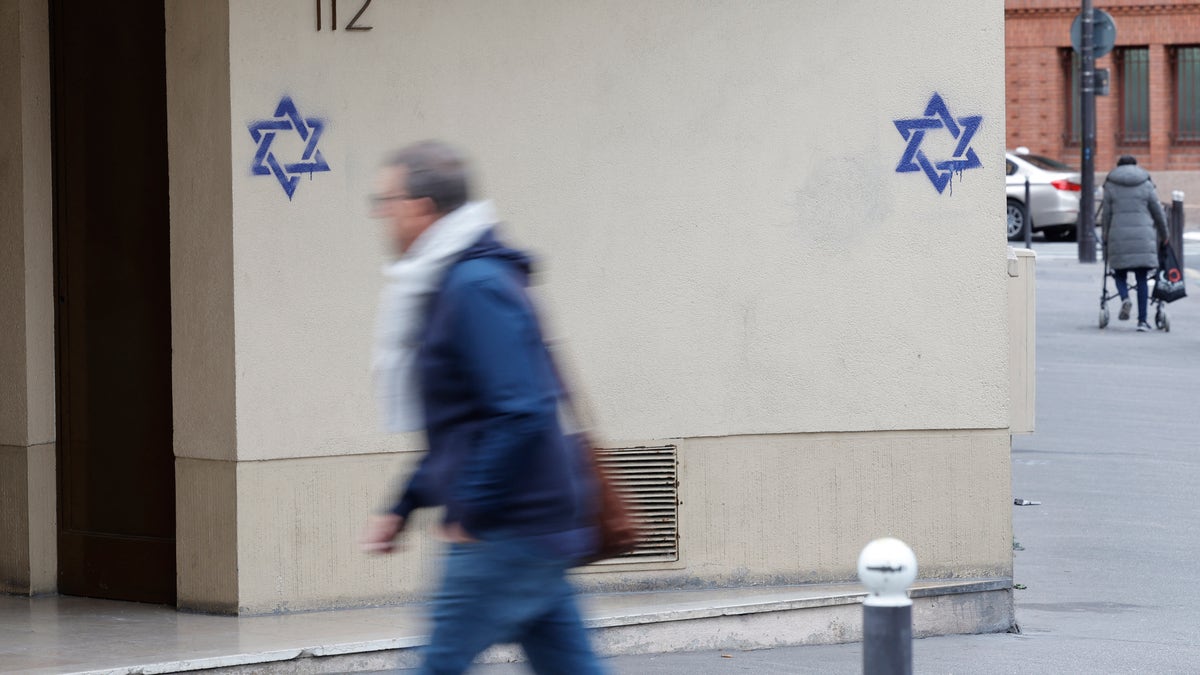 A man walks past a building whose facade was painted with Stars of David in the Alesia district of Paris on Oct. 31, 2023. (Geoffroy van der Hasselt / AFP via Getty Images)
The pair – who were in the country illegally as Moldova is not a member of the European Union and, therefore, subject to visa approval – communicated via telephone with a foreign individual who spoke Russian, authorities said. French radio station Europe 1 reported that the individual may even have operated from Russia.
Telephone investigations have shown that the Moldovans and those who may have painted other Stars of David were "in touch with the same third person."
JEWISH AMERICANS TURNING TO GUNS FOR PROTECTION
"At this stage it is thus not to be excluded that the daubing the stars of David was done at the express demand of an individual residing abroad," Beccuau wrote.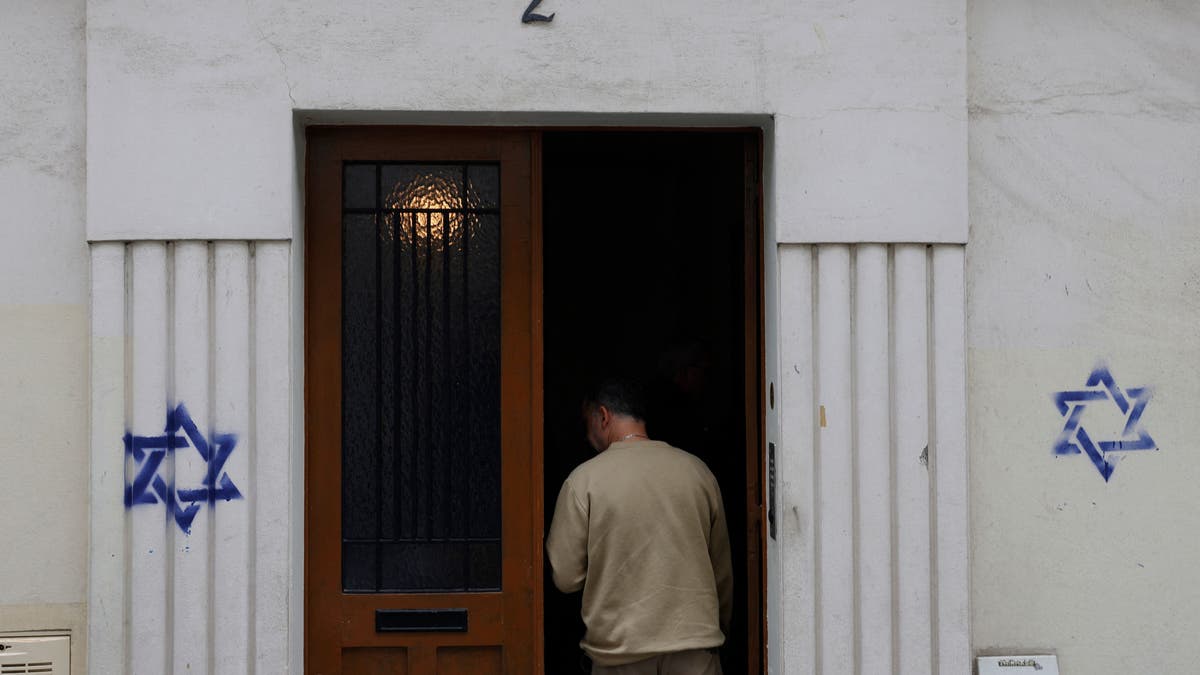 A man enters a building whose facade was painted with Stars of David in the Alesia district of Paris on Oct. 31, 2023. (Geoffroy van der Hasselt / AFP via Getty Images)
Authorities have not yet confirmed if the act qualifies as a hate crime, but many condemned the act as echoing the Nazi occupation of Paris during World War II – the Union of Jewish Students of France said the stars were designed to "recall" the yellow Stars of David the Nazis made Jewish people wear, the Times of Israel reported.
"This act of marking recalls the processes of the 1930s and the Second World War which led to the extermination of millions of Jews," Union of Jewish Students of France President Samuel Lejoyeux told AFP.
ARIZONA MAN ARRESTED FOR THREAT TO EXECUTE RABBI, 'EVERY OTHER JEW I CAN FIND': DOJ
The Times of Israel noted that Stars of David appeared recently in Berlin, scrawled at the entrances of buildings with Jewish residents.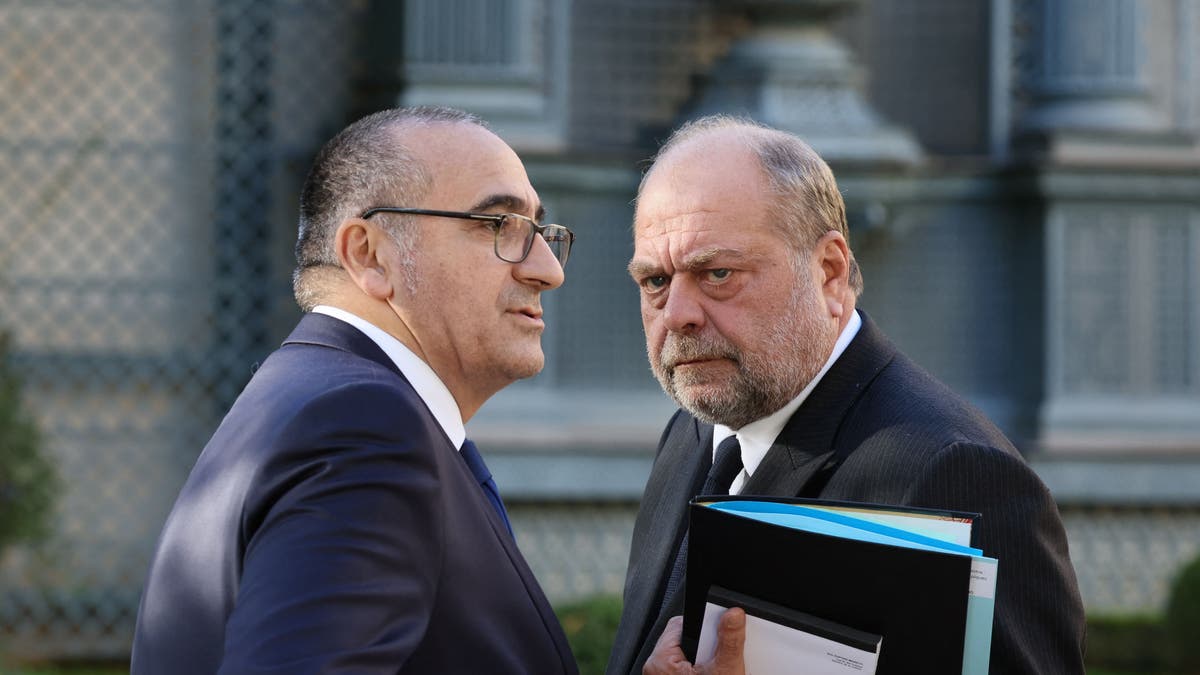 Paris Prefect of Police Laurent Nunez, left, speaks with French Justice Minister Eric Dupond-Moretti as they arrive at a government meeting at the Hotel Matignon in Paris on Oct. 20, 2023. (Alain Jocard / AFP via Getty Images)
The acts have served to further agitate an already fragile community as antisemitic incidents and attacks have spiked in Western countries: A Jewish woman in the French city of Lyon was stabbed and a swastika was found painted on her door last week.
The Times of Israel reported that French Interior Minister Gerald Darmanin told France 2 that antisemitic acts in the country had "exploded," noting that 486 people have so far been arrested, including 102 foreigners.
CLICK HERE TO GET THE FOX NEWS APP
The French capital on Sunday alone received 257 reports of antisemitic acts and recorded 90 arrests, The Guardian reported. The police did not report any similarities in profile between those arrested, with offenders ranging from "young kids who say very serious things" to people who have "gone too far."
Murders and deaths of Jewish people have spiked even in the United States where a rabbi was murdered in Detroit and an elderly man at a pro-Israel rally died from blunt force trauma to his head in Los Angeles.
Reuters contributed to this report.
Peter Aitken is a Fox News Digital reporter with a focus on national and global news.