All across the globe, music icons including Dolly Parton and Cher as well as A-list celebrities like Jennifer Lopez and Reese Witherspoon celebrated New Year's Eve with family, friends and a bevy of Hollywood stars.
Some couples shared their first NYE holiday together, while others met up with friends to ring in 2023.
Here's a look at some of the best celebrations.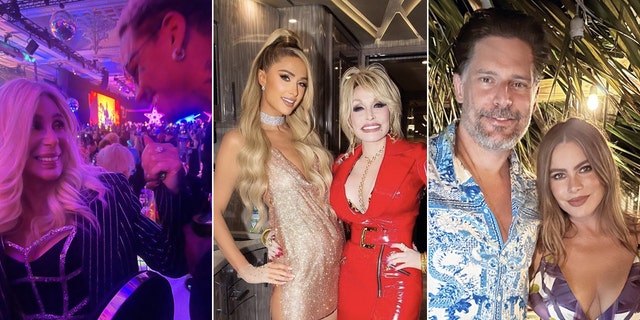 Celebrities rang in the New Year with their famous significant others and friends.
(Instagram/Twitter)
CELEBRITY NEW YEAR'S RESOLUTIONS: BLAKE SHELTON, GWEN STEFANI AND MORE STARS ON 2023 GOALS
Dolly Parton and Miley Cyrus
For the second year in a row, Miley Cyrus brought the house down in Miami with a NYE special on NBC, but this year she was joined by godmother Dolly Parton as her co-host. Flocks of celebrities and performers showed up to the event, where Cyrus and Parton sang "Wrecking Ball" and "Jolene," among other songs.
"Miley's New Year's Eve Party" featured special performances by Paris Hilton, who surprisingly joined Cyrus and musician Sia on stage for a rendition of her song "Stars Are Blind."
 

 
 

 
 
View this post on Instagram
 

 
 
 

 
 

 
 
 

 
 
Hilton, 41, posted a series of photos with other performers, including Latto and Fletcher writing in part, "Still on a high after last night! It felt so good to be back on stage and it was so inspiring to be surrounded by so many talented artists who I look up to and feel lucky to call my friends."
 

 
 

 
 
View this post on Instagram
 

 
 
 

 
 

 
 
 

 
 
Cyrus additionally announced the upcoming release of new music during the show. Her single "Flowers" will debut on Jan. 13.
Cher
Cher celebrated her New Year with her new man, boyfriend Alexander Edwards, in a series of photos posted to Twitter, showcasing the massive diamond ring she was recently given by the music executive.
In a series of tweets, the "Believe" singer wrote, "Happy New Year Daddy," in reference to Edwards, who she has been linked to publicly since November. She also wrote, "This should Send you Haters to The Part in Wizzard of OZ…WHEN DOROTHY THREW WATER ON THE wicked Witch & Melted her," alongside a picture of her beaming at her beau.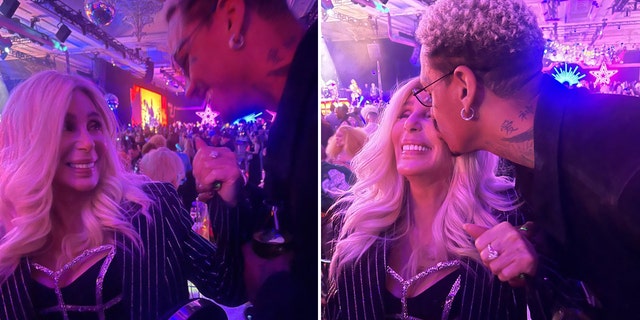 Cher celebrated her night with boyfriend Alexander Edwards.
(Twitter)
Reese Witherspoon
"Big Little Lies" actress Reese Witherspoon posted a photo "welcoming 2023" with her youngest child, Tennessee while on the beach, looking out at the horizon.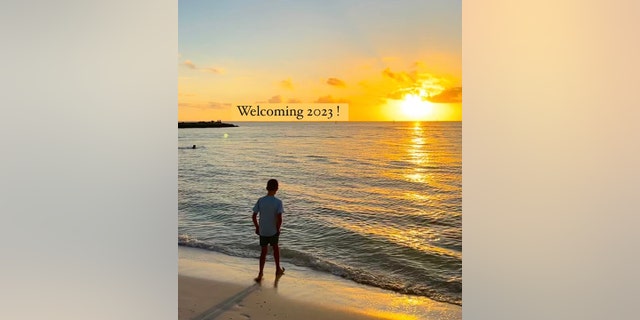 Reese Witherspoon shared a photo from the beach tp celebrate the start of her 2023.
(Instagram)
Sofia Vergara and Joe Manganiello
Sofia Vergara and Joe Manganiello have had a whirlwind week, celebrating the holidays together as well as Manganiello's birthday on Dec. 28. The "Modern Family" actress posted a series of photos alongside her husband of seven years and friends while in a tropical location.
 

 
 

 
 
View this post on Instagram
 

 
 
 

 
 

 
 
 

 
 
CLICK HERE TO SIGN UP FOR THE ENTERTAINMENT NEWSLETTER
Jennifer Lopez 
Jennifer Lopez took to Instagram to share a couple of cute videos of herself while sipping on a cocktail, also highlighting the 2023 glasses she had on her face. She stunned in a black and red gown while she danced along to Ella Fitzgerald's "What Are You Doing New Year's Eve."
 

 
 

 
 
View this post on Instagram
 

 
 
 

 
 

 
 
 

 
 
Kylie and Kendall Jenner
Reality stars Kylie and Kendall Jenner, 25 and 27 respectively, both donned all black outfits to their New Year's Eve festivities. The sisters were photographed alongside many of their friends at the same venue, including Hailey Bieber and Anastasia Karanikolaou.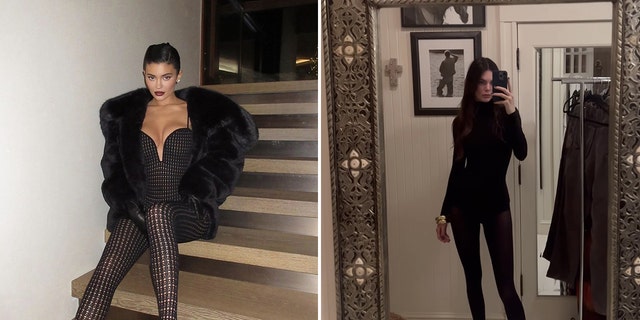 Sisters Kylie and Kendall Jenner ended up at the same party for New Year's Eve.
(Instagram)
CLICK HERE TO GET THE FOX NEWS APP