The Department of Homeland Security on Friday announced a new, expedited process aimed at encouraging "noncitizen workers" to report labor rights violations in the U.S. by allowing them to avoid deportation.
DHS said the policy of insulating noncitizen workers from the threat of being deported – known as "deferred action" – will make it easier for authorities to investigate cases of shoddy labor law standards put in place by "exploitive employers." The department said it has streamlined the process of granting deferred action when these cases arise.
"Unscrupulous employers who prey on the vulnerability of noncitizen workers harm all workers and disadvantage businesses who play by the rules," said DHS Secretary Alejandro Mayorkas. "We will hold these predatory actors accountable by encouraging all workers to assert their rights, report violations they have suffered or observed, and cooperate in labor standards investigations."
GOP REP INTRODUCES BILL TO RESTART BORDER WALL CONSTRUCTION, DAYS AFTER MEXICAN PRESIDENT LAUDS BIDEN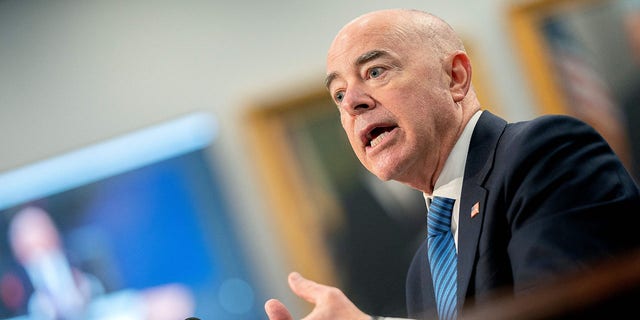 The Department of Homeland Security, led by Secretary Alejandro Mayorkas, put forward a policy Friday aimed at protecting noncitizen workers who report U.S. labor violations.
(Stefani Reynolds/AFP)
"Through these efforts, and with our labor agency partners, we will effectively protect the American labor market, the conditions of the American worksite, and the dignity of the workers who power our economy," Mayorkas added.
Noncitizen workers are "often afraid" to report labor violations because they fear it will lead to their detainment or removal from the country, DHS said. That makes it harder for federal agencies to enforce labor laws and makes it easier for employers to commit "unlawful and inhumane acts" against these workers.
DHS said that offering protection from deportation to noncitizen workers "facilitates the ability of labor and employment agencies to more fully investigate worksite violations" and allows them to hold abusive employers accountable.
MEXICAN PRESIDENT THANKS BIDEN FOR NOT BUILDING ANY MORE BORDER WALL, PUSHES FOR AMNESTY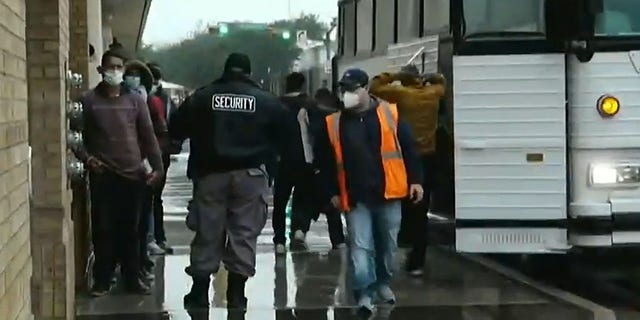 The DHS policy comes in the midst of an ongoing battle over rampant illegal immigration into the United States. 
(Fox News)
The DHS announcement said that officials are streamlining this process by creating one central point that workers can use to request deferred action at U.S. Citizenship and Immigration Services. That central point deals specifically with supporting labor agency investigation and enforcement efforts.
Under the new process, noncitizen workers must explain why they are seeking deferred action, including a letter from a labor or employment agency that supports the request and other documents that will help officials decide whether to offer these workers a protected status.
BIDEN SAYS US CAN'T 'WALL OURSELVES OFF' AS HIS DELAWARE BEACH HOUSE ADDS NEW BARRIER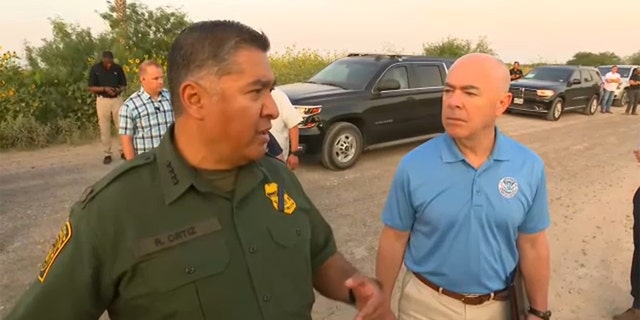 DHS Secretary Alejandro Mayorkas visited the U.S. southern border last year as illegal border crossings continued to surge.
(Pool video)
Noncitizens who receive deferred action status typically keep this status for two years and may be eligible for employment authorization in the U.S., depending in part on whether they can show an economic necessity for employment. They may also be eligible for extended deferred action status.
CLICK HERE TO GET THE FOX NEWS APP
DHS said that the effort to streamline the process of protecting noncitizen workers is in line with a 2021 memo from Mayorkas that directed DHS to make sure it "fulfills its critical role supporting the important work of labor agencies to enforce wage protections, workplace safety, labor rights, and other laws and standards."