Florida has hired more than 1,000 officers since last summer, awarding all of those who joined the Sunshine State's law enforcement ranks with bonuses totaling more than $5 million.
The news was announced online Friday by Florida Gov. Ron DeSantis and first lady Casey DeSantis, who said she was "thrilled" about the law enforcement hiring spree and bonuses.
"[Gov. DeSantis] and I are thrilled to announce more than 1,000 new law enforcement officers have joined Florida's ranks since July 2022 & each has received a $5,000 bonus," DeSantis wrote in a tweet.
FLORIDA GOV. RON DESANTIS HAND DELIVERS $1,000 BONUS TO FIRST RESPONDERS WORKING HURRICANE IAN RESPONSE
"We couldn't be more thankful for our brave law enforcement who keep our communities safe," she added.
Since taking office at the helm of Florida in 2019, DeSantis has worked on initiatives to support first responders in the state.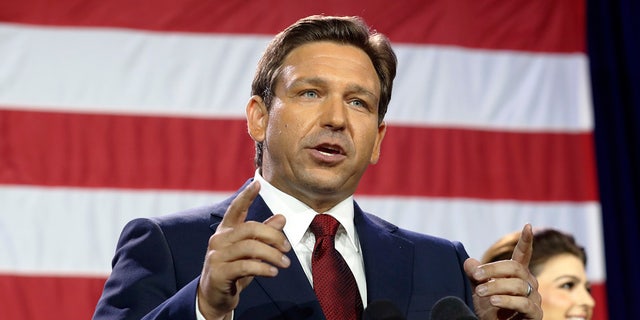 Florida Gov. Ron DeSantis and first lady Casey DeSantis announced Friday that Florida has hired more than 1,000 officers since last summer.
(Octavio Jones/Getty Images)
In November 2021, DeSantis proposed a $400 million initiative to increase salaries and provide bonuses to law enforcement officers and other first responders across the state. Specifically, the proposal aimed to increase salaries for law enforcement officers, correctional officers and special risk firefighters.
"While other states have turned their backs on law enforcement, even calling to 'defund the police,' in Florida we continue to support the men and women in law enforcement," DeSantis said in a statement at the time. "I am proud to propose larger and longer-lasting measures to help our state recruit and retain the best law enforcement officers in the nation and to provide $1,000 bonuses for first responders and law enforcement officers…"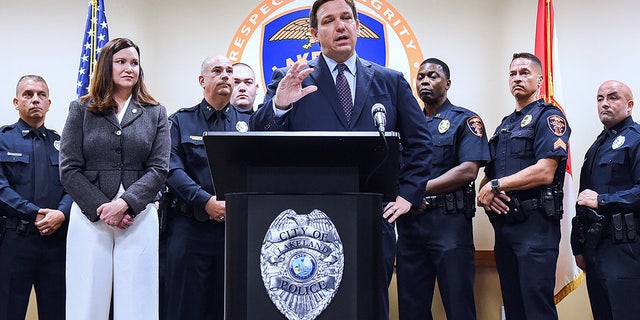 Florida Attorney General Ashley Moody looks on as Gov. Ron DeSantis speaks at a press conference at the Lakeland Police Department in September 2021.
(Paul Hennessy/SOPA Images/LightRocket via Getty Images)
As part of his efforts to amplify support for first responders throughout the state, DeSantis also hand-delivered $1,000 bonus checks to first responders last October who worked through the Hurricane Ian response.
CLICK HERE TO GET THE FOX NEWS APP
The checks were a part of the state's "Freedom First Budget," which DeSantis signed on June 2 and includes a $1,000 bonus payment for local government first responders in the state, according to a press release at the time.