House Democrats are slamming the incoming GOP majority's priorities for the 118th Congress, labeling it as "extreme MAGA" and out of touch.
"The Extreme MAGA Republicans have apparently learned nothing from their historic underperformance in the midterm elections. Instead of seeking common ground to solve problems for everyday Americans, the new majority is clearly determined to put extreme partisan politics over the people we are all privileged to represent," incoming House Democratic Leader Hakeem Jeffries, of New York, said in a statement Monday.
"House Democrats will continue to fight for lower costs, better-paying jobs and safer communities. On the other hand, House Republicans will quickly move to restrict reproductive freedom and abortion care, while making it easier to cut taxes for the wealthy, well-off and well-connected," he continued.
The GOP rules package sent to members Sunday evening by House Minority Leader Kevin McCarthy, R-Calif., included proposed tax cuts and a new Judiciary subcommittee for investigations into the Biden administration, and prevents congressional staff from unionizing.
MCCARTHY SHORT OF VOTES AS HOUSE SPEAKER CONTEST ENTERS FINAL HOURS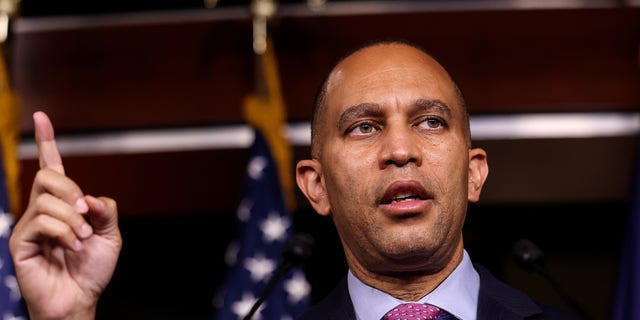 Rep. Hakeem Jeffries praised President Biden on CBS' "Face the Nation" on Sunday. 
(Reuters)
McCarthy's central concession in the rules package would allow any five Republican representatives to force a vote of no confidence in the speaker. He also vowed to end the practice of proxy voting and virtual participation in hearings, requiring lawmakers to be in Washington to participate in hearings and votes.
Previous House rules, put in place by Speaker Nancy Pelosi, required a member of the House leadership from the majority party to initiate a vote to remove the current speaker.
Lawmakers elected to the 118th Congress convene for the first time on Tuesday at noon and are expected to vote on a House speaker in the early afternoon.
It's far from certain that McCarthy will become speaker due to opposition from some hard-line conservatives. If the entire House of Representatives is present for the speaker vote, McCarthy will need 218 votes. Republicans will seat 222 lawmakers, so McCarthy can leave only four GOP minds unchanged.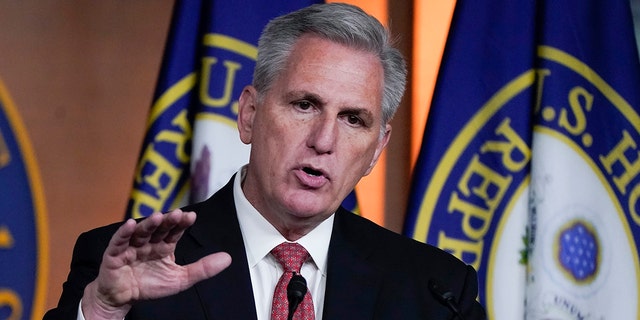 House Minority Leader Kevin McCarthy
(AP Photo/J. Scott Applewhite)
KEVIN MCCARTHY MAKES MAJOR CONCESSION TO CONSERVATIVES AS HIS SPEAKER BID HANGS BY THREAD
Rep. James McGovern, D-Mass., accused Republicans of caving to "the most extreme" of their caucus members.
"Regrettably, I am very disappointed by the proposed rules package put forward by the incoming Republican majority," he said.
"Instead of building on Democrats' work to create a more accommodating Congress, Republican leaders have once again caved to the most extreme members of their own caucus: allowing the far-right to hold the incoming Speaker hostage; attempting to end Congressional staff unionization; reinstating CUTGO so they can more easily cut taxes on billionaire corporations while slashing the social safety net; giving committee chairs unbalanced discretion over which witnesses can and cannot testify; rejecting commonsense pandemic safety procedures like remote voting by proxy; and reinstating the Holman rule so they can target civil servants they disagree with," McGovern, the top Democrat on the Committee on Rules, said.
The Holman rule allows amendments to bills that cut specific federal agencies and even target specific federal employees to reduce their salaries.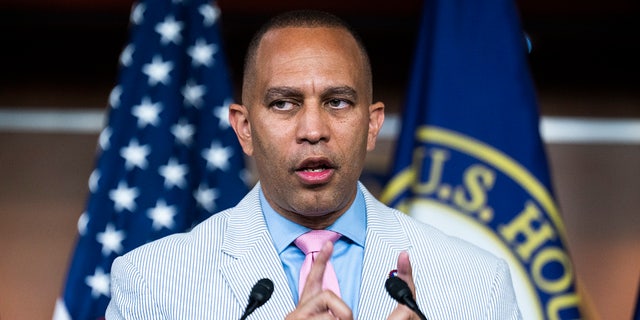 Incoming House Democratic Leader Hakeem Jeffries
(Tom Williams/CQ-Roll Call, Inc via Getty Images)
CLICK HERE TO GET THE FOX NEWS APP
Jeffries added: "In addition, Republican leadership will empower the extremists in their conference to grind the work of the House to a halt, while targeting civil servants to settle political scores on behalf of the twice-impeached former President. House Republicans will end our bipartisan committee to address the climate crisis while making it easier for big oil companies to pollute our environment without consequence."
"It is disappointing, but not surprising, that House Republicans have put forward a rules package that undermines mainstream values and furthers an extreme agenda," Jeffries continued. "House Democrats stand ready to work on a bipartisan basis to tackle the pressing issues facing everyday Americans. Hopefully, we will find willing partners on the other side of the aisle."
Fox News' Tyler Olson contributed to this report.