Democrats and far-left green groups have set their sights on regulating a wide range of popular household appliances in a bid to push their broader electrification and climate agenda.
The push to regulate everyday appliances — including water heaters, furnaces, clothes washers, dishwashers, ceiling fans, microwave ovens and shower heads — comes as the Biden administration and Democratic lawmakers continue to set lofty net-zero and climate goals for weaning off fossil fuel dependence. Environmentalists have argued that electrification, banning natural gas hookups and implementing strict energy efficiency standards could help accelerate emissions reductions.
"There's bad news for almost every room in the house," Ben Lieberman, a senior fellow at the Competitive Enterprise Institute, told Fox News Digital in an interview. "Climate activists and the Biden administration want homeowners to stop using natural gas and to electrify everything. That would affect appliances that come in natural gas and electric versions such as stoves, but also heating systems and water heaters."
"So, there are efforts underway to tilt the balance in favor of electric versions even though natural gas is considerably cheaper on a per-unit energy basis," he continued. "It makes sense to give consumers that choice rather than force them towards electric."
DEMOCRAT-LED CITIES ARE ALREADY MOVING FORWARD WITH GAS STOVE BANS THAT WILL AFFECT MILLIONS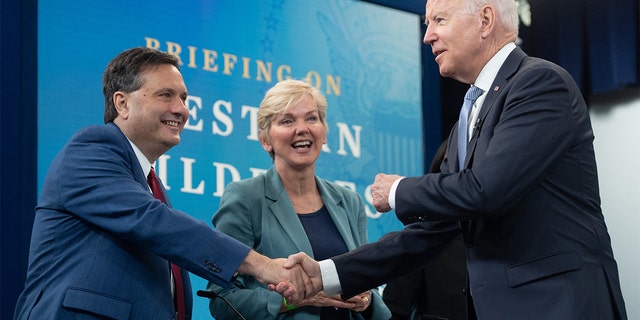 President Biden, left, is pictured with White House Chief of Staff Ron Klain, right, and Energy Secretary Jennifer Granholm in June 2021.
(Saul Loeb/AFP via Getty Images)
On his first day in office in January 2021, President Biden signed an executive order requiring the Department of Energy to make "major revisions" to current appliance regulation standards and standards set by the Trump administration. A month later, the agency listed more than a dozen energy efficiency rules, impacting appliance like water heaters, cooking products and lamps, that it would review.
According to the federal Unified Agenda — a government-wide, semiannual list that highlights regulations agencies plan to issue within the next 12 months — the Biden administration is moving forward with rules impacting dozens more appliances like refrigerators, boilers and air conditioners. In a recent example, the Department of Energy proposed strict standards for light bulbs, raising minimum efficiency levels.
BIDEN AGENCY REFUSES TO CITE RESEARCH SUPPORTING POTENTIAL NATURAL GAS STOVE BAN
"We're actually going to do 100 rules this year alone on appliances," former top White House climate adviser Gina McCarthy said during a speech in May. "We are developing partnerships on how we work together for new building standards."
Democratic lawmakers have also demanded that the administration moves even quicker on setting such rules. Sens. Jeanne Shaheen, D-N.H., and Peter Welch, D-Vt., led a letter that nearly 50 other Senate and House Democrats signed last year, warning Energy Secretary Jennifer Granholm that inefficient appliances that emit "excess greenhouse gases" continue to circulate.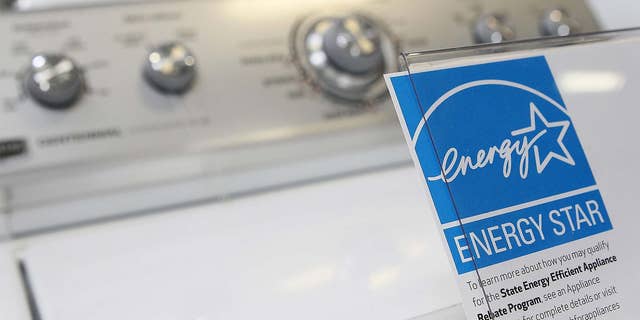 A washing machine rated as energy efficient is pictured.
(Getty Images)
"Appliance standards are critical for cutting utility bills and greenhouse gas emissions, but right now they're woefully out of date," Steven Nadel, the executive director of the green group American Council for an Energy-Efficient Economy, said following the letter. "The Biden administration has a big job to update standards for dozens of products and it should act with far more urgency. Every delay means more inefficient appliances and equipment that cause needless emissions for years or decades."
"Getting our efficiency standards program back on track is a win-win for the planet and consumers," Joe Vukovich, an energy efficiency advocate at another climate group Natural Resources Defense Council, added. "Ensuring that our appliances are not needlessly wasting energy saves U.S. households and businesses money on their utility bills and prevents the release of dangerous climate-warming pollution."
TWITTER SLAMS AOC AFTER SHE SAYS GAS STOVES ARE LINKED TO BRAIN DAMAGE: 'DEMS ARE LITERALLY INSANE'
Overall, the Biden administration took more than 110 actions on energy efficiency standards in 2022. Granholm said in December that the regulations strengthened U.S. leadership in "the race towards a clean energy future."
Additionally, the White House recently hosted an electrification summit which Granholm played a leading role in. During the summit, administration officials and environmental advocates discussed ways to push electrification of buildings and transportation while decreasing economy-wide fossil fuel use.
"We've got to get these technologies in homes all across America, and we've got to do it as fast as possible," White House climate czar John Podesta said during the summit.
White House climate czar John Podesta speaks during the electrification summit on Dec. 14.
(White House/Video screenshot)
Meanwhile, the Biden administration was forced earlier this month to walk back comments from officials that it would consider a federal ban on gas stoves after widespread criticism. Days earlier, a member of the Consumer Product Safety Commission told Bloomberg that "any option is on the table" and that unsafe products can be banned, noting that gas stoves were a "hidden hazard."
A study published in the International Journal of Environmental Research and Public Health in December tied 12% of childhood asthma cases to gas stoves.
However, critics have noted the study was partly funded by RMI, a nonprofit research firm that advocates for aggressive green policies and works to "transform global energy systems across the real economy." They have also argued that restricting natural gas usage would lead to significantly higher heating and energy costs for consumers.
GREEN ENERGY PROJECTS FACE STARK ENVIRONMENTAL, LOCAL OPPOSITION NATIONWIDE
"If advanced appliances make sense for consumers, they would sell themselves without mandates," Lieberman told Fox News Digital. "I think that's a good rule of thumb with very, very few exceptions. Consumers are smart shoppers. These mandates force one-size-fits-all solutions on everybody. No two homes are exactly alike, no two homeowners are exactly alike."
"I think there are some real problems from a consumer's standpoint when you start to reduce choices — I would say that you're never doing consumers a favor when you're reducing choices and forcing them to take eco-friendly models which will be on the market regardless," he said. "The question is: do we want mandates that force that choice on everyone, especially when it's the more expensive option upfront?"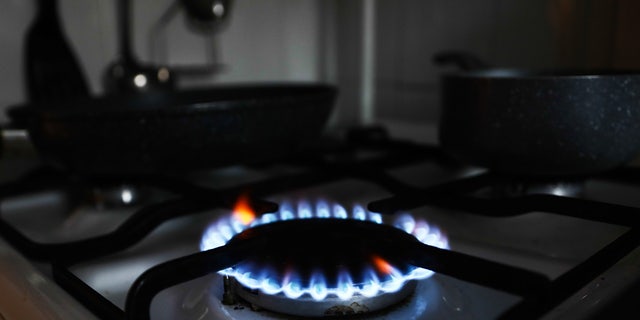 The Biden administration said it wouldn't ban gas stoves, but that it would initiate a process this year to hear from the public about the dangers of such appliances.
(Jakub Porzycki/NurPhoto via Getty Images)
Lieberman noted that such regulations will raise appliance prices and that it was unclear whether they would save consumers money on energy bills.
Brent Bennett, a policy director at the Texas Public Policy Foundation, said that the push for energy efficiency in appliances and shift to electrification was part of the environmental, social and governance (ESG) movement to rapidly transition the economy to green energy.
CLICK HERE TO GET THE FOX NEWS APP
"There's an element of at kind of religious fervor against fossil fuels regardless of what the actual impact is," he told Fox News Digital in an interview. "So, therefore, it's viewed as — if it's electric, it's better, and not really looking at it any more deeply than that."
"On the ESG side, I think what you're going to see is that U.S. companies are getting pushed to reduce their scope one and scope two emissions, in particular. They're going to have to at some point electrify more of their processes and buy more electric vehicles in order to reduce emissions."