House Oversight Committee Chairman James Comer, R-Ky., condemned the National Archives for blowing off his request for information relating to President Biden's mishandling of classified documents Wednesday.
The National Archives Records Administration (NARA) blew past the Jan. 24 deadline for providing the documents on Tuesday, a move Comer called "very disappointing." Comer had requested details about NARA's communications with both the Justice Department and Biden's lawyers regarding the classified documents.
"Any reaction to the fact that the National Archives has not yet responded to the oversight request?" Fox News' Tyler Olson asked on Capitol Hill.
"Very disappointing, very disappointing," Comer responded.
DOJ STIFF-ARMS HOUSE REPUBLICANS IN FIRST RESPONSE TO HOUSE JUDICIARY COMMITTEE REQUESTS
Flanked by House Republicans, Rep. James Comer speaks during a news conference at the U.S. Capitol on Nov. 17, 2022.
(Alex Wong/Getty Images)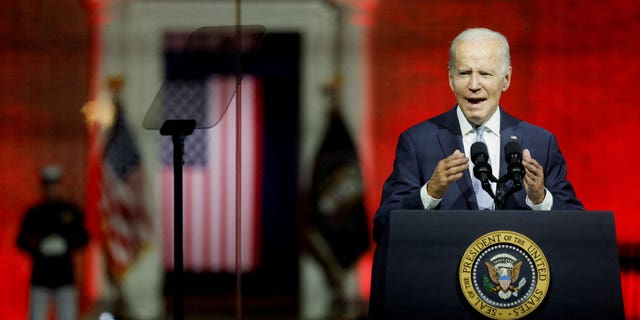 President Biden delivers remarks in front of Independence Hall in Philadelphia, Sept. 1, 2022.
(Reuters/Jonathan Ernst)
Comer went on to give his thoughts regarding Tuesday's news that former Vice President Mike Pence also found classified documents at his own home in Carmel, Indiana.
Pence immediately turned over the documents to the DOJ, and then notified Congress about the incident.
"Pence is cooperating," Comer said. "We're gonna treat Pence the exact same way we treat Biden. There's a big difference as far Pence offered to cooperate and is showing signs that he's gonna be fully cooperative with our investigation."
EXCLUSIVE: WHITE HOUSE SLAMS HOUSE GOP'S 'HYPOCRITICAL' INVESTIGATIONS INTO BIDEN'S RETENTION OF CLASSIFIED RECORDS
Pence is the third presumed 2024 presidential hopeful to find classified documents inside his private residence. Former President Donald Trump had his Mar-a-Lago home raided last year after refusing to return classified documents to NARA custody. Investigators have also seized three sets of classified documents found in Biden's home in Wilmington, Delaware.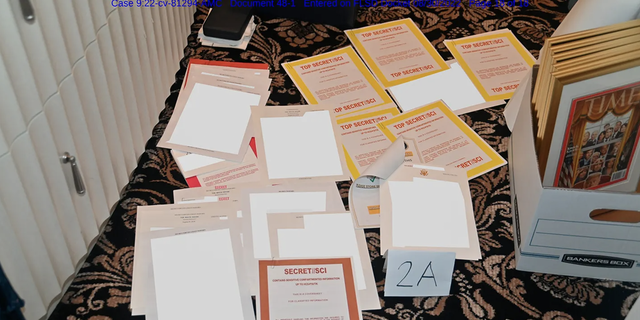 This image contained in a court filing by the Department of Justice on Aug. 30, 2022, and redacted in part by the FBI, shows a photo of documents seized during the Aug. 8 search by the FBI of former President Donald Trump's Mar-a-Lago estate in Florida.  (Department of Justice via AP)
General view of the gate to the access road leading to the home of President Biden in Wilmington, Delaware, on Thursday, Jan. 12. 2023.
(Dario Alequin for Fox News Digital)
Comer's Oversight Committee is the tip of the spear for Republicans seeking more information about Biden's alleged mishandling of classified documents. White House press secretary Karine Jean-Pierre has stonewalled questions about the documents in recent days.
CLICK HERE TO GET THE FOX NEWS APP
Attorney General Merrick Garland has named special counsels to investigate Trump and Biden, but the DOJ has not announced an inquiry into Pence as of Wednesday morning.