President Biden on Wednesday is approving the U.S. to send 31 Abrams M1 tanks to Ukraine just hours after German Chancellor Olaf Scholtz said Ukraine would also receive Leopard 2 tanks from Berlin as Russia plans for a major offensive.
Senior defense officials told reporters Wednesday that between tanks supplied from the U.S., U.K, Germany, France, the Netherlands and Sweden, along with tank shipments expected to be announced by other European nations in the coming days, Ukraine can expect to receive "hundreds" of desperately needed tanks.
The Wednesday decisions come after weeks of stalled and frustrated negotiations with Germany in what one senior defense official described as the "product of good diplomatic conversations."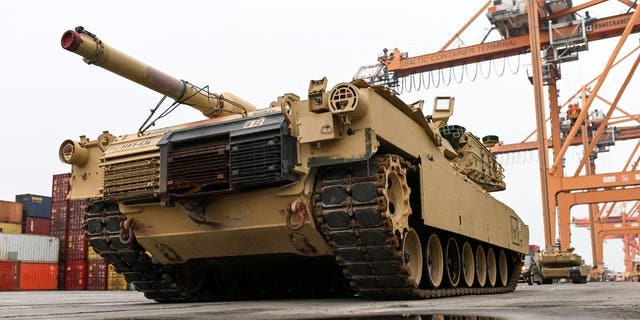 A M1A2 Abrams battle tank of the US army that will be used for military exercises by the 2nd Armored Brigade Combat Team, is pictured at the Baltic Container Terminal in Gdynia on Dec. 3, 2022. 
(MATEUSZ SLODKOWSKI/AFP via Getty Images)
UKRAINE-RUSSIA WAR: GERMANY AGREES TO SEND 2 BATTALIONS OF LEOPARD 2 TANKS AFTER HEAVY PRESSURE
"It really is remarkable if you look back over the last year to see the extraordinary shift in Germany's security policy," another senior defense official told reporters on background.
While Leopard 2 tanks from EU nations will require minimal turnaround time and will serve the immediate needs of Ukraine's military forces, the shipment of Abrams tanks to Ukraine will take months.
"Coupled with this near-term commitment that the Germans have made on Leopards, we think this contribution by us with the Abrams represents the long-term commitment," one official said.
Top U.S. defense officials, including Secretary of Defense Lloyd Austin, had expressed reservations about sending Abrams tanks to Ukraine because of cost, maintenance requirements and the longer training periods needed to get Ukrainian soldiers up to speed on the combat vehicles.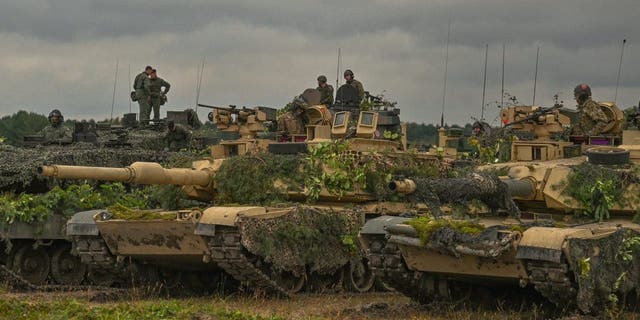 The U.S. Abrams tanks seen at the training ground in Nowa Deba on Sept. 21, 2022, in Nowa Deba, Subcarpathian Voivodeship, Poland. 
(Artur Widak/NurPhoto via Getty Images)
GERMANY 'NOW APPRECIATING THE MOMENT' AS IT FINALLY AGREES TO SEND TANKS TO UKRAINE, GRAHAM SAYS
But earlier this month Germany suggested that it would not agree to send its tanks unless the U.S. did as well, citing concerns over escalating the war – a concern that drew international eye rolls as the deadly war enters its 11th month.
Senior defense officials would not confirm if the decision to send the battalion of Abrams tanks was a stipulation of Berlin's or motivation from Washington to get the ball rolling on Leopard tanks.
The move was instead championed as a show of long-term support for Ukraine.
"Abrams tanks are the best in the world," a senior defense official said. "This is a tremendous new capability that Ukraine will be getting to boost its long-term defenses."
The Pentagon is also working through the fuel and maintenance requirements that the Abram tanks demand and the U.S. will also send eight M88 recovery vehicles in support of the top tanks.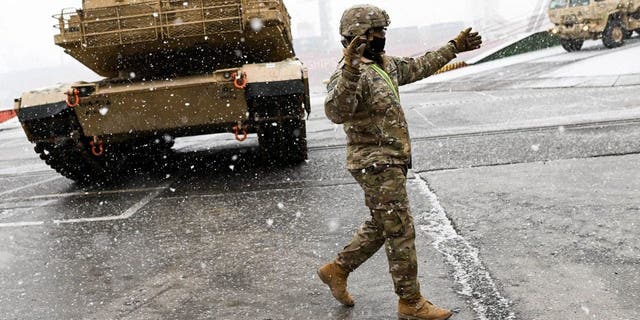 A US Army soldier signals the way to a M1A2 Abrams battle tank that will be used for military exercises by the 2nd Armored Brigade Combat Team, at the Baltic Container Terminal in Gdynia on Dec. 3, 2022. 
(MATEUSZ SLODKOWSKI/AFP via Getty Images)
CLICK HERE TO GET THE FOX NEWS APP
The U.S. has already supplied thousands of combat vehicles, including 1,700 Humvees and pledged earlier this month to send another 500 armored vehicles of various types.
The Abrams tanks will be procured through the Ukraine Security Assistance Initiative and will not come directly from U.S. stockpiles.
It remains unclear how long it will take to get the Abrams tanks up and running in Ukraine and defense officials did not say where the trainings will take place, though it was confirmed that the trainings would be held outside of Ukraine.