Rep. Ruben Gallego, D-Ariz., hired campaign staffers who have promoted anti-police rhetoric, according to Twitter records uncovered after the Democrat announced his bid for the Arizona Senate in 2024.
Rebecca Katz, who recently served as a top strategist for freshman Democratic Sen. John Fetterman of Pennsylvania during his successful midterm campaign, will work as a consultant for Gallego.
Following the death of George Floyd in 2020, Katz tweeted out an anti-police message, suggesting law enforcement officers are actively engaging in violence against unarmed individuals.
"We don't have to imagine this. We've seen black people with no weapons getting the s— beat out of them for peacefully protesting all over the country. The police are most certainly not standing by and watching," she wrote on Twitter.
PROGRESSIVE DEM RUBEN GALLEGO TO CHALLENGE KYSTREN SINEMA FOR HER SENATE SEAT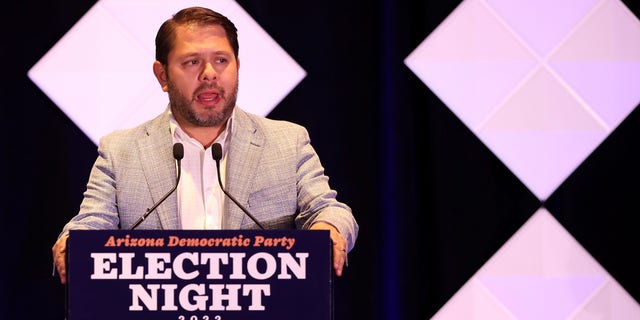 Rep. Ruben Gallego recently won re-election in Arizona's 3rd Congressional District.
(Christian Petersen)
She also critiqued law enforcement for their response to the Jan. 6, 2021, riot at the Capitol.
"The police are walking these protestors out of the Capitol. No handcuffs. 'Peacefully moving them off steps' AFTER THESE F—— BROKE INTO THE US CAPITOL," Katz tweeted on Jan. 6.
Brian Sicknick, a 42-year-old Capitol Police officer, was pepper-sprayed during the chaos and died the next day after suffering from two thromboembolic strokes. Four other officers who responded to the riot committed suicide in the months following.
2024 BATTLE FOR THE SENATE HEATS UP AS REPUBLICANS EYE DEMOCRATS' MAJORITY
Chuck Rocha, a strategist brought onto Gallego's campaign, also tweeted in 2020 that the "trauma" caused by police should not be forgotten and accused law enforcement of beating and bullying people based on their race. Rocha was selected to lead Gallego's outreach among the Latino community.
Despite hiring staffers who have tweeted out anti-law enforcement rhetoric, Gallego recently touted the House passing a pro-law enforcement funding package in September. The bipartisan package included the Victim Act, a bill that "provides funding for state, local, and tribal law enforcement," as well as the Invest and Protect Act, which funds police recruitment efforts.
Although the congressman appears to support more funding for police departments and advocates for the hiring of more officers, Gallego did not respond to Fox News Digital's request for comment about whether he agrees with his staffers' anti-police tweets and rhetoric.
Democrat Ruben Gallego just recently announced he is running for Arizona's U.S. Senate seat in 2024.
"Ruben Gallego is stocking his campaign with anti-police radicals. Arizona families can't trust Gallego to stand up to Democrats' 'Defund the Police' movement," Maggie Abboud, National Republican Senatorial Committee (NRSC) spokeswoman, told Fox News Digital in a statement.
The congressman just recently announced he is running for Arizona's U.S. Senate seat in 2024, which is currently held by Sen. Kyrsten Sinema, I-Ariz., who has not announced if she will be seeking re-election next cycle.
CLICK HERE TO GET THE FOX NEWS APP
The Arizonan released the first ad of his Senate bid Monday, but remains silent on the messaging of the individuals running his campaign.