David Crosby, a founding member of the Byrds and Crosby, Stills & Nash has died. The musician was 81.
Melissa Etheridge, who had a baby with Crosby via sperm donation, took to Twitter on Thursday to honor the late singer.
Crosby's wife, Jan Dance, shared a statement with Variety on Thursday, confirming his death: "It is with great sadness after a long illness, that our beloved David (Croz) Crosby has passed away. He was lovingly surrounded by his wife and soulmate Jan and son Django. Although he is no longer here with us, his humanity and kind soul will continue to guide and inspire us. His legacy will continue to live on through his legendary music. Peace, love, and harmony to all who knew David and those he touched. We will miss him dearly. At this time, we respectfully and kindly ask for privacy as we grieve and try to deal with our profound loss. Thank you for the love and prayers."
Crosby was first inducted to the Rock and Roll Hall of Fame in 1991.
In the late 60s, Crosby co-founded the Rock super group, Crosby, Stills & Nash. The group initially consisted of Crosby, Stephen Stills and Graham Nash. The band later added member Neil Young, which led the group to change their name to Crosby, Stills, Nash & Young.
MUSICIAN DAVID CROSBY SLAMS TESLA, CLAIMS HE HASN'T RECEIVED HIS CAR AFTER 7 MONTHS: 'LOOKING AT A PORSCHE'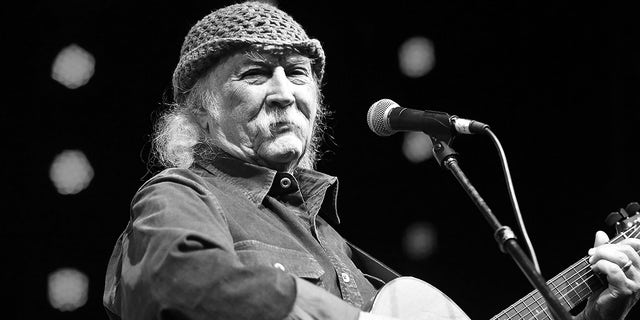 Legendary musician David Crosby died Thursday. He was 81.
(Scott Dudelson)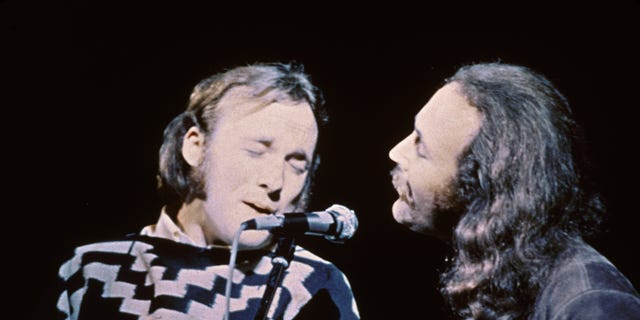 Stephen Stills (left) and David Crosby of the group Crosby, Stills & Nash performing on stage at the Woodstock Music and Art Festival in 1969.
(Photo by Fotos International/Getty Images)
Crosby wed Jan Dance in 1987. He is survived by his six children.