Cindy Crawford, Helena Christensen, Anna Wintour and other prominent figures in the fashion world paid tribute to the late supermodel Tatjana Patitz after her death at the age of 56.
Patitz died from breast cancer on Wednesday morning and was under hospice care in Santa Barbara, California at the time of her passing, her agent Corinne Nicolas of the Model CoOp confirmed to WWD.
Born in Germany, Patitz rose to fame in the 1980s and 1990s and was considered one of the original supermodels. She starred alongside fellow top models Crawford, Campbell, Evangelista and Christy Turlington in George Michael's "Freedom! '90" music video.
"So sad to hear of the passing of the beautiful @tatjanapatitz," Crawford, 56, wrote in an Instagram post, sharing a throwback photo of herself with Patitz as they posed on a beach.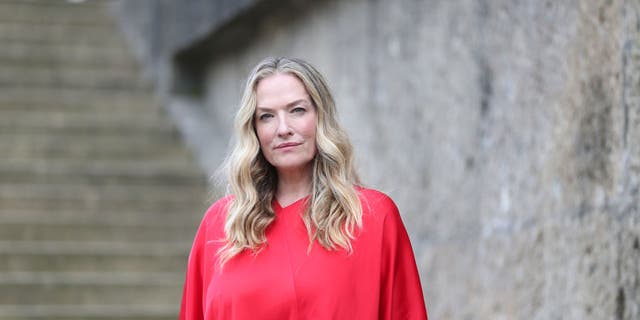 Fashion industry fixtures including Cindy Crawford, Helena Christensen and Anna Wintour honored Tatjana Patitz after the supermodel died today at the age of 56.
( Gisela Schober/Getty Images for WMF)
She continued, "We were babies together in the fashion industry and I feel like we grew up together. We were in so many shoots together and backstage at shows."
SUPERMODEL TATJANA PATITZ DEAD AT 56
"I found her soft-spoken, sensitive, kind, inquisitive and, who could ever forget those piercing eyes. Her love of animals and nature was infectious. Sending my condolences to her family — especially the son she adored. RIP"
Christensen shared a throwback closeup image of herself with Patitz in which they were seen laying on the sand and gazing into the camera.
 

 
 

 
 
View this post on Instagram
 

 
 
 

 
 

 
 
 

 
 
"Beautiful Tatjana, you were such a divine spirit inside out ♥️," the model, 54, wrote. Always graceful and calm with that those wonderful smiling eyes."
"We went on so many trips together from such a young age and shared incredible memories," Christensen recalled.
"I loved being around you, it felt so peaceful and we always laughed a lot. I am grateful we kept in touch till the end, it made me smile just now reading through our texts realizing they're mostly about our love for nature."
 

 
 

 
 
View this post on Instagram
 

 
 
 

 
 

 
 
 

 
 
"I hope you're riding on a horse in endless meadows with that smile on your face and the wind blowing in your hair ♥️♥️♥️ RIP beautiful angel."
In a Vogue story that was the first to announce Patitz's death, Wintour, the chief content officer of Condé Nast and global editorial director of Vogue, recalled, "Tatjana was always the European symbol of chic, like Romy Schneider-meets-Monica Vitti."
Wintour, 73, continued, "She was far less visible than her peers—more mysterious, more grown-up, more unattainable—and that had its own appeal."
 

 
 

 
 
View this post on Instagram
 

 
 
 

 
 

 
 
 

 
 
Former supermodel Yasmeen Ghauri shared a black and white throwback image of herself posing with Patitz, Campbell and Karen Alexander in white gowns.
"Rest in peace dear Tatjana," Ghauri, 51, wrote in the caption. "We didn't know each other well but your presence always struck me. Your authenticity, grace, kindness and inner strength shone through. You will be missed."
Campbell, 52, left a series of broken heart, prayer hands and dove emojis in the comments.
"Beautiful spirit she was," Christensen wrote, adding broken heart emojis.
Model Amber Valetta commented, "So so sad."
"Devastating loss," Alexander, 51, wrote. "Beautiful tribute @yasmeenghauri i remember this day well xx."
 

 
 

 
 
View this post on Instagram
 

 
 
 

 
 

 
 
 

 
 
Model Elaine Irwin, 53, shared a throwback Vogue cover image featuring herself with Patitz.
"Forever treasured Tatjana. With love to @tatjanapatitz and family," she wrote in the caption.
The official Twitter account for the late German photographer Peter Lindbergh, who was credited with helping launch Patitz's career, posted, "We are deeply saddened by the passing of Tatjana Patitz, a long-time friend of Peter's."
"We would like to salute Tatjana's kindness, inner beauty and outstanding intelligence. Our thoughts go to her loved ones and particularly Jonah. She will be immensely missed."
Lindbergh, who passed away at the age of 74 in 2019, photographed Patitz, Campbell, Evangelista, Turlington and Crawford for the cover of British Vogue's January issue in 1990. Michael was inspired to cast the models in his "Freedom! '90" music video after seeing the image.
CLICK HERE TO SIGN UP FOR THE ENTERTAINMENT NEWSLETTER
Makeup artist Pati Dubroff shared a black and white photo of Patitz from a shoot they worked on together, writing, "Gutted to hear of the passing of this beauty."
 

 
 

 
 
View this post on Instagram
 

 
 
 

 
 

 
 
 

 
 
She continued, "@tatjanapatitz was one of the first models I met and connected with when we were both in our early 20s. She was already a "supermodel" and i was 'just' an assistant. She was kind, cool and so down to earth."
"As I write this I realize that not only have we lost this light, also the photographer @therealpeterlindbergh and hairdresser #davidbabaii from this shoot are no longer with us on this earthly existence."
Patitz is survived by her son, Jonah Johnson, who followed in his mother's footsteps and became a model. In 2022, she told Vogue, "Jonah is my source of happiness."
CLICK HERE TO GET THE FOX NEWS APP
Fox News' Janelle Ash contributed to this report.