close
Video
China-Russia relationship is stronger than ever: Morgan Ortagus
Former State Department spokesperson Morgan Ortagus reacts to China walking back an ambassador's claim that ex-Soviet states aren't real countries on 'America Reports.'
Chinese President Xi Jinping told Ukrainian President Volodymyr Zelenskyy during a call Wednesday that he will send a peace envoy to the war torn nation as Russia continues its brutal assault.
According to a government statement on the call, China will send an envoy to not only Kyiv, but other nations as well "to conduct in-depth communication with all parties on the political settlement of the Ukrainian crisis."
The statement did not confirm whether Xi, one of Russian President Vladimir Putin's closest allies, will also send a representative to Moscow to discuss peace in Ukraine.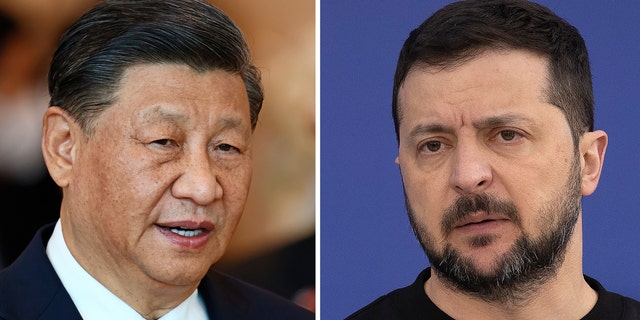 This combination of file photos shows China's President Xi Jinping, left, taken in Bangkok on Nov. 19, 2022, and Ukrainian President Volodymyr Zelenskyy, right, taken outside Kyiv, Ukraine, on April 7, 2023. (AP Photo)
UNITED NATIONS CONDEMNS 'SUMMARY EXECUTION OF PRISONERS OF WAR' BY BOTH RUSSIA, UKRAINE
China has attempted to appear as a neutral party since Russia launched its deadly invasion in February 2022, but it has drawn international ire for refusing to condemn the illegal war.
Concerns over nuclear escalation have continued to mount for months as Western nations increasingly pledge significant defensive aid like tanks and warplanes, as well as bolstering the NATO alliance – one of Russia's chief arguments in defense of its invasion of Ukraine which it claims was on the brink of joining the security bloc.
In response to Finland joining NATO earlier this month, Russia said it would move nuclear warheads into neighboring Belarus, which shares a border with three NATO nations, including Poland, Lithuania and Latvia.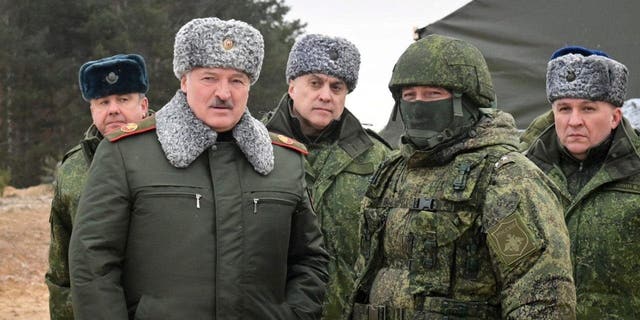 Belarusian President Alexander Lukashenko, second left, speaks during his meeting with military top officials at the Obuz-Lesnovsky training ground, Belarus, Friday, Jan. 6, 2023. (Andrei Stasevich/BelTA Pool Photo via AP)
RUSSIA DISCUSSING PLANS TO INCREASE PAY FOR FORCES AS UKRAINE FACES PIVOTAL MOMENT IN WAR
"There is no winner in a nuclear war," China said in a statement Wednesday. "All parties concerned should remain calm and restrained in dealing with the nuclear issue and truly look at the future and destiny of themselves and humanity as a whole and work together to manage the crisis.
"Negotiation is the only viable way out," the statement added.
Zelenskyy appeared hopeful after his call with Xi which he described as "long and meaningful" in a tweet.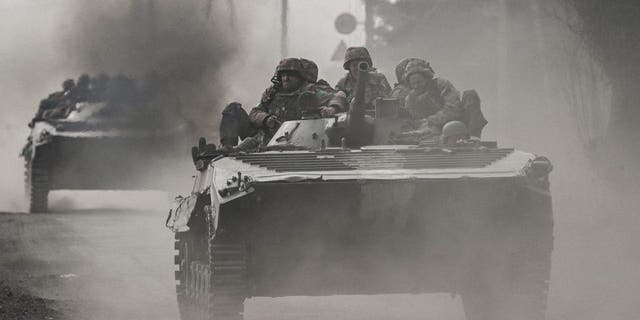 Ukrainian servicemen head toward Bakhmut in BMP infantry fighting vehicles, in eastern Ukraine on March 22, 2023. (Photo by ARIS MESSINIS/AFP via Getty Images)
CLICK HERE TO GET THE FOX NEWS APP
"I believe that this call, as well as the appointment of Ukraine's ambassador to China, will give a powerful impetus to the development of our bilateral relations," he said, though he did not comment on Xi's proposal to send a peace envoy.
The Associated Press contributed to this report.
Caitlin McFall is a Reporter at Fox News Digital covering Politics, U.S. and World news.