close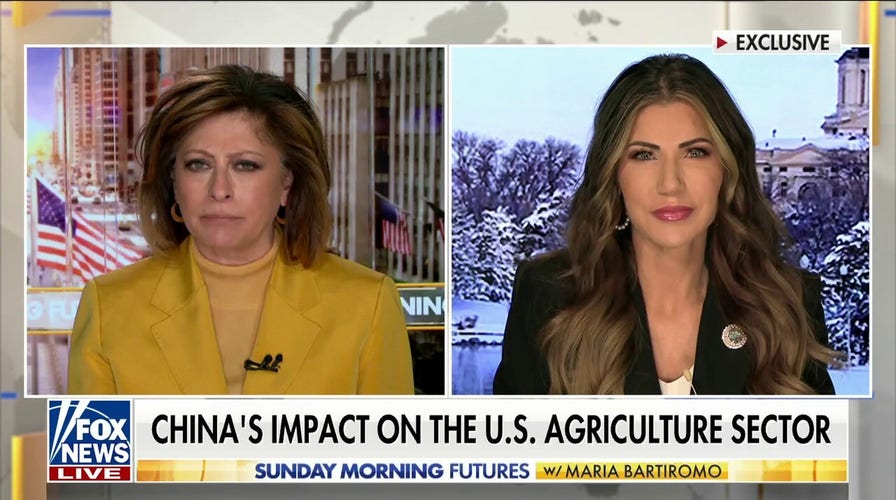 Video
Gov. Kristi Noem slams China for 'alarming' purchase of American farmland
South Dakota Gov. Kristi Noem, R., joined 'Sunday Morning Futures' to discuss China's effort to buy American farmland and the broader threat Beijing poses to U.S. national security. 
China is claiming it had no ulterior motives in brokering Friday's peace talks between Iran and Saudi Arabia that saw the two Middle Eastern countries reestablish diplomatic ties after years of hostility.
A spokesperson from the country's Foreign Ministry said Saturday that China "pursues no selfish interest whatsoever in the Middle East."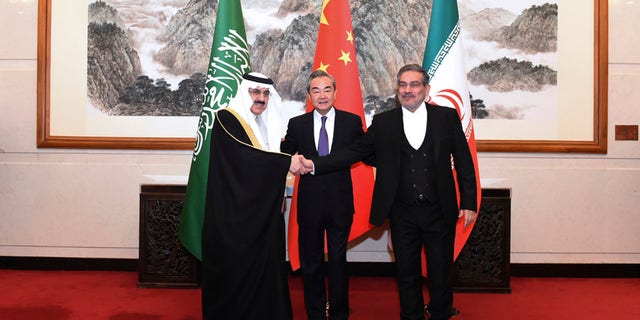 In this photo released by Xinhua News Agency, Ali Shamkhani, the secretary of Iran's Supreme National Security Council, at right, shakes hands with Saudi national security adviser Musaad bin Mohammed al-Aiban, at left, as Wang Yi, China's most senior diplomat, looks on, at center, for a photo during a closed meeting held in Beijing, Saturday, March 11, 2023. (Luo Xiaoguang/Xinhua via AP)
"We respect the stature of Middle East countries as the masters of the region and oppose geopolitical competition in the Middle East," the statement read. "China has no intention to and will not seek to fill [a] so-called vacuum or put up exclusive blocks."
Friday's agreement to reestablish Iran-Saudi ties and reopen embassies after seven years was seen as a major diplomatic victory for China, as Gulf Arab states perceive the United States as reducing its presence in the Middle East.
CHINA CAN USE TIKTOK AS 'PROPAGANDA' TOOL, 'ABSOLUTELY' SHOULD BE BANNED, SEN. WARNER SAYS
China's senior diplomat Wang Yi said the agreement showed China was a "reliable mediator" that had "faithfully fulfilled its duties as the host."
China is viewed as a neutral party, with strong ties to both Iran and Saudi Arabia, as well as Israel and the Palestinian Authority.
Saturday's comments came after China hosted Iran's hard-line President Ebrahim Raisi last month to consolidate ties between the two countries.
China is also a top purchaser of Saudi oil. Chinese leader Xi Jinping visited Riyadh in December for meetings with oil-rich Gulf Arab nations crucial to China's energy supplies.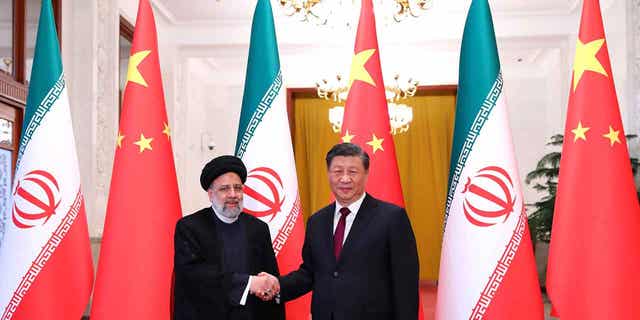 In this photo released by the official website of the office of the Iranian Presidency, President Ebrahim Raisi, left, shakes hands with his Chinese counterpart Xi Jinping in an official welcoming ceremony in Beijing, Tuesday, Feb. 14, 2023. (Iranian Presidency Office via AP)
CLICK HERE TO GET THE FOX NEWS APP
Xi, whose administration in recent days has warned of "conflict and confrontation" with the U.S., was credited in a trilateral statement with facilitating the Iran-Saudi talks through a "noble initiative" and having personally agreed to sponsor the negotiations that lasted from Monday through Friday.
The Associated Press contributed to this report.
Bradford Betz is a Fox News Digital breaking reporter covering crime, political issues, and much more.