close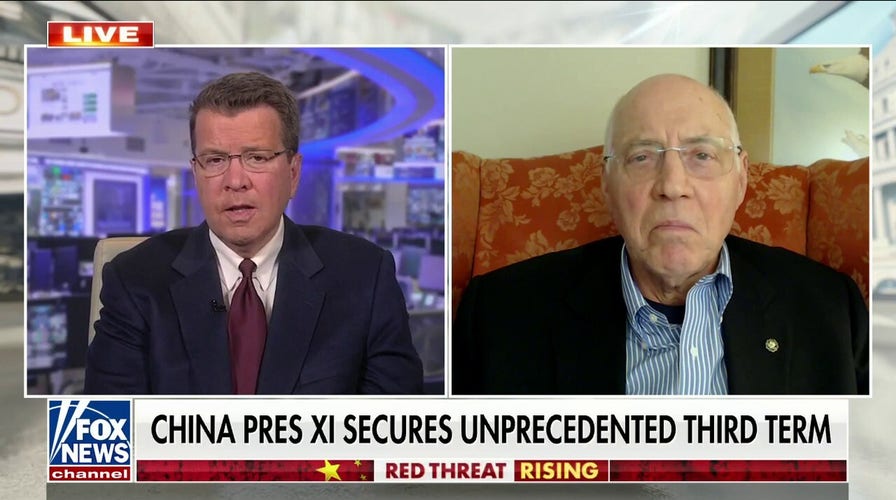 Video
Xi Jinping continues to claim that 'the West' is trying to 'contain and suppress' China: Bob Maginnis
Retired U.S. Army Lt. Col. Bob Maginnis weighs in on China's Xi Jinping securing an unprecedented third presidential term on 'Cavuto Live.'
Chinese Gen. Li Shangfu, an aerospace engineer and veteran of the People's Liberation Army, was named as China's new defense minister on Sunday.
Li was sanctioned by the U.S. Treasury Department in 2018 when he was director of the Equipment Development Department, which oversees the country's military technology.
The State Department said that Li was involved in the purchase of Su-35 combat aircraft and materials for S-400 surface-to-air missiles from a sanctioned Russian company.
CHINA HAS STOLEN US MILITARY SECRETS TO CREATE FORMIDABLE J-20 KNOCKOFF OF AMERICA'S F-22 RAPTOR: EXPERTS
Chinese President Xi Jinping, who was elected to a third five-year term this week by China's rubber stamp legislature, called for his country on Wednesday to bolter its military to "world-class standards" and "systematically upgrade the country's overall strength to cope with strategic risks."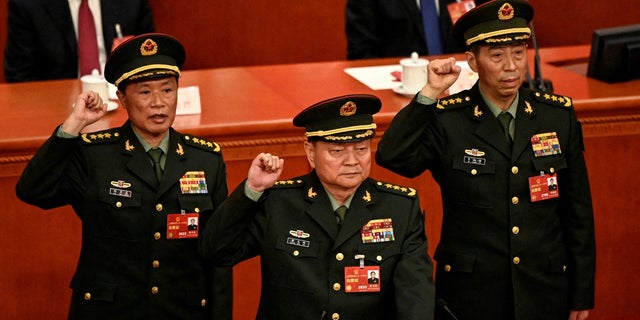 Zhang Youxia (C), newly-elected Vice Chairman of the Central Military Commission of the People's Republic of China, swears an oath with Central Military Commission members He Weidong and Li Shangfu after they were elected during the fourth plenary session of the National People's Congress (NPC) at the Great Hall of the People in Beijing on March 11, 2023.  (GREG BAKER/Pool via REUTERS/File Photo)
Chinese military spending is increasing 7.2% this year to $230 billion.
CHINA DISMISSES AMERICAN CONCERNS ABOUT 'SPY CRANES' AS 'PARANOIA'
Four Republican chairman of House committees issued a joint statement on Friday citing the military build-up by the Chinese Communist Party (CCP) as one of the gravest threats to U.S. national security.
"It is evident from this threat assessment that the tactics the CCP uses to accomplish its goals have not worked entirely in its favor, leaving our nation at a tipping point. The CCP must not be underestimated, but the U.S. can still triumph in a peer-to-peer competition with the CCP if our government acts in a swift and unified manner," the congressmen wrote.

next
Image 1 of 3

A drone is displayed at the military parade in Tiananmen Square in Beijing.  (Simon Song/South China Morning Post via Getty Images)


prev

next
Image 2 of 3

Chinese military helicopters fly past Pingtan island, one of mainland China's closest point from Taiwan, in Fujian province on August 4, 2022. (HECTOR RETAMAL/AFP via Getty Images)


prev
Image 3 of 3

This image shows a carrier-based J-15 fighter jet preparing to land on the Chinese navy's Liaoning aircraft-carrier during open-sea combat training. (Hu Shanmin/Xinhua via AP)
Their warning came days after Chinese Minister of Foreign Affairs Qin Gang said that his country is heading for "conflict and confrontation" with the U.S.
CLICK HERE TO GET THE FOX NEWS APP
"If the United States does not hit the brake — but continues to speed down the wrong path — no amount of guardrails can prevent derailing and there will surely be conflict and confrontation and who will bear the catastrophic consequences?" Qin said at his first press conference on Tuesday.
"Such competition is a reckless gamble, with the stakes being the fundamental interests of the two peoples and even the future of humanity."
Fox News Digital's Brandon Gillespie and Timothy Nerozzi contributed to this report, as well as Reuters.
Paul Best is a breaking news reporter for Fox News Digital and Fox Business. Story tips and ideas can be sent to [email protected] and on Twitter: @KincaidBest.