A senior House Republican leadership source told Fox News early Friday that chances are "low" the drama surrounding the race for House speaker will be solved Friday.
The proposal from Rep.-elect Kevin McCarthy's, R-Calif., during talks with his detractors late Thursday had "changed any votes yet" ahead of the fourth day of balloting, the source added.
If McCarthy fails to alter any votes in the first vote Friday, expected to begin shortly after the House reconvenes at noon, it could be damning for the speaker nominee, according to the source. McCarthy has so far failed to capture the required 218 vote threshold to become House speaker in the first 11 rounds of voting over the past three days, as 20 of his fellow Republicans have continued to vote against him.
"People are starting to get antsy," the source told Fox. "We made progress in the negotiations… But I don't know that it's changed any votes yet."
BOEBERT'S SUDDEN NOMINATION CHANGE FOR HOUSE SPEAKER GAINS STEAM IN ANTI-MCCARTHY CAMP – BUT NOWEHERE ELSE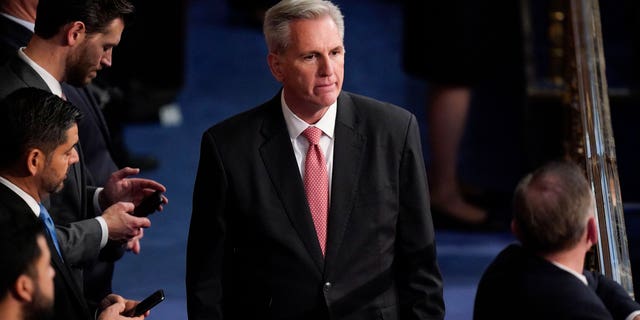 Rep.-elect Kevin McCarthy (R-Calif.) prepares for a ninth round of voting for speaker during a meeting of the 118th Congress, Thursday, January 5, 2023, at the U.S. Capitol in Washington DC.
(Jabin Botsford/The Washington Post via Getty Images)
Fox has also been told that voting could bleed into the weekend with members preferring to stay in Washington to reach a resolution. Another concern has been some members-elect having to skip votes due to other family and medical obligations.
Sources say "a few" members will likely be absent Friday, but that number is "low," and believed to be around three to four.
Fox spoke with two rank-and-file Republicans this morning, both of whom had little insight as to where the battle for speaker was going or when it would end. Both members sounded exhausted and seemed utterly dejected.
Some members-elect have started getting calls from constituents regarding casework, such as dealing with IRS or immigration related issues. However, members-elect cannot help their constituents until they are actually sworn in, which cannot happen until a speaker is elected.
MATT GAETZ ADMITS KEVIN MCCARTHY MIGHT WIN HOUSE SPEAKER VOTE, BUT WITH A MAJOR CAVEAT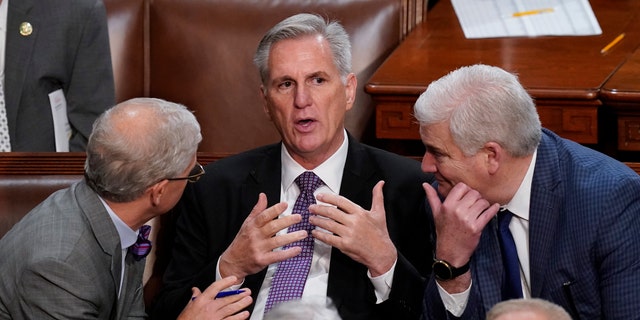 Rep. Patrick McHenry, R-N.C., left, and Rep. Tom Emmer, R-Minn., right, speak with Rep. Kevin McCarthy, R-Calif., in the House chamber as the House meets for a second day to elect a speaker and convene the 118th Congress in Washington, Wednesday, Jan. 4, 2023. 
(AP Photo/Alex Brandon)
One House Republican said it was imperative for McCarthy to show he was making progress with the members-elect so far opposed to his potential speakership.
"Does Kevin close the gap, in terms of commitments? There has to be a closing of the gap, even if it doesn't get there, we need to show progress," the Republican said. "If nothing else, to change the narrative."
Fox has also been told that McCarthy's latest proposals to his detractors could get him to 214 votes, but might not cross the threshold of a majority.
CLICK HERE TO GET THE FOX NEWS APP
The House is expected to gavel back in at 12:00 p.m. ET.