House GOP Leader Kevin McCarthy and House Freedom Caucus lawmakers blocking his bid for speaker of the House have not yet reached an agreement to end the four-day stalemate, but sources familiar tell Fox News that they are making "progress," and that negotiations are in a "good spot."
During a House GOP caucus conference call Friday morning, a source familiar told Fox News that McCarthy said he and Freedom Caucus members who have blocked him during the last dozen roll call vote for speaker of the House—like Rep. Chip Roy—are "working in good faith."
The source also said McCarthy said they are in a "good spot," but that a deal has not yet been reached.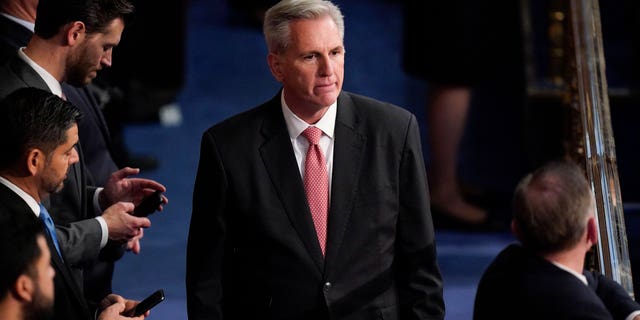 Rep.-elect Kevin McCarthy (R-Calif.) prepares for a ninth round of voting for speaker during a meeting of the 118th Congress, Thursday, January 5, 2023, at the U.S. Capitol in Washington DC.
(Jabin Botsford/The Washington Post via Getty Images)
A spokesperson for Roy denied reports that McCarthy and Freedom Caucus members had formally struck an agreement, but did tweet Friday that they are "making progress."
"No deal yet," a source close to Roy told Fox News.
McCarthy has failed to gain the votes needed to be elected speaker over the past three. It was the first time since 1923 that the House failed on the first vote for a speaker.
Approximately 20 GOP lawmakers argue that McCarthy is not conservative enough, and claim he has failed to make certain assurances about rules changes that would decentralize power in the House.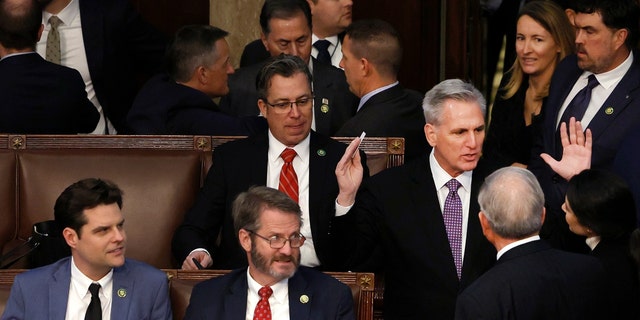 WASHINGTON, DC – JANUARY 04: U.S. House Republican Leader Kevin McCarthy (R-CA) (R) talks members-elect as Rep.-elect Matt Gaetz (R-FL) (L) and Rep.-elect Tim Burchett (R-TN) watch in the House Chamber during the second day of elections for Speaker of the House at the U.S. Capitol Building on January 04, 2023 in Washington, DC. The House of Representatives is meeting to vote for the next Speaker after House Republican Leader Kevin McCarthy (R-CA) failed to earn more than 218 votes on three separate Tuesday ballots, the first time in 100 years that the Speaker was not elected on the first ballot. 
((Photo by Anna Moneymaker/Getty Images))
A written framework for rules in the 118th Congress was released on Thursday that McCarthy's allies hope will allow many of the GOP lawmakers who have been voting against McCarthy to flip their votes.
Lawmakers said the framework gives members of the House Freedom Caucus who have been resisting McCarthy virtually everything they've been asking for. That includes a stronger HFC representation on key House committees, guardrails aimed at curbing excessive federal spending, and allowing just a single member of the House to make a motion to replace the speaker, lawmakers familiar with the framework told Fox News.
McCarthy had been resisting that last demand and was hoping to require at least five House members to make a motion to "vacate the chair."
Democrats have been united in support of Jeffries, D-N.Y., to be the next speaker and many of them have mocked the GOP divisions on social media and in comments to the press.
The House will continue voting until a speaker is elected.
Fox News' Houston Keene, Tyler Olson, and Peter Kasperowicz contributed to this report.