Carrie Underwood is all about feeling good in her own skin.
The country singer recently opened up about how her mindset towards working out has changed over the years. "I feel like earlier in my career I was working out more to be a certain size or fit into a certain aesthetic that I thought I wanted to be," she told People magazine.
Underwood, 39, who started her career after winning "American Idol" when she was 22, added, "And now I feel like I work out more to be strong and to have energy and longevity."
CARRIE UNDERWOOD SAYS 3 MISCARRIAGES FORCED HER TO 'GET REAL WITH GOD'
As a mother of two — she has sons Jacob, 3, and Isaiah, 7 — it's also important for Underwood to stay fit because she wants to be in their lives for as long as possible, and to be able to be an active presence while they grow up.
"It really is playing the long game, right?" she said. "I've worked out a whole lot and been frustrated because it wasn't the results that I wanted. I feel like now at this point in my life, you really do learn that it is a lifestyle, it's balance. It is overall taking care of yourself."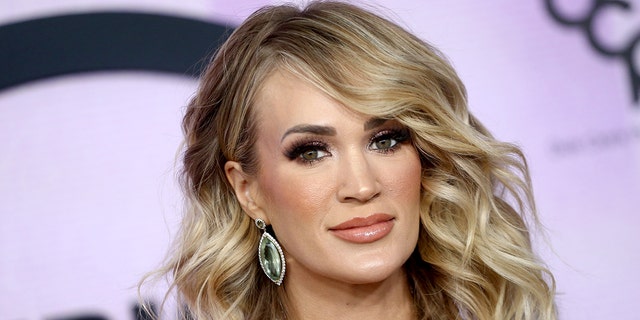 Underwood says she now works out to feel stronger and have more energy, rather than to fit into a certain size.
(Tommaso Boddi/WireImage)
Underwood noted that she doesn't necessarily have the time to keep up with a regular workout schedule while at home and in mom mode. One of the upsides to being on tour for Underwood is having time to herself to work out and maintain a consistent routine.
"When I'm at home, I feel like I'm mom-ing it. I'm doing the laundry, packing the lunches, I'm always cleaning," she explained. "So when I'm on the road and I live on a bus or in a hotel room, I'm not having to do all that stuff, so it frees up a little time. My schedule is still very regimented and there's all this stuff that I do, but my mornings are a little bit more flexible."
 

 
 

 
 
View this post on Instagram
 

 
 
 

 
 

 
 
 

 
 
 

 
 

 
 
View this post on Instagram
 

 
 
 

 
 

 
 
 

 
 
The "Cowboy Casanova" singer is currently preparing for the second half of her "Denim & Rhinestones" tour, which started in October and is set to end in March. The tour is based on Underwood's ninth studio album of the same name, which featured the leadoff single was "Ghost Story."
Staying fit also helps Underwood during her concerts. "It's surprisingly physical being on stage — there's a lot of cardio. I'm running around in heels and I honestly write songs that I don't give myself time to breathe," she shared.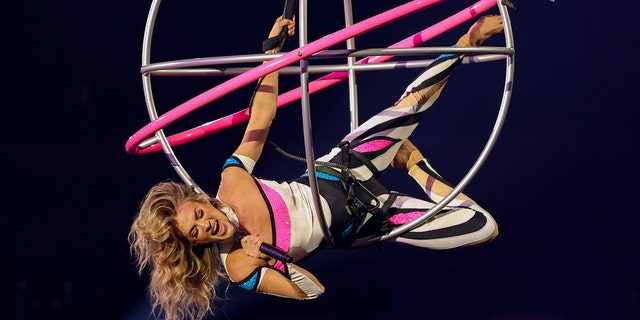 Underwood explained that staying fit helps her while on stage.
(Christopher Polk/Variety via Getty Images)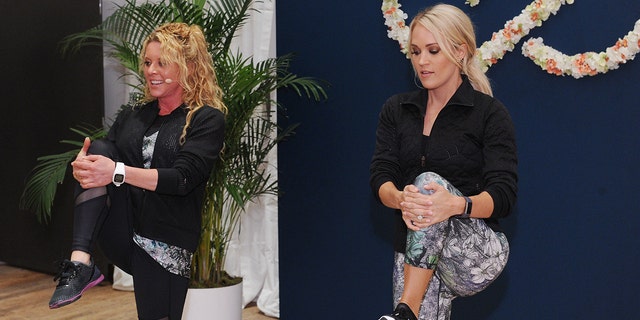 Underwood works out with her trainer, Eve Overland.
(Craig Barritt/Getty Images for Calia)
And while she has a solid workout plan for when she's at home, Underwood said she has to adapt while on the road and figure out what do without her treadmill, weights, bands and trainer.
"You have to work around a lot," she said. "We have an app called fit52 that I'm glad to have in my pocket on my phone. So somebody can kind of tell me what to do with minimal equipment because it depends on what hotel we're in, or what we have to work with. We just make it happen when it can happen and how it can happen."
CLICK HERE TO SIGN UP FOR THE ENTERTAINMENT NEWSLETTER
The singer said she is a lot more in tune with her body since she started making her health a priority over fitting into clothes of a certain size.
"If I start feeling weird or tired it's like, what boxes am I not checking? Am I eating fried food? Am I not drinking enough water?" Underwood explained. "Whatever it is, I usually can pinpoint what I've been lacking and try to correct that and get myself back up to speed and be able to be my best."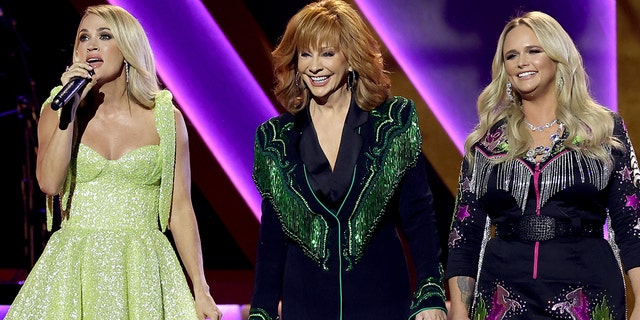 From left: Underwood recently participated in a tribute to Loretta Lynn alongside Reba McEntire and Miranda Lambert.
(Terry Wyatt/WireImage)
Underwood recently participated in a tribute to Loretta Lynn at the 2022 CMA Awards, alongside Reba McEntire and Miranda Lambert. The three sang some of Lynn's biggest hits, including "You Ain't Woman Enough," "Don't Come Home A-Drinkin'" and "Coal Miner's Daughter."
CLICK HERE TO GET THE FOX NEWS APP
The "Before He Cheats" singer first made it big after winning "American Idol" in 2005, at the end of the show's fourth season.