close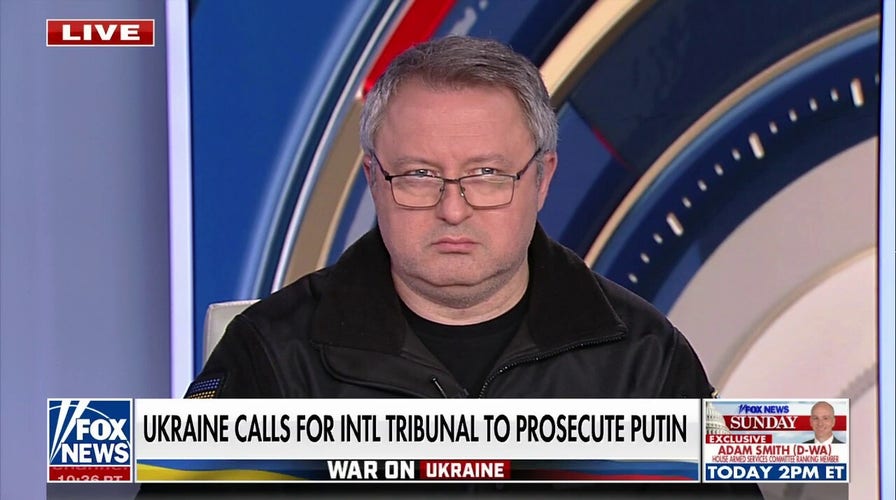 Video
Ukraine reports more than 60,000 war crimes, calls for international tribunal to prosecute Vladimir Putin
Ukraine's Prosecutor General Andriy Kostin details Ukrainian efforts to investigate war crimes and responds to concerns of corruption within his country.
Former British Prime Minister Boris Johnson is claiming that Russian President Vladimir Putin threatened to attack him with a missile strike after he visited Ukraine prior to the start of the war last year.
Johnson made the remark while speaking to the BBC about a "very long" and "most extraordinary" call he received from Putin following a visit to Kyiv on Feb. 1, 2022, just 19 days before the war began, according to Reuters.
"He said: 'Boris, you say that Ukraine is not going to join NATO any time soon.' He said it in English — 'any time soon. What is any time soon?'" Johnson told the BBC.
"And I said: 'It's not going to join NATO for the foreseeable future. You know that perfectly well,'" he continued.
BORIS JOHNSON MAKES SURPRISE VISIT TO UKRAINE TO MEET WITH PRESIDENT ZELENSKYY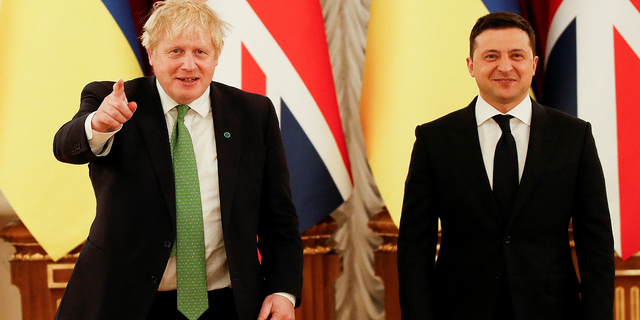 Then-British Prime Minister Boris Johnson meets with Ukrainian President Volodymyr Zelenskyy at the presidential palace in Kyiv on Feb. 1, 2022.
(Peter Nicholls – WPA Pool/Getty Images)
"He threatened me at one point, and he said, 'Boris, I don't want to hurt you but, with a missile, it would only take a minute' or something like that," Johnson recalled.
"But I think from the very relaxed tone that he was taking, the sort of air of detachment that he seemed to have, he was just playing along with my attempts to get him to negotiate," the former prime minister also said.
NORTH KOREA DENIES SUPPLYING RUSSIA WEAPONS, WARNS US CROSSING 'RED LINE' BY SENDING BATTLE TANKS TO UKRAINE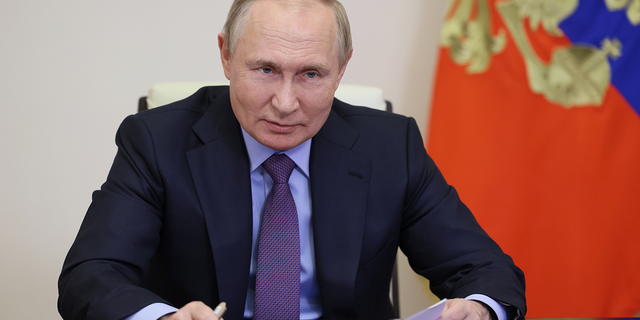 Russian President Vladimir Putin speaks to Vologda Region Governor Oleg Kuvshinnikov via videoconference at the Novo-Ogaryovo state residence, outside Moscow, Russia, on Monday, Jan. 30.
(Mikhail Klimentyev, Sputnik, Kremlin Pool Photo via AP)
Kremlin spokesman Dmitry Peskov called the alleged threat "a lie," Reuters reports.
"There were no threats with missiles," Peskov added while speaking to reporters, according to The Associated Press. "While talking about security challenges to Russia, President Putin said that if Ukraine joins NATO the potential deployment of U.S. or other NATO missiles near our borders would mean that any such missile could reach Moscow in minutes."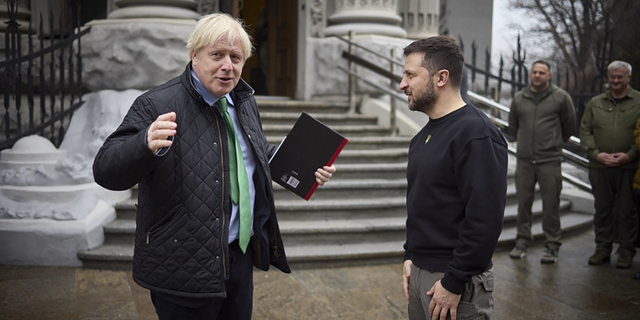 Ukrainian President Volodymyr Zelenskyy, right, and former British Prime Minister Boris Johnson talk during their meeting in Kyiv, Ukraine, on Sunday, Jan. 22.
(Ukrainian Presidential Press Office via AP)
CLICK HERE TO GET THE FOX NEWS APP
Johnson has visited Ukraine four times since the beginning of the war.
His most recent visit was two weekends ago, on Jan. 22.
Greg Norman is a reporter at Fox News Digital.