close
Video
Ukraine's 'solution will be found on the battlefield': Solomiia Bobrovska
Member of Ukrainian Parliament Solomiia Bobrovska discusses potential operations in Crimea, and reacts to Joint Chief of Staff Chairman Gen. Mark Milley's comments on Ukraine's prospects in the new year.
Former British Prime Minister Boris Johnson paid a surprise visit to Ukraine Sunday where he met with President Volodymyr Zelenskyy and pledged his country's support in its war against Russia.
Boris, who was prime minister when Russia invaded Ukraine in late February 2022, said the U.K. "will be sticking with Ukraine for as long as it takes."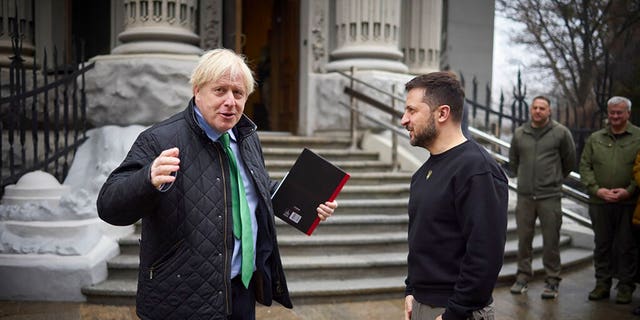 In this photo provided by the Ukrainian Presidential Press Office, Ukrainian President Volodymyr Zelenskyy, right, and former British Prime Minister Boris Johnson talk during their meeting in Kyiv, Ukraine, Sunday, Jan. 22, 2023. 
(Ukrainian Presidential Press Office via AP)
"You're going to win and you're going to get all the Russians out of your country, but we will be there for the long-term," Johnson said. "And we will also want to be helping you to reconstruct."
During his trip, the former prime minister visited Borodyanka and Bucha, the suburbs of the Ukrainian capital that has witnessed some of the most horrific atrocities of the war.
RUSSIAN WAGNER GROUP GAINS GLOBAL NOTORIETY FROM AFRICA TO UKRAINE, BUT DIVISION BREWS AT HOME
Kyiv regional governor Oleksiy Kuleba told Johnson that more than 160 residents were killed in Borodyanka during the month-long Russian occupation of the town last year, though some 60% of residents have since returned.
In Kyiv, President Zelenskyy and top officials, including the foreign minister, who lined up to personally welcome the former British Prime Minister.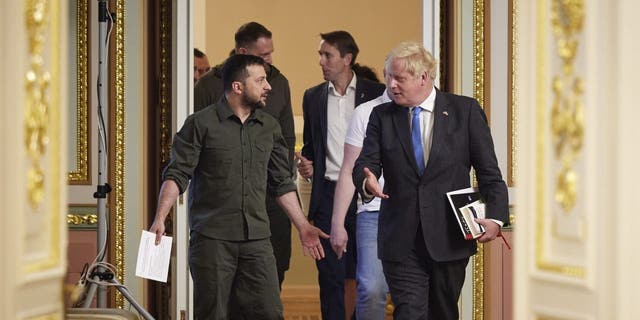 In this image provided by the Ukrainian Presidential Press Office, Ukrainian President Volodymyr Zelenskyy, left, and Britain's Prime Minister Boris Johnson, walk after their meeting in Kyiv, Ukraine, Friday, June 17, 2022. 
(Ukrainian Presidential Press Office via AP)
While in office, Johnson sought to position London as one of Kyiv's top allies in the West. He frequently visited Kyiv and called Zelenskyy frequently.
Meanwhile, Ukraine's supporters pledged billions of dollars in military aid to Ukraine during a meeting at Ramstein Air Base in Germany on Friday. International defense leaders discussed Ukraine's urgent request for the Leopard 2 tanks, and the failure to work out an agreement overshadowed the new commitments.
UKRAINE-RUSSIA WAR: ZELENSKYY SAYS HE CAN'T USE 'WORDS INSTEAD OF GUNS' AS DEFENSE CHIEFS FAIL ON TANK DEAL
"This is the moment to double down and to give the Ukrainians all the tools they need to finish the job. The sooner Putin fails, the better for Ukraine and for the whole world," Johnson said in a statement.
Emergency workers clear the rubble after a Russian rocket hit a multistory building, leaving many people under debris, in the southeastern city of Dnipro, Ukraine, on Saturday, Jan. 14.
(AP/Evgeniy Maloletka)
The last week was especially tragic for Ukraine even by the standards of a brutal war that has gone on for nearly a year, killing tens of thousands of people, uprooting millions more and creating vast destruction of Ukrainian cities.
A barrage of Russian missiles struck an apartment complex in the southeastern city of Dnipro on Jan. 14, killing at least 45 civilians. On Wednesday, a government helicopter crashed into a building housing a kindergarten in a suburb of Kyiv. Ukraine's interior minister, other officials and a child on the ground were among the 14 people killed.
Zelenskyy vowed Sunday that Ukraine would ultimately prevail in the war.
CLICK HERE TO GET THE FOX NEWS APP
"We are united because we are strong. We are strong because we are united," the Ukrainian leader said in a video address as he marked Ukraine Unity Day, which commemorates when east and west Ukraine were united in 1919.
The Associated Press contributed to this report.
Bradford Betz is a Fox News Digital breaking reporter covering crime, political issues, and much more.